BCS Championship: Previewing Alabama Crimson Tide vs. LSU Tigers
December 5, 2011
It's official, let's play it again.
The BCS Championship game will feature the Alabama Crimson Tide and the LSU Tigers.
Yeah, we have seen this one before, and haters of the BCS system as a whole will use this as more fodder for the  "playoff is better" cannon.
That said, it's very difficult to argue that 'Bama is not the second best team in the country after suffering their only loss to LSU.
For the sixth straight season, the BCS champ will come from the SEC, a fact which has to be driving Jim Delaney absolutely nuts.
This matchup, a rematch of a game played earlier in the year in Tuscaloosa, will be an absolute piece of Heaven for those of you who absolutely love defense.
The two teams accumulated just 534 yards of total offense in their last battle, and racked up four turnovers, and no touchdowns, en route to a 9-6 overtime victory for the Tigers.
Expect another hard-hitting, old fashioned slug-fest between the two best teams in the nation.
Alabama fans are hoping their special teams is slightly better, as missing four field goals is not conducive to winning a game that is likely to be decided by a minuscule margin, yet again.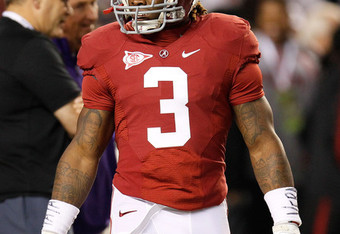 It's always difficult to beat a good team twice, especially one with a weapon on offense such as Alabama running back, Trent Richardson.
Richardson accounted for a phenomenal 57.3 percent of the Crimson Tide's total offense in the last game, and will need to do at least as much in the rematch to give the Tide a shot.
LSU has been clicking on all cylinders, whooping up on SEC East champ, Georgia, by 32 points, while the Tide get an extra week off after allowing only 8.8 points per game to their opponents, good enough for best in the country.
If there is anything that is true about Nick Saban, it's that the man can coach a football team.
Expect the Tide to be playing with a chip on their shoulder, out to prove they belong in this game.
Whichever team can establish the more effective running game is going to win this game, and given that Alabama is number one in the country in rush defense and LSU is number three, the sledding is going to be real touch for Richardson and LSU's stable of backs.
In another tight game, the Tyrann Mathieu will have a direct impact on the outcome, either through an interception or punt return, and even though the Tide find a way to hit every field goal they kick, the Tigers complete the season sweep of their rivals from Tuscaloosa.
On a neutral field, without the benefit of their insane fans egging them on, the Tide are going to find it difficult to hold off the Tigers in their surge for a title, unless Les Miles' annual clock-management SNAFU rears its ugly head.
Final Prediction: Tigers – 17 Tide - 10