BCS Bowl Predictions: 3 Teams More Deserving of Sugar Bowl Than Virginia Tech
December 5, 2011
Doug Pensinger/Getty Images
Rumor has it that the Sugar Bowl has selected Virginia Tech as one of its participants.
If true, that would be a travesty. There's no way two ACC teams deserve a shot at BCS bowl games.
Heck, one ACC team in the BCS picture is usually a stretch.
Needless to say, there are several other teams that deserve a Sugar Bowl spot ahead of Virginia Tech.
Let's take a look at three of those teams now.
Boise State (11-1)
Boise State is going to end up in a horrible bowl game because of Virginia Tech's surprise entry into the Sugar Bowl.
They'll likely have to settle for the MAACO Las Vegas against Arizona State now.
Boise State has more big wins than Virginia Tech this year, mainly because the Hokies have zero big wins.
Virginia Tech has lost to Clemson twice, the only decent team they've played.
At least the Broncos beat Georgia earlier this season, a win that looks better and better as Georgia continues to rack up wins.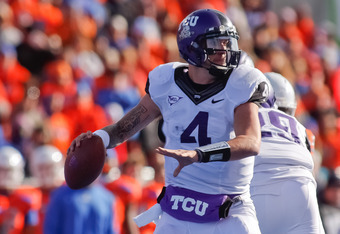 Otto Kitsinger III/Getty Images
TCU (10-2)
TCU had an outside shot at a Sugar Bowl berth before this Virginia Tech nonsense got started.
The Horned Frogs have beaten Boise State this year and won the Mountain West.
TCU has the ninth-best scoring offense in the country this season. Virginia Tech, by comparison, only had the 55th-best scoring offense.
In a game that will potentially be against a dynamic Michigan offense, I'd much rather see TCU get a chance to face Denard Robinson than a Virginia Tech team that will just flop like they have both times they've played Clemson this season.
Kansas State (10-2)
If any conference deserved to get a second team into a BCS bowl, it was the Big 12.
The Wildcats have beaten five bowl-eligible teams, two of them ranked. And, their two losses have been to Oklahoma and Oklahoma State.
Collin Klein and the Wildcats find a way to win against tough opponents. That's more than the Hokies can say.
And, with the Big 12 strength of schedule, there's no reason the Hokies should be in the Sugar Bowl ahead of the Wildcats.