TUF 14 Finale Results: How Would Michael Bisping Fare Against Anderson Silva?
December 4, 2011
With his fight against Jason "Mayhem" Miller out of the way the question of how Michael "The Count" Bisping would fare against Anderson Silva must be addressed at once.
If not, Bisping and his small but vibrant community of fans, who are on a four fight win streak, will begin to convince themselves that the Count has some meager chance against Silva, arguably the greatest fighter in the world. 
Bisping falls short in a number of critical areas: standup, where Silva outclasses him; grappling, a Silva weakness he cannot create the opening to exploit; experience, also called "reality check" and resiliency come to mind.
And now to beat this dying beast before it has gasped its last.
Striking
Bisping's striking, while technical and fluid, is not nearly fast enough or unorthodox enough to be an effective weapon against Silva.  
Regardless of the excellent striking Bisping has shown, both in his fight last night and against Jorge Rivera this past February he has demonstrated neither great speed nor unorthodoxy in his striking.  His striking comes from traditional angles and with predictable timing. 
There is nothing in Bisping's arsenal that Silva has not bested before.  
Bisping's movement will not be good enough to keep him clear of, or surprise Anderson Silva.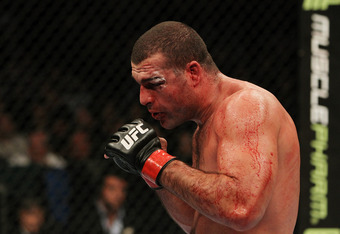 Silva gets it.  He can run circles around the referee, he can taunt, he can dance in the Main Event in the center Octagon and keep his gold.  
Therefore, his opponents must bring the fight to him; and he has made a career out of dismantling fighters on their way in.  
Grappling
Though Anderson Silva has proven he is always dangerous, from the first minute to the end of a four round mauling, the Spider is never more dangerous when he is on his feet against a fighter, whom he believes, cannot or will not take him down.  It is at these times that fans can briefly glimpse the full-unrestrained violence of the Silva's striking.  
Can Michael Bisping get the fight to the mat?
Bisping has a good takedown record.  In his last six fights, he has landed 11 of his last 25 attempts.  But against opponents like Dan Henderson and Yoshihiro Akiyama, who have both proven difficult to take down, Bisping has fallen short, going 0-2 in take down attempts against Henderson and 0-5 against Akiyama.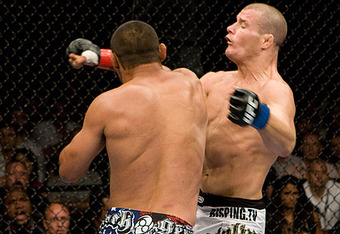 Silva, on the other hand, has been taken down in only four of the last 35 attempts; world-class wrestler Chael Sonnen landed three of which, one of the UFC's most ferocious wrestlers; the other, was the only successful attempt of 14 by Thales Leites, whose fight with Silva ranks among the worst in UFC history.
The bottom line is that it does not matter how good Bisping is on the ground.  It is not going there unless Silva wants it to, and once there, Silva's black belt level jiu jitsu would be too much for Bisping.
Experience
On the one hand, Bisping fans may rightfully make much ado about their fighter's recent four-fight win streak; on the other hand, they must temper that with the reality of whom those fighters were.  Jason Miller, Jorge Rivera, Yoshihiro Akiyama and Dan Miller are all good fighters; for all that, it is difficult to imagine any of them in a nail biter against Nate Marquardt or Chael Sonnen, Yushin Okami or Mark Munoz.  
While both men hold a second round knockout over Jorge Rivera, Bisping was still a year away from his The Ultimate Fighter victory when Anderson Silva finished Rivera; Bisping only beat Rivera himself this year.
While Bisping has been beating middling fighters and choking on his big fights Anderson Silva has been chewing up the elite of the middleweight division to the point that he must now cannibalize the division's common ranks for fresh challenges.  
Resiliency
 It takes a strong chin to stand with Anderson Silva.  Yushin Okami couldn't do it, Vitor Belfort;  Forrest Griffin couldn't do it, James Irvin couldn't do it; Rich Franklin couldn't do it, Nate Marquardt couldn't do it.  Indeed, it is the consensus of the middleweight division that Anderson Silva strikes extremely hard. 
To fight Silva, you need Mauricio "Shogun" Rua's chin, not Michael Bisping.  Both men have had a Dan Henderson chin check in the last couple of years: Rua passed; Bisping did not.
Conclusion
Bisping has neither the striking nor the grappling, the experience nor the resiliency to wear gold.