Tiger Woods Roars Back to Win the Chevron World Challenge
December 4, 2011
Scott Halleran/Getty Images
The signature fist pump from Tiger Woods is back. Woods made back-to-back birdies to take the Chevron World Golf Challenge and earn his first win in two years.
The expression on his face as he holed the winning birdie putt reflected all the contained emotion he must have had from the past two years of struggles. It looked like a big weight had been lifted off his back, and he got that winning feeling again.
2007 Masters Champ, Zach Johnson, started the day with a one-shot lead over Woods at eight-under. K.J. Choi, third at five-under looked like the only player with a shot at challenging them, with everyone else five shots back. It certainly looked like they would have to come down for anybody else to have a shot.
No player could move beyond the five-under mark on Sunday. Several players got to that mark during the final round, but neither Woods nor Johnson gave ground, as they seemed to be playing one-on-one on a different field.
Paul Casey finished third at five-under, while Hunter Mahan and Matt Kuchar finished tied for fourth at four-under. Woods, Casey and Jim Furyk had the low rounds of the day at three-under.
Woods and Johnson played on the featured last-group, and after opening with pars on the par-four first hole, they birdied the par-five second. But Johnson lost his lead after a bogey on the third to fall into a share of the lead with Woods. But then he bogeyed the fourth hole to give Woods the one-shot lead.
After a birdie on the fifth hole, Johnson grabbed a share of the lead. Both players had bogeys on the eight hole, and made the turn tied at seven-under.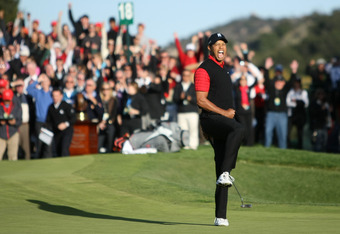 Robert Meggers/Getty Images
That was when Woods made back-to-back birdies to start the back-nine to take a two-shot lead. Right here and then you could think game-over, let's just go grab a snack and be back for the ceremony after the 18th hole.
Not quite.
Woods bogeyed the par-three 12th hole, and Johnson was able to make a birdie at the par-five 13th to get a share of the lead. Woods started to feel the pressure, as he exhaled in relief after making par on the hole.
Woods certainly looked shaky as he could not make a crunch putt when he needed to.
On the par-five 16th, after both players layed-up, Johnson made a pressure birdie-putt and took a one-shot lead with two-hole to go. The look on Woods face was worth a million-bucks, as if to say here we go again.
But then Woods got to work. After Johnson missed his birdie-putt on 17th by brushing the side of the cup, Woods made his and the fist-pump was officially back, he knew how important it was to get to 18th with a share of the lead.
The roar from the crowd was just like in Woods best days. On the 18th hole the crowd was watching on the big screen and got to their feet as Woods made his birdie.
On the par-four 18th, after both players hit their tee-shots in the fairway, both hit their approach-shots in the green with a shot at birdie putts. But Johnson had his from the side of the hole, where players like Casey and Mahan had been fooled by the read of the green.
Johnson went first and missed his birdie-putt, setting up Woods birdie try. Woods got his read and then made the winning birdie-putt to the thunderous roar from the crowd, and Woods scream of joy.
It was a fitting ending for Woods year, as he had been showing flashes of his best days. It was not a flawless showing, as he certainly had his share of struggles, but certainly looks like he is getting his game back, slowly but surely.
Woods now moves from 52nd to 21st in the World Rankings with this win. It remains to be seen now if this translates into a successful 2012 campaign for Woods, but it gives him some confidence build-up and momentum towards it.