College Football Bowl Games: The 5 Must-See Games
Again?!?
Surprise, Surprise! The LSU Tigers will be facing the Alabama Crimson Tide for the BCS National Championship.
That being said, can it even crack the five must-see games of the bowl season?
Any normal year, that would be a no-brainer, but this season left a lot of people with a bad taste in their mouth.
When will we all finally see the light? The Big East champ gets an automatic berth while Boise State and TCU get left out. This needs to be fixed.
Do I have the answer? Sure don't, but there are people that make a lot more money than I do that should digest some of this bitter pill that we are all forced to swallow.
It's even more sickening that the ACC has as many teams in the BCS bowls as the SEC. Virginia Tech? Really?
This list was going to be longer (possibly 10 games) but I just couldn't push it that far. On the bright side, Michigan is back amongst the giants and no matter what you think about the maize and blue, it's really good for college football.
It is what it is for the time being, so let's make the most of it and look at the 10 games that should at least make it an enjoyable bowl season.
Try to keep your food down. I salvaged what I could from this atrocity.
Gator Bowl: Florida vs. Ohio State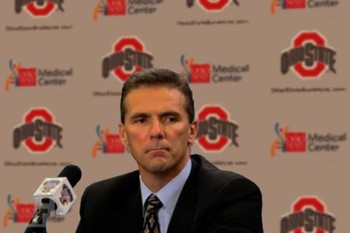 Past meets Future. Urban Meyer's new team takes on his old team in a battle of .500 teams. This would normally not even be on my radar, but no matter the records, it is Florida and Ohio State.
Another thing to keep an eye on in this game is the Florida fans and signs. This could really gauge how the Gators feel about Meyer taking over the Buckeyes.
Players recruited to Florida by Meyer will have extra incentive to make sure Ohio State knows why he recruited them, and they will want to beat the Buckeyes severely.
Also, neither one of these proud programs wants a losing record, and that's exactly what the loser of this game will have.
Outback: Georgia vs. Michigan State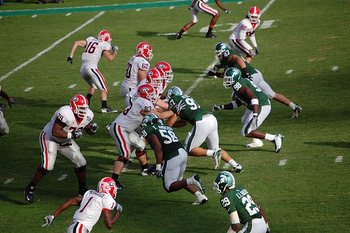 Michigan State beat the Big Ten champ and they beat the Michigan, the other team from the Big Ten that is in the BCS. They barely lost the the inaugural Big Ten championship game. Sparty is good.
Admittedly, the University of Georgia did not play the toughest SEC schedule. But they did handle their business until they ran into the buzzsaw known as LSU in the SEC Championship.
In a rematch of the 2009 Capital One Bowl, these teams sport excellent defenses and very talented quarterbacks.
In a year with so few good matchups, this is one of the better ones.
Rose Bowl: Wisconsin vs. Oregon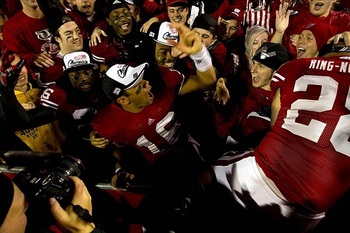 This one should be fun.
We all know about the frenetic pace that Oregon likes to dictate a game with, but this won't be speed against your typical Big Ten team. Wisconsin can score...a lot.
Two of the best running backs in the nation will be on full display and I can't think of a better stage than the Grandaddy of them all.
LaMichael James vs. Montee Ball...
Ball only needs one touchdown to tie Barry Sanders' 1988 39-touchdown season. In 1988 they didn't count bowl games toward the total (Mr. Sanders had 5 TDs) but it is still an accomplishment nonetheless.
Darron Thomas and Russell Wilson are two of the five most athletic quarterbacks in the country as well.
Any way you slice it, this game has the makings of something special.
BCS National Championship: LSU vs. Alabama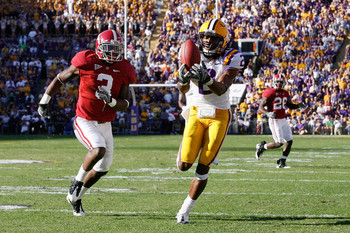 I have to put it in here because after all when we go back and read our College Football Encyclopedias, the winner of this game will at least share the National Championship.
What's at Stake:
**The BCS: If Alabama outplays LSU again and somehow wins this game, it is very likely the AP will crown LSU their National Champions. The BCS is obligated to give it to the winner of this game. It could be the first time since 2003 there was a split National Championship..LSU was involved in that one as well. The chaos of a Alabama victory could be the beginning of the end of the BCS. I don't think anyone would miss it much after this year.
**LSU's Place In History: What LSU has accomplished this year is nothing short of remarkable. It is one of the best seasons in recent memory, and a win in this game could cement their name a long with some of the all-time greats.
(Scary part is...They could be be better next year.)
The Bayou Bengals are playing for much more than a 2011 National Championship.
Fiesta Bowl: Oklahoma State vs. Stanford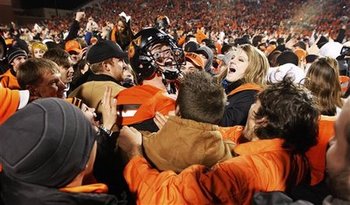 The best of them all in my opinion. If LSU destroys Alabama (doubtful, but you never know) then Oklahoma State would have even more reason to shout to the BCS powers that be, as long as they handle business against Luck and Co.
This game sports the top quarterback and the top wide receiver in the country. Andrew Luck and Justin Blackmon will also be the first taken at their respective positions in the 2012 draft. I really like this matchup.
Not enough can be said about the talent on the offensive side of the ball in this one. This could be the highest scoring BCS game ever.
Keep Reading