BCS Bowl Games 2012: BCS-Bound Coaches with the Most to Prove
December 4, 2011
Jonathan Daniel/Getty Images
Winning a BCS bowl game is a huge step in a coach's career.
The more BCS bowls you win as a coach, the safer your job is and the more beloved you are by the fans of your school.
So, while we don't know exactly which teams will be in the BCS bowl games in 2012, we have a pretty good idea of which 10 teams will make up the field.
Therefore, we have a pretty good idea of which coaches will have the most to prove in their respective BCS bowls.
Here are three coaches that need wins this bowl season to start building a legacy.
1. Bret Bielema, Wisconsin
After a tough 21-19 loss to TCU in last year's Rose Bowl, Bielema's Badgers have another shot at a Rose Bowl victory.
This time, they'll have to take on a tough Oregon team led by Darron Thomas and LaMichael James.
It's not a good matchup for the Badgers, who like to run the ball and control the clock. They'll have to play the best defense of the season if they want to slow down Oregon's blur offense.
Bielema needs to win this game so that he doesn't develop a reputation as a coach that can't win big bowl games.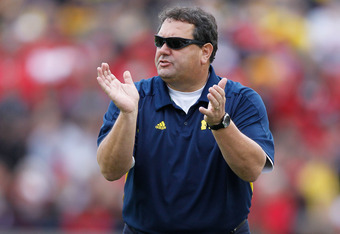 Gregory Shamus/Getty Images
2. Brady Hoke, Michigan
This is Hoke's first season at Michigan, and he has the Wolverines primed for a Sugar Bowl selection. It's not a sure thing yet, but it's looking pretty good for Michigan.
Winning a BCS bowl in his first year at the school would be absolutely huge for Hoke.
Not only would it get the fans behind him, it'd make it a lot easier for him to steal recruits from Urban Meyer at Ohio State.
It would also give him the upper hand in the recruiting battle with Mark Dantonio of Michigan State in the battle for Michigan recruits.
3. Dabo Swinney, Clemson
Swinney's Clemson team got off to a hot start this season before cooling off towards the end of the year.
But, after a dominating 38-10 win against Virginia Tech in the ACC Championship Game on Saturday, the Tigers are probably heading to the Orange Bowl to take on the Big East champ.
A win in that game would be a solid ending to a solid season for Clemson.
And, it would give young Tiger stars Tajh Boyd and Sammy Watkins confidence heading into next season.