Bowl Games
BCS Rankings: 3 Teams That Will Get Stuck With Lesser Bowl Games
Brett Deering/Getty Images
December 4, 2011
When it comes to bowl selections, there are always going to be teams that are unhappy with where they end up.
There are several teams this year that deserve to play in BCS bowl games, but there are only 10 slots for the five BCS bowls.
Therefore, a few teams are going to have to settle for non-BCS bowls despite having strong seasons.
Here are three teams that are going to be unhappy with where they end up after bowl selection Sunday.
Arkansas Razorbacks (10-2)
The Razorbacks definitely deserve to be playing in the Sugar Bowl.
But, thanks to the rule that three teams from the same conference can't be in BCS bowls, Arkansas will most likely be stuck playing in the Cotton Bowl.
That's a tough situation for a team that only has two losses, to No. 1 LSU and No. 2 Alabama.
They deserve a BCS game, but will have to settle for the best non-BCS bowl game, the Cotton Bowl.
Georgia Bulldogs (10-3)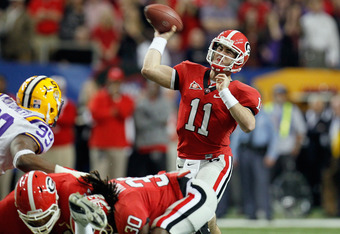 Kevin C. Cox/Getty Images
The Bulldogs could also make a case that they deserve to be playing in the Sugar Bowl.
At the very least, they deserve to be in the Cotton Bowl.
But, with Arkansas not getting the Sugar Bowl and having to settle for the Cotton Bowl, that will push an excellent Georgia team even further down into the bowl mix.
Mark Richt's crew will likely have to settle for the Outback Bowl. That's not a bad bowl game, but Georgia probably deserves better.
Kansas State Wildcats (10-2)
If Oklahoma State makes it to the BCS National Championship Game somehow, then the Wildcats could find themselves in the Fiesta Bowl.
But, the Cowboys probably won't jump ahead of Alabama, so Mike Gundy's squad will probably be playing in the Fiesta Bowl ahead of K-State.
That'll leave the Wildcats going to the Cotton Bowl most likely.
That's definitely a better game than K-State fans thought they'd be going to at the start of the season. But, with a 10-2 record, a BCS bowl game should be the goal.
Unfortunately, due to Alabama likely holding onto the No. 2 spot in the BCS rankings, Bill Snyder and company will have to settle for a date with Bobby Petrino's Razorbacks in the Cotton Bowl.
Like the new article format? Send us feedback!