TCU in the BCS? Breaking Down the MWC Champs' Chances to Crack Top 16
December 4, 2011
Otto Kitsinger III/Getty Images
While conference championships ruled the day in college football and other conferences had games that decided their champions, Texas Christian University (TCU) had already wrapped up their championship well before Saturday. 
After dismantling UNLV 56-9 yesterday in Fort Worth, TCU finished the regular season at 10-2 overall and undefeated in the Mountain West conference.  The Frogs are currently No. 18 in the BCS standings.
As a conference champion from a non-automatic qualifier conference, TCU must reach at least No. 16 in the final BCS standings to be eligible for a BCS bowl game.  If they manage to move up two or more spots this week, the Frogs have a good chance to play in their third straight BCS bowl.
While TCU certainly did what they could, winning by 47 points, they needed some help from teams in front of them who played yesterday.  Based on how things played out, it looks like TCU will be sweating it on Sunday evening. 
Here's a look at the games relevant to TCU's fate yesterday, and how they will affect TCU's chances:
Conference USA Championship: Southern Miss (No. 24) Over Houston (No. 6)
Going into the day, this game was expected to seal TCU's fate, in a negative way.  A Houston win would have meant the Cougars would play in a BCS game as the top non-AQ champion.  After a disappointing 25-point loss at home to Southern Miss, Houston paved the way for TCU to become the highest-ranked non-AQ champion.  They will also likely fall far and hard in the BCS standings.  It seems pretty likely Houston could fall to the 17-20 range, allowing TCU to move up one spot closer to 16.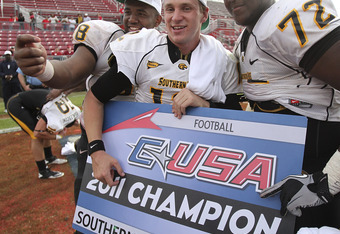 Bob Levey/Getty Images
Baylor (No. 17) Win Over Texas (No. 22)
Baylor came in directly ahead of TCU in the standings, and a Texas win at Baylor could have meant TCU getting to 16, after Houston's loss. It's possible a Texas win would have leapfrogged (pun intended) the Horns over TCU, given the quality of the win. However, TCU definitely needed a Baylor loss here. They did not get it.
SEC Championship:  LSU (No. 1) Over Georgia (No. 14)
As expected, LSU won this game. While Georgia had a 10-7 halftime lead, gravity set in and LSU outscored them 35-0 in the second half.  Despite the fairly lopsided final score, losing to the clear No. 1 in LSU should not hurt Georgia, especially since it was in a conference championship game. Georgia may fall a spot or two to meet conventional voter mindset, but probably not far enough to help TCU much.
ACC Championship: Clemson (No. 20) Over Virginia Tech (No. 5)
Clemson had an unexpectedly dominant performance here, beating Virginia Tech 38-10.  After struggling for most of November, Clemson pulled it together and earned an automatic BCS bid.  Now the question is, how much will Clemson's big win move them up in the BCS standings?  It seems likely the Tigers will move up at least four or five spots, and ahead of TCU. This result really hurts TCU's chances.
Oklahoma State (No. 3) Over Oklahoma (No. 10)
In the de facto Big 12 championship game, Oklahoma State destroyed their Bedlam rival.  This was a surprisingly bad blowout for Oklahoma, and likely eliminated any hopes the Sooners had of still making the BCS as an at-large team. Will a 34-point loss to the No. 3 team in the nation drop Oklahoma several spots in the BCS? They could fall below No. 16, which would help TCU.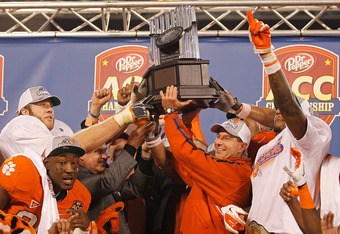 Mike Ehrmann/Getty Images
Big Ten Championship: Wisconsin (No. 15) over Michigan State (No. 13)
Wisconsin won a thrilling, back-and-forth game by just a field goal.  It further proved how evenly matched these two teams are after Michigan State won on the last play of the game at home earlier this year. The win may move Wisconsin into the Top 10. Don't expect the Spartans to fall very much, if at all, for losing such a close game to an outstanding football team. This was a bad result for TCU as well.
Outside of Houston's surprising loss in the C-USA championship, the conference championship games did not help TCU too much in their efforts to move up in the final standings. 
In addition, wins by Boise State (No. 7) and Kansas State (No. 11) helped them maintain their places in the BCS standings.  Michigan entered the day at No. 16, and they did not play. TCU's win yesterday most likely won't be enough to pass Michigan. 
Of all the teams currently ahead of TCU in the BCS standings, the only one likely to move below the Frogs is Houston.  If all else holds consistent, that would move TCU up to 17.  However, remember that Clemson is probably going to jump ahead of TCU after beating the fifth-ranked team in Virginia Tech. That would offset the gain created by Houston's loss.
Even if Oklahoma falls seven or more spots this week, it would not be quite enough for TCU to get to No. 16. It appears it will take a significant swing in voter sentiment, in which they rank TCU above teams like Michigan and Michigan State. 
I believe, unfortunately, that TCU will come up just short in their quest for a third straight BCS bowl.