Chicago Blackhawks Goalie Controversy? Ray Emery Filling Important Role
December 4, 2011
Dilip Vishwanat/Getty Images
The Chicago Blackhawks need some consistency in the net. Does that mean a new starter?
An NHL goaltending tandem is defined by two clear roles. The starter carries the bulk of the load and has to be counted on to come up big in key situations. In the best situations, a team has a capable backup who can spell the main man and give his club a chance to win.
Chicago's duo in net has taken its share of criticism lately, but when you hold 'Hawks goalies up to that rubric, one thing is clear: Ray Emery has done his job as the backup.
Is there a goalie controversy in town? No, nor should there be. The play in the crease could stand to pick up, but most of the improvement needs to be made by starter Corey Crawford.
Emery is getting the job done, despite cries to the contrary.
If you want to point out the goals against average of 3.28 and the .883 save percentage posted by Emery, you'd have a pretty good argument against my assessment. His performance in last month's game in Edmonton was terrible, period. I can't agree more with that observation and the number speak for themselves.
Or do they?
Emery gave up seven goals on 27 shots in the disaster with the Oilers. Truly a puke-inducing effort. Let's take that stinker for the bad night that is was and look at the rest of Emery's season so far.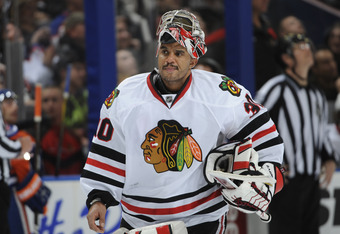 Dale MacMillan/Getty Images
In the other six games in which Emery has appeared, he has a 2.45 goals against average and a .917 save percentage. In Emery's six starts, he is 4-1-1.
His night down in Tampa wasn't anything to write home about, but the 'Hawks picked up a point on the road. He had a terrific game November 11th in a 4-1 over Calgary and made 23 of 25 saves in St. Louis Saturday night to pick up a 5-2 win over the Blues.
Do I think Emery is pushing Crawford for the majority of playing time? Not on your life. Crawford is the starter and has to pick up his play. Emery is the backup and in this role it's hard to say he's been anything but a success.
It's important that Emery continue to provide solid play behind Crawford, as the 'Hawks don't have a lot of solid options below him.
Alexander Salak, the player who many thought outplayed Emery for the spot behind Crawford in camp, has had a rough go of it this season. First he pouted upon being sent to Rockford, then he struggled when he finally got regular starts.
Salak had begun to find his groove when he was injured Friday night and helped from the ice with what looks to be a left knee injury. He's listed as day-to-day but could be unavailable for the immediate future.
The 'Hawks don't have another netminder of NHL caliber, so a healthy Emery is that much more valuable to Chicago right now. That doesn't mean I want to see him start every night, but in his current reserve role, Emery has more than held up his end for the Blackhawks.