2011 NFL Playoffs: Why the Bears Will Get a Wild Card Spot and the Lions Won't
December 4, 2011
Ezra Shaw/Getty Images
As we enter the final month of the NFL regular season, there are currently four teams with a realistic shot at earning the two wild card spots in the NFC.
Two of those teams are the Chicago Bears and the Detroit Lions, both of whom are 7-4.
The only other teams with a real shot are the 7-4 Atlanta Falcons and the 6-5 New York Giants.
However, after today's games this may all change slightly.
The Bears and the Lions are both in the NFC North division and have already played each other twice this season with each team winning on their home field.
Both teams sit in a good position to make the playoffs, but chances are that probably only one of them will.
And as it stands right now, that team looks to be the Bears.
This is a bit of a surprise considering that after the Lions defeated the Bears in Week 5, the Lions record stood at 5-0 and the Bears were at 2-3.
However, since that game the two teams have gone in different directions.  The Bears have gone 5-1 while the Lions have struggled at 2-4.
The Bears recently lost starting quarterback Jay Cutler which won't make things any easier for them down the stretch, but all things considered they still look to have a better shot at the postseason than Detroit.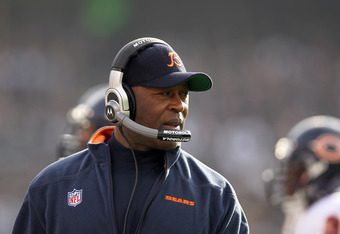 Ezra Shaw/Getty Images
Why the Bears Will
Head coach Lovie Smith has done a great job with this years Bears team and has them on track to earn back to back playoff berths despite the loss of Jay Cutler.
This actually may be one of Smith's better seasons at the helm as he has directed a team that many people didn't give much of a shot coming into the season.
Many felt that the Bears didn't do enough to improve their offense during the offseason and also weren't sure about their aging defense, but to this point the Bears have silenced many of those critics.
Smith and his staff have done a great job on both sides of the ball as well as special teams and look to be primed to make a run to the playoffs even with the loss of Cutler.
The fact is that the Bears have been here before and the Lions haven't—in the playoff hunt that is.
Over the last 10 years, Chicago has been to the playoffs four times, including the Super Bowl in 2007, while Detroit hasn't been there at all—in fact, they haven't had a winning season since 2000.
Now that's not to say that all of the current Bears players were around for each of those playoff appearances, but a few were around for most of them, especially on defense.
Guys like Brian Urlacher, Lance Briggs and Charles Tillman have all been to the playoffs multiple times over their career with the Bears and they understand what it takes to get there.
On top of everything else, the Bears schedule looks pretty favorable the rest of the way.
The Bears play three of their remaining five games—which includes today's game with Kansas City—against teams that are under .500.  This gives them a good shot of finishing at least 10-6 and likely locking up a wild card spot.
Why Detroit Won't
Lions head coach Jim Schwartz is just a weird dude—I don't know how else to say it.
The guy just seems to invite controversy and it seems to be rubbing off on his young team.
For as good as the Lions were to start the season, all that many people will remember is how they have self-destructed and how their coach was a big part of it.
The Lions did a lot of talking early in the season for a team that hasn't won anything at all in recent memory, and it seems to be catching up to them now.
When Schwartz had his now infamous run-in with Niners head coach Jim Harbaugh, he pretty much showed that he is a guy that lacks self-control, which is exactly what his team has been displaying recently. 
What was even more embarrassing for Schwartz was how he pretended like he was going to actually do something as he chased after Harbaugh—please.
Gregory Shamus/Getty Images
The sad part for the Lions and their fans is that the team seems like they may be pretenders as well.
The Lions haven't been to a playoff game since the 1999 season and don't have many guys on their roster with any playoff experience—or any experience with even being in contention for the playoffs for that matter.
To make matters worse, their schedule is not quite as favorable as they play three of their five remaining games—which again includes tonight's game with New Orleans—against teams above .500.
The Lions have already shown their immaturity this season as they haven't been able to handle the early success that they had.
There's no doubt that they have a talented group of young players, but it just seems that they currently lack the mental makeup of a playoff team.
The Lions may be a playoff team at some point, but it doesn't look to be this year.