Pedro Martinez Retires: Looking Back on Dominance in Boston
December 4, 2011
With the announcement that Pedro Martinez is retiring it's worth looking back on the career of one of the greatest pitchers ever to play the game. 
Red Sox fans surely can remember the electricity of the late 1990's and into the 21st Century. When Pedro Martinez was pitching it felt like an "event". You plotted out the week's activities to insure that on the night that Pedro was pitching you'd be around a television. You checked the weather, you cleared the social agenda. 
Then Pedro delivered. That was the magic. How often in life does something as hopelessly hyped as Pedro Martinez was back in those days actually live up the expectations? Yet...
When Pedro Martinez was on the mound from 1998 through the end of the 2000 season, things just felt different. While fans of other teams flocked to the ballparks to watch their favorite hitters pursue the 50 or 60 home run marks Red Sox fans jammed Fenway with fans eagerly anticipating the next Pedro masterpiece. 
They were rarely disappointed. 
Pedro announced his arrival on April 1st 1998. Opening Day, he went seven innings, three hits, no earned runs and 11 strikeouts with two walks. A tough act to follow, but for all practical purposes that's what Red Sox fans got every five days for the next three seasons, except for when he was better.
Yes he got better.
He was so good it was nearly impossible to appreciate while it was happening. Only with the advantage of television and the internet can we go back and compare stats, and review games of what he did. Once you start to look at how much offense was being produced in baseball and how little of it was being produced when one man was on the mound—wow.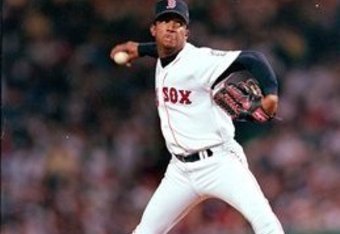 Think about it this way...
In those seasons 1998-2000 nearly every baseball fan flocked to a stadium to see prolific home runs. Every fan except for one type of fan—the Red Sox fan—Red Sox fans flocked to Fenway to see no runs, to see strikeouts, to see all of that from a guy who was by any rational standard nothing more than an average physical specimen 5'9 160-165 lbs. Mowing down a string of juiced behemoths the likes of which baseball has never—and will never see again.
When Pedro finished the 1998 season 19-7 with a 2.89 earned run average and 251 strikeouts in only 233.2 innings pitched Red Sox fans were thrilled to have one of baseball's top pitchers on their staff, and then came 1999. 
A few little tidbits of info from the 1999 season. Most baseball fans know of Pedro's grandest accomplishments from that season. His 17 K one-hitter in Yankee Stadium, his all-star game MVP performance when he struckout five of the six batters he faced.
What about this though? He had two back-to-back starts in May against the Angels and Mariners. This was a Mariners team with Alex Rodriguez, Ken Griffey Jr and Edgar Martinez in the lineup. His two starts combined were for 16 innings pitched, Pedro allowed 10 hits, two earned runs, walked one and had 30 strikeouts.  The Red Sox did win both games as well. 
On June 4th, he faced off against an Atlanta Braves team that would end up in the World Series that October. Pedro went the full nine innings, allowed one earned run, three hits, walked two and had 16 strikeouts. From August 19th through September 27th Pedro set an all time MLB record with eight consecutive starts with 10 or more strikeouts.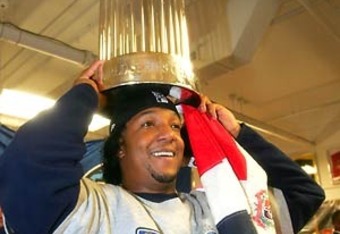 His season ending numbers were staggering.
A 23-4 record, an earned run average of 2.07, 313 strikeouts in only 213.1 innings pitched. His whip ratio was 0.923 and he averaged an at-the-time single season all time MLB record for strikeouts per nine innings pitched of 13.20.
Pedro's 1999 is one of the greatest single seasons every produced by a pitcher in the modern baseball era. Yet it could easily be considered only the second best of his career because his 2000 might have been better. 
Martinez went 41 innings without issuing a walk (August 2, 7th inning to September 4, 2nd inning). Yes, no walks in August of 2000 for Pedro Martinez and he was 3-1 in his six starts that month. In fact for the entire season in 29 starts Pedro never issued more than three walks. He would finish the season with a record of only 18-6 but his whip ratio of 0.737 remains the lowest in MLB History. 
Working in a hyper-offense based American League in which teams averaged  5.3 runs per game Pedro allowed more than three earned runs just twice in his 29 starts. Batters hit just .167 against Pedro that year the second best mark in the American League was held by Tim Hudson but hitters hit a full 60 points higher against Hudson.
Overall it was a brief but nearly unprecedented period of dominance for Pedro. His slight frame would eventually weaken as would his performances but with is career now officially coming to a conclusion it's worth looking back on his accomplishments. They were for the ages.
Only Sandy Koufax of the Los Angeles Dodgers can boast of a similar period of total dominance. Other pitchers have numbers of longevity and no doubt had better full careers, but it's hard to imagine anyone having two better individual seasons back-to-back, as Pedro Martinez did in 1999 and 2000.
It's still six years down the road but Cooperstown will be calling for Pedro on the first ballot.