Fiesta Bowl 2012 Projection: Oklahoma State vs. Stanford
December 4, 2011
Ronald Martinez/Getty Images
Oklahoma State has finished their season 11-1, Stanford has also finished 11-1, but are not their conference champions. OSU finished the season with their sixth win over Oklahoma in school history. They did it in blowout fashion, commanding the attention of OU, OSU and most Alabama and LSU fans in the process.
With Alabama and LSU in the BCS National Championship, Stanford will take the place of the usual SEC team's slot.
Stanford had a heck of a season as well and only lost one game to the eventual-conference-champion Oregon Ducks. They have both earned their spots in this bowl.
Stanford finished the season with an average of 207.9 rushing yards per game (22nd nationally) and 43.6 average points per game (5th nationally).
Oklahoma State has finished the regular season with 401.6 passing yards per game (second nationally) and 49.8 points per game (second nationally).
Defensively, Stanford (23rd Points Against) has an edge over Oklahoma State (61st Points Against), but the game would be balanced well with the offensive edge going to OSU.
These teams have played well, week in and week out. I don't think they will get a shot at the National Championship Game this year, but we will all remember the year that Brandon Weeden almost made it happen for OSU.
I think the Tostitos Fiesta Bowl would be a great place to see two mid-level defenses shoot it out in a dazzling display of fireworks, giving Luck and Weeden a nationally-relevant stage to do so.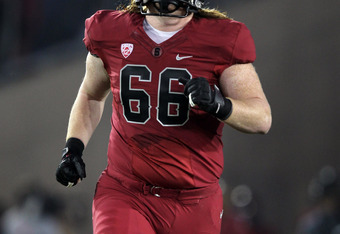 Ezra Shaw/Getty Images
Weeden and Luck have respectively put their teams on the map this year, and I think it would be a more-than-entertaining bowl game matchup.
The BCS bowls are a destination for schools every week of the football season. Stanford and Oklahoma State have earned a spot in the Tostitos Fiesta Bowl.
The defenses are fairly evenly matched, and the offenses are not that far apart, either.
However, if OSU does end up in this game, I think they will step out on the field with the intention of showing the BCS voters that they got it wrong when they put 'Bama in the BCS National Championship Game.
Stanford has finished the season very successfully, and would be playing in a better game, if not for the head-to-head loss to Oregon. OSU has had an incredible season, and was a gnat's hair away from playing LSU in the National Championship.
Stanford is feeling right now that they should have been put in the Sugar Bowl.
That's two offensive powerhouses with chips on their shoulders. How fitting that they were chosen to play in the Tostito's Fiesta Bowl.
"The Shootout for the 'I Told You So'": Stanford 42, OSU 38