Cotto vs. Margarito 2 Results: Margarito Loses, so What's Next for Him?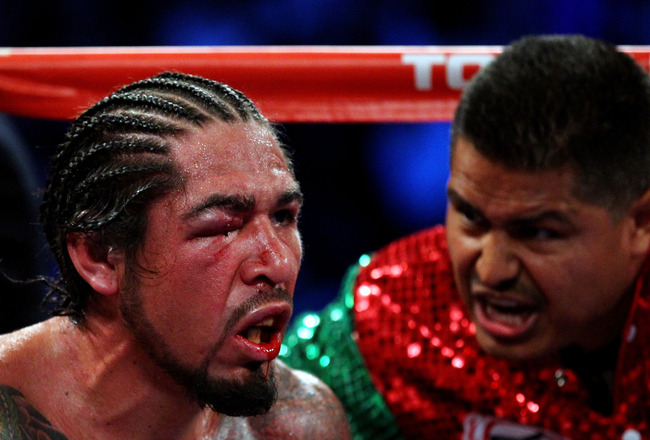 Antonio Margarito with trainer Roberto Garcia
Al Bello/Getty Images
Miguel Cotto has gained his revenge and will likely go on to pursue a rematch with Manny Pacquiao or megafights for millions of dollars against the likes of Saul Alvarez and Floyd Mayweather Jr.
But what will come of the vanquished foe Antonio Margarito?
He suffered yet another closed eye, his second in a row. He still seemed to brush off the damage Cotto gave him during the post-fight interview, but will Margarito actually continue?
Here are some of Margarito's best options.
Take Cotto's Place in Top Rank in-House Fights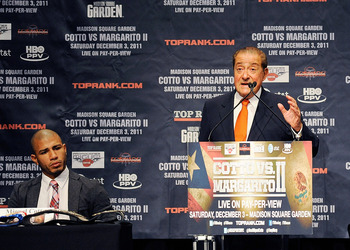 Miguel Cotto and long-time promoter Bob Arum
Patrick McDermott/Getty Images
Rumors run rampant that Cotto will leave Top Rank, including reports from Boxing Scene and Bad Left Hook.
Arum himself, according to Boxing Scene, has said there are problems with his relationship with Cotto. Bob Arum, CEO of Top Rank Promotions, took to defending Margarito and supporting his innocence.
Cotto, convinced that Margarito cheated during their first match, wasn't too happy about that.
This could work to Margarito's advantage.
Arum has said before this fight that he is lining up Julio Cesar Chavez Jr. for the winner, but if Cotto jumps ship to Golden Boy or to go elsewhere, that fight becomes highly less likely.
Cotto has the likes of Mayweather and Alvarez to pursue outside of Top Rank's stable.
Margarito could pick up the pieces and play his most successful role: unrepentant cocky villain.
Top Rank Foe No. 1: Julio Cesar Chavez Jr.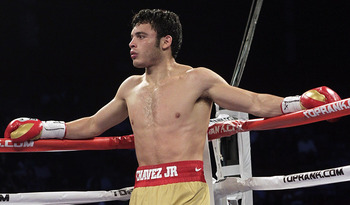 Julio Cesar Chavez Jr.
Bob Levey/Getty Images
Julio Cesar Chavez Jr. (44-0-1, 31 KO) is the 25-year-old son of a Mexican boxing legend and is fast-rising in his popularity.
An all-Mexican showdown at the Cowboy's Stadium in Arlington, TX or at a gigantic stadium in Mexico would sell-out fast in support of this type of matchup.
Both men don't know the meaning of the word defense. Margarito's right eye would likely become yet another target that ends another big fight early for the Mexican warrior, but it would be fun while it lasts.
Top Rank Foe No. 2: Joshua Clottey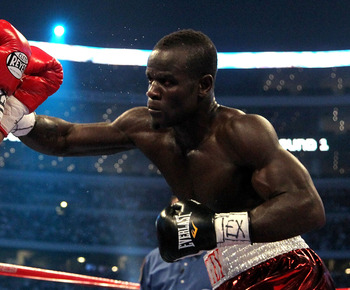 Joshua Clottey
Jed Jacobsohn/Getty Images
Joshua Clottey (36-4, 21 KO) made a return to the light middleweight (154 lbs) division last month with a shocking second-round knockout of Calvin Green in Houston, Texas.
If this version of Clottey can come out in yet another performance possibly this February on HBO and Showtime, then maybe Clottey and Margarito could battle against each other in a rematch next summer.
Margarito came at Clottey with intensity in their first match in 2006, setting a record of 1,675 punches thrown in a 12-round bout.
A new action-packed Clottey could hopefully make people forget his abysmal performance against Pacquiao in 2009 to generate a decent slugfest with Mexico's great modern-day boxing villain.
The loser of this match would likely become a journeyman in boxing, but the winner could definitely look forward to tremendous payday opportunities.
Resurrecting Shane Mosley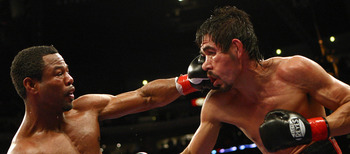 Mosley goes "pugilistic Picasso" on Margarito's face.
Donald Miralle/Getty Images
Shane Mosley (46-7-1, 39 KO) has said he wants the winner of Cotto vs. Margarito II. That is not likely. Cotto will likely chase other brighter options thanks to how good he's looked in recent performances.
Mosley has not looked good in his last three fights since handing Margarito his first knockout loss in January 2009. Mosley's went 0-2-1 in his last three fights while Margarito has gone 1-2 in the same time.
Margarito's supporters still admire his toughness and feel he hasn't lost his last two fights in a horrible way. If anything, still fighting with his eye closed and broken twice has probably gained him more fans.
The fact that Mosley once defeated Margarito could sell Mosley one last time to impress people before the calls for his permanent retirement become too loud to ignore.
This is a great do-or-die fight to make and could create some spine-tingling action in the process.
Retire off into the Tijuana Sunset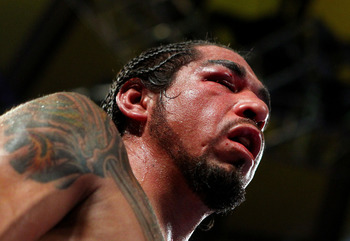 Antonio Margarito
Al Bello/Getty Images
Antonio Margarito has closed his eye twice. He made roughly over $3 million in his losing effort against Pacquiao. He's now made over $2.5 million in a losing effort against Cotto.
That's over $5.5 million in two fights. Margarito has likely never made that much in his entire career.
It's one thing to play tough-guy once with a broken eye socket, but it's entirely different playing the same role with the same reconstructed eye a second time and then another time as he turns 34 next year.
A 34-year-old Margarito fighting after recovering from yet another injury to his right eye just doesn't seem like the best long-term plan.
How many meaningful fights does he really have left? How much longer can this right-eye sideshow really go on?
Maybe calling it quits is for the best. He could be a great Mexican boxing commentator like fellow Mexican retiree Marco Antonio Barrera.
He could invest his newly won millions into businesses in Texas and Mexico or maybe start a boxing promotional company. He could create his own brand of boxing gloves and training equipment.
There's many avenues a man with his money, experience and knowledge of the sport can do for a long time, but boxing is not one of them.
Keep Reading