Kansas City Chiefs vs. Chicago Bears: Live Score, Video and Analysis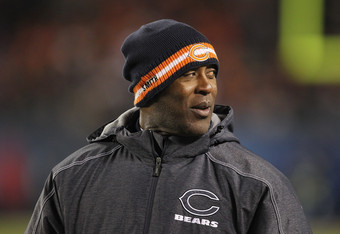 Jonathan Daniel/Getty Images
It was not pretty, but the Chiefs found a way to snap a four-game losing streak and score their first touchdown in the last 10 quarters.
It was a backup battle between Tyler Palko and Caleb Hanie. Palko turned the ball over seven times in the last two games. Many fan were skeptical as he started his third career game against the Bears.
After the Bears drew a 3-0 lead, Palko launched a pass from the 50-yard line to Dexter McCluster, scoring on a Hail-Mary pass on the final play of the first half. McCluster kept his head in the game and did not give up on the play as Brian Urlacher appeared to have an interception in the end zone. Urlacher dropped the interception, allowing McCluster to make the big catch.
McCluster also lit up Chicago's defense that is ranked eighth against the rush with a few draw plays. He ran the ball nine times for 61 yards and helped the Chiefs tack on a field goal in the second half.
The Bears had a lot of issues on this game on offense. Caleb Hanie threw three interceptions and was sacked seven times. Hanie threw a pass to Roy Williams at the two-yard line, but Williams bobbled the football while trying to get to the end zone. Jon McGraw snagged the pass in the end zone for an interception.
Hanie was sacked twice in the third quarter, forcing the Bears to kick a field goal on fourth-and-goal from the Chiefs 23-yard line. However, Robbie Gould's 41-yard field goal attempt went wide left, preventing them from scoring after bringing the ball to the seven-yard line at one point in the drive.
The Chiefs improved to 5-7 while the Bears fell to 7-5. The Chiefs still have life in the AFC West while the Bears have to turn things around in order to stay in the NFC wild-card race.
The Chiefs and Bears both suffered some losses during Sunday's game. Kansas City's Kyle Orton dislocated his finger on his first pass as a Chief. He left the game and did not return.
Chicago had multiple injuries that set them back. Matt Forte hurt his knee after Derrick Johnson stopped him for no gain. Major Wright also suffered a game-ending shoulder injury in the first half of Sunday's game.
Final score: 10-3 Chiefs

Thank you to everyone who followed the live blog during the game today or who checked it out after the game.
Here is today's highlight of the game, which eventually turned out to be the game-winning touchdown as Tyler Palko earned his first career touchdown pass.
It wasn't pretty, but the Chiefs won. That Hail Mary play before the end of the second half was the game-winner.
Caleb Hanie sacked seven times and picked off three times.
The Chiefs defense has been great today.
They have seven sacks. Three from Justin Houston, one from Tamba Hali, Jon McGraw, Tyson Jackson and Derrick Johnson.
Chiefs get another turnover on downs and should win.
Derrick Johnson will earn his first Pro Bowl ticket. He is playing lights out this year. He is all over quarterbacks and running backs this season, not allowing them to do much.
Dustin Colquitt came away with a 69-yard punt and continued to get the best of Devin Hester, but has to punt again due to a flag.
It ended up going well since Hester went backwards on the second punt and lost a yard.
I loved seeing the fans in the background stand up and react to the tip in slow motion. Those replays are the best.
Caleb Hanie was hot and continued to do great. He found Roy Williams, but Williams dropped the for-sure touchdown as Jon McGraw stayed on his feet to intercept the pass in the end zone.
Caleb Hanie continues to find receivers for a first down. Johnny Knox has been his friend on this drive.
The Chiefs and Bears continue to exchange the football in a punt fest.
The Chiefs defense continues to play well as the Bears have yet to convert on third down after being given the opportunity 10 times today.
It was said earlier today that the Chicago Bears have no interest in Donovan McNabb. I'd say some Bears fans would want him after seeing this game from Hanie.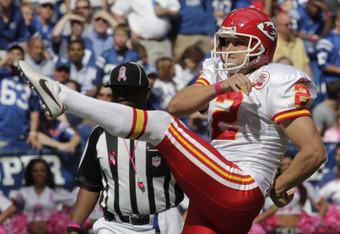 Dustin Colquitt may not be having the greatest game, but he is not letting Devin Hester do anything today.

The earlier sack has been re-credited to Jon McGraw
The last sack was credited to Wallace Gilberry, even though it seemed like Jon McGraw got it. He was the reason Hanie went down.
The Chiefs need to keep McCluster active to end the game and pin the final nail on the coffin. That will get the fans at Soldier Field to leave.
Tyson Jackson and Justin Houston forced the Bears to go backwards by 16 yards to lead to the eventual miss. Romeo Crennel's defense has came through in the red zone today.
Kahlil Bell is trying to give the Bears some life after a great hole that lead to a 26-yard run to the goal line.
I was expecting that play to McCluster on third down, but it was a quick handoff, rather than a draw play.
Another bad punt by Dustin Colquitt. Will Caleb Hanie ever take advantage?
Great interception by Brandon Carr. Perfect step and jump to end another short-lived Bears drive.
Hanie makes a backup mistake and it could hurt the Bears defense, who just got off the field after letting McCluster blow up.
Ryan Succop makes a chip-shot field goal.
Those draw plays to McCluster seem to really throw off Chicago's defense.
10-3 Chiefs.
Tyler Palko putting together another nice drive.
It seems like he is getting a good grasp. I understand Chicago is missing some players, but Palko is a backup who hasn't played well lately.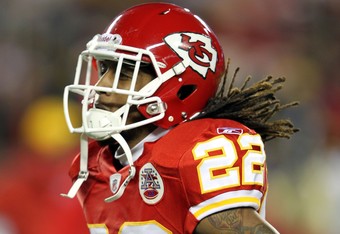 Dexter McCluster had one more defender to beat and he would have taken that to the house. This is what Chiefs fans have been waiting for out of McCluster.
Hanie and the Bears unable to do anything.
You have to wonder if these backup quarterbacks throw an interception soon.
Tyler Palko is obviously playing his best game, statistically, since taking over as the starter against a good Bears defense.
Caleb Hanie must now create some scoring drives that result in touchdowns and not field goals.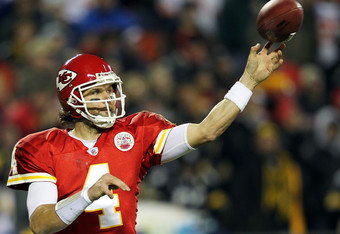 TOUCHDOWN CHIEFS
Tyler Palko finds Dexter McCluster on a hail marry pass! Brian Urlacher had the interception in his hands, but it falls out to McCluster. Tough play for the Bears.
This is Palko's first career touchdown pass.
Chiefs just used their only timeout that they had going into two-minutes.
Tyler Palko is 11-of-14 passing today. It feels a lot worse.
The Chiefs hope to tie it up, at the very least.
Bears S Major Wright is in the locker room. The Bears are having some bad luck of their own with some key players leaving the game.
The Chiefs are still checking out Kyle Orton's finger.
You have to feel really bad for Jim Zorn. He is a great quarterbacks coach. He does not deserve this.
This article is
What is the duplicate article?
Why is this article offensive?
Where is this article plagiarized from?
Why is this article poorly edited?

Kansas City Chiefs: Like this team?