NHL Trade Rumors: Jarome Iginla and Rumor Mill Stars That Will Stay Put
December 3, 2011
Bruce Bennett/Getty Images
The NHL rumor mill is on full blast already. Some of the biggest names in the league have been mixed up in the trade talks, but most of it will not come to fruition.
Players like Jarome Iginla and Rick Nash are annually involved in the midst of all the trade rumors but nothing ever happens.
The following list is of the stars that may be involved in the rumors, but will be wearing the same colors once the deadline passes.
1. Jarome Iginla
There is no clearer affirmation that a star won't be traded than his general manager coming out and saying that the team isn't interested in trading you.
That's exactly what happened Friday night when Calgary Flames GM Jay Feaster told the media that star right winger Jarome Iginla was not on the trade market.
Feaster is trying to build a team that can win now. That means he needs Iginla in the lineup for as long as he can possibly afford it. Calgary would go into complete rebuild mode without Iginla.
2. Bobby Ryan
With the floundering Anaheim Ducks looking for a spark, the idea of trading Bobby Ryan was one of the options the team looked to flip the script.
They ultimately felt that Bobby Ryan was too good of an asset to give away and instead changed coaches. With Bruce Boudreau on board, the Ducks should be able to keep Ryan on the team.
While reports say that Ryan and former head coach Randy Carlyle butted heads often, Boudreau will love Ryan's aggressive play and encourage it. Anaheim's offense is too good to be on a bad streak for too long.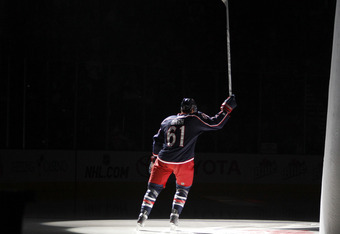 Justin K. Aller/Getty Images
3. Rick Nash
As if on cue, the Rick Nash to Toronto Maple Leafs rumors have started to flood the online hockey world. Sorry Leafs fans, it's not going to happen.
Rumors have the Blue Jackets very active in the trade market, but have not opened the vaults to Nash. Most teams believe Columbus will not trade the star.
Nash is a perennial All-Star and needs to be the cornerstone of the Blue Jackets until he can't skate anymore. Let Rick Nash be Columbus' Joe Sakic.
Check back for more on the National Hockey League as it comes, and check out Bleacher Report's NHL Page to get your fill of all things hockey.