LSU vs. Georgia: 5 Reasons Georgia Could Be the Better Team Next Season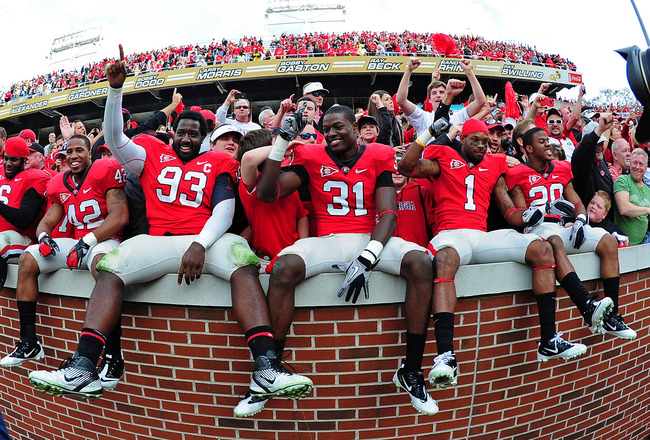 Scott Cunningham/Getty Images
The Georgia Bulldogs battle the LSU Tigers for the SEC Championship tonight.
Regardless of the outcome of this game, LSU will still be in the national championship game and ranked above Georgia.
However, there is excitement in Athens because the future looks bright.
There is reason to believe that next year Georgia could be a better team than LSU.
Coaching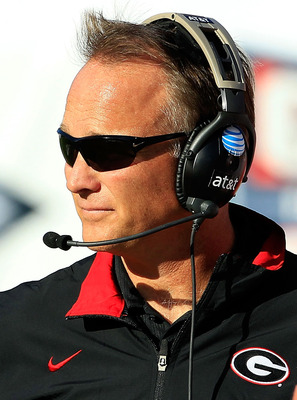 Sam Greenwood/Getty Images
Mark Richt started the year on the hot seat and some believe a blowout loss to LSU could cost him his job.
That would be a very big mistake; Richt has proven that he can recruit in tough SEC country that's usually dominated by LSU, Alabama and Florida.
Instead of folding up and staying at the bottom of the barrel in the conference, Richt has slowly built this team to be a contender.
The performance this year will only aid in recruiting; this team will be even better in 2012.
Healthy Pup
Kevin C. Cox/Getty Images
This year, the Georgia Bulldogs suffered several injuries to key players, which may have held them back.
The most notable injury was suffered by freshman running back Isaiah Crowell.
Next year, Crowell will be back and better than ever, and will add another weapon to the Bulldogs' steadily improving offense.
Dawg Defense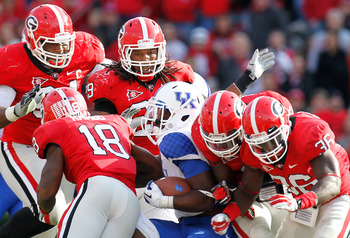 Kevin C. Cox/Getty Images
The Georgia Bulldogs have improved on defense to become one of the most feared units in the country.
They are underrated because all of the attention is going to Alabama and LSU, but the Bulldogs are a fierce unit.
They rank third in the SEC in scoring defense, fourth in total defense and third in rushing defense.
If defense wins ballgames, Georgia will have the chance to be a dominant team in 2012.
Air Dawg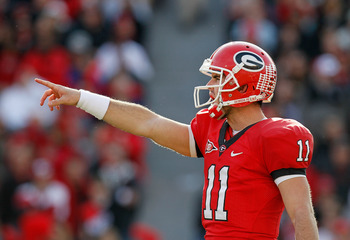 Kevin C. Cox/Getty Images
Aaron Murray is quickly becoming one of the best quarterbacks in the country; it won't be long before you hear his name associated with Heisman talk.
Murray did a lot of growing up over the last few seasons and has used that experience to become a better quarterback.
Murray has transformed into a leader on the field. His leadership will only make this team better in 2012.
Who Let the Dawgs Out?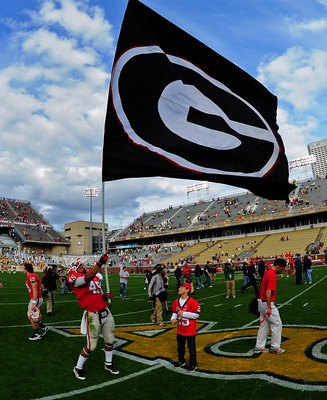 Scott Cunningham/Getty Images
The Bulldogs have shown vast improvement over the last few years; a close game against LSU in the SEC Championship game would send a clear message to the rest of the country that they will be a contender for a long time to come.
It is that kind of heart and commitment to playing great football that will keep them in the running for the national championship for years to come.
This is just the start of very good things for the Bulldogs. Don't be surprised if they are ranked higher than the LSU Tigers next year.
James Brown is a B/R Featured Columnist and can be followed on Twitter. Feel free to contact James at jtsneaks@gmail.com.
Keep Reading

Georgia Bulldogs Football: Like this team?