Detroit Red Wings: 5 Reasons Why Winning Ways Won't End in Losing Streak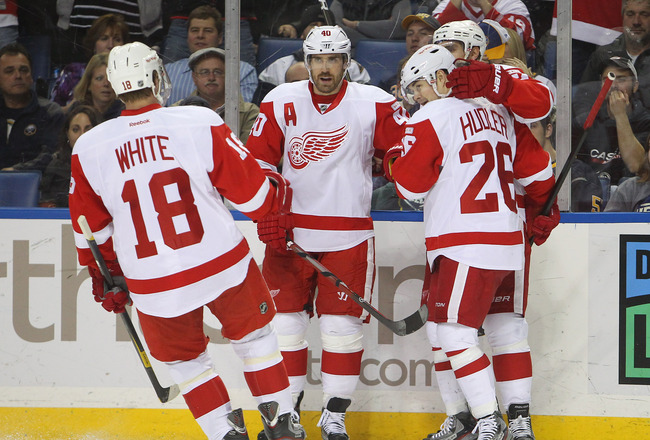 Tom Szczerbowski/Getty Images
The Detroit Red Wings continue to be one of the most streaky teams in the NHL this season.
Detroit has now won seven games in a row after a convincing 4-1 win last night in Buffalo.
But as Red Wings fans are accustomed to seeing this season, Detroit will likely cool off at some point in the near future and struggle for a few games.
But unlike Detroit's season opening five-game winning streak that saw them drop their next six games, I do not see this Red Wings winning streak ending with a long losing streak this time around.
Read on to see why.
1. Jimmy Howard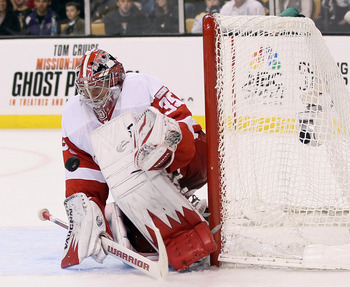 Elsa/Getty Images
Jimmy Howard has been the one Red Wings player who has been consistent throughout the first 24 games.
Howard's stats speak for themselves: a 15-5-1 record (best in the NHL), a 1.83 GAA (best in the NHL among goalies who have played at least half of their teams games), a 93.1 save percentage and three shutouts.
Through the Red Wings lulls this season, Howard has still played well, giving the team a chance to win.
If the offense suddenly dries up and Detroit can't put the puck in the net, look for Howard to still carry this team with his play in the crease.
2. Power Play Looks Better Even with the Loss of Rafalski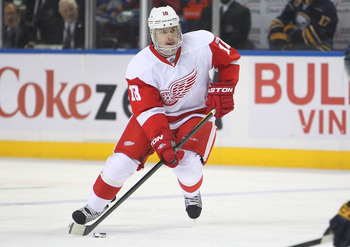 Tom Szczerbowski/Getty Images
Remember how good Brian Rafalski was on the power play last season?
The Red Wings seemed to have snapped out of an early season power play funk that saw them struggle to score at all on the power play.
The Red Wings power play was down around 20th in the league, below 13 percent on the man advantage.
Those days are gone, Detroit seems to be scoring at will on the man advantage now, moving their power play up to seventh in the league.
The man advantage might not be up to snuff compared to seasons past with Rafalski's abilities on the power play, but Detroit's man advantage is slowly but surely coming back to where it was last year.
3. Pavel Datsyuk Has Awoken from His Offensive Slumber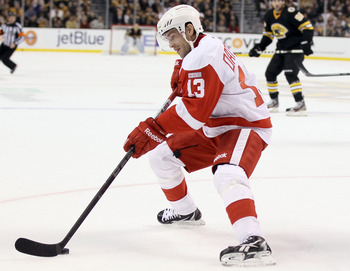 Elsa/Getty Images
Pavel Datsyuk had a slow start to the season offensively, and he called his play "awful".
Datsyuk had two goals among 10 points in the first 16 games.
He seemed out of place in the offensive zone.
Since his assessment of himself in mid-November, Datsyuk has 13 points in his last eight games.
When he was nominated for the All-Star game in mid-November, some people, myself included, scratched their heads.
Datsyuk has quickly put himself back on the radar as far as a possible Hart trophy nomination. He still has a bit of work to do if he wants that prestigious honor, but he is well on his way to getting back to his 90-100 point self as he as 23 points in 24 games.
4. Detroit's Defensemen Are Present and Scoring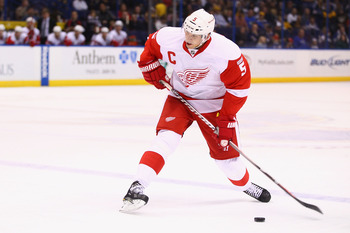 Dilip Vishwanat/Getty Images
Detroit's Nick Lidstrom and Niklas Kronwall have six goals a piece. They trail only Jason Garrison from Florida who has eight goals.
Detroit's defensemen have been lighting the lamp like it is going out of style.
In fact, they lead the league with 21 goals by their defensemen.
This takes a lot of pressure off of Detroit's forwards to put the puck in the net.
If this continues, even in part, Detroit should have no problem winning games and bouncing back quickly after a loss.
5. Mike Babcock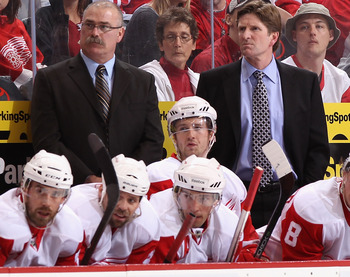 Christian Petersen/Getty Images
Mike Babcock has a knack for getting what he wants out of players.
He just seems to know how to motivate players, and how to get players to accept roles on the team.
His Stanley Cup championship with Detroit in 2008, and Olympic gold medal with Team Canada in 2010 as a head coach, are evidence of this.
Babcock seemed to be at a loss for words during his team's 0-5-1 streak earlier this season, but those who remember 2008, would remember the Red Wings going win-less for six straight games there as well.
Babcock has the ability to make his team bounce back mentally, putting the season in perspective, not letting his team only focus on future games instead of wins and losses.
His coaching abilities are second to none in this league, and it is for this reason that Detroit will be able to iron out any kinks that they come up against this season.
How Many Games Will They Win?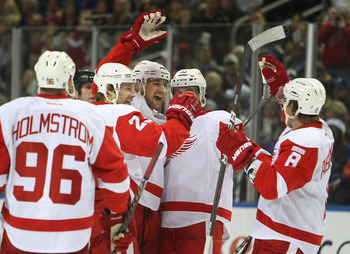 Tom Szczerbowski/Getty Images
The Red Wings are talented, and they seem to have a great chemistry going on so far this season.
Barring any season ending injuries, and a significant statistical drop off by Jimmy Howard, I see Detroit winning upwards of 50 games this season.
They will not be able to run away with the division like they did to some extent last week, but it will be fun to watch them battle with the Blackhawks for top honors in the Central division, in what could be their swan song in the division.
Follow Isaac on Twitter for more article updates.
Keep Reading

Detroit Red Wings: Like this team?