Jerry Sandusky Sex Scandal: Ex-Coach Digs Hole Deeper with NY Times Interview
December 3, 2011
Jerry Sandusky cements his, and his former employer's, doomed fate every time he speaks.
First, he did so in front of millions on NBC with Bob Costas, and now he's done the same with an extended interview with Jo Becker of the New York Times.
The former coach spoke with Becker for nearly four hours over the course of two days. The interviews took place at the residence of Sandusky's lawyer.
His answers are often as baffling as they are damning.
Sandusky doesn't seem to have an agenda to take down Joe Paterno, or others from Penn State.
He said that he didn't think the damage, as a result of his indictment, to Paterno and the university "was fair." 
At the same time, he certainly isn't going out of his way to clear their names.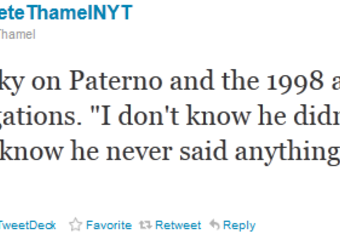 He also dropped this bombshell.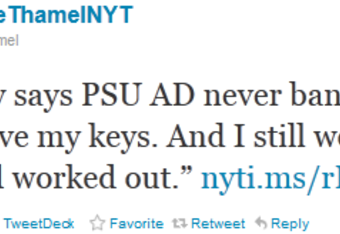 The allegation that the university knew enough to ban him from the facilities but did not ensure matters were pursued further has been the epicenter of the downfall of people like Paterno and former university president Graham Spanier, as well as the reputation of the school.
The fact that Sandusky may have still been using these facilities after this ban is just another nail in the coffin.
Of course, one benefit to the case of the peripheral people involved in this scandal is that Sandusky destroys his credibility with each word.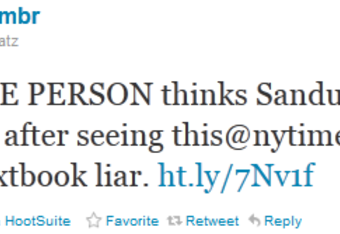 It is true. Take a look at the video. Sandusky changes the amount of eye contact with Becker in various statements, fidgets, and has fits of nervous laughter. 
It's not just the suspected lying either. There's just something odd about the man.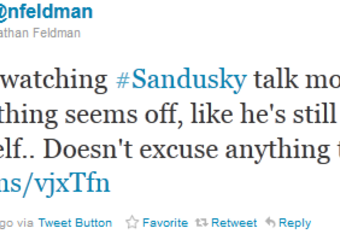 The most damning thing of all in this interview came when he was asked about his reply to Bob Costas' question, "Are you sexually attracted to young boys?"
Sandusky told Becker he thought to himself, "What in the world is this question?"
What? Is he serious? How could he be surprised by that question? That seems like a natural question for someone who is accused of sexually assaulting children. His following answer was worse: "If I say, 'no I'm not attracted to boys,' that's not the truth because I'm attracted to young people—boys, girls."
Well, as long as you are attracted to girls too—I guess it's okay.
At this point, his lawyer—who must be completely inept—steps in and says, "Yeah, but you're not attracted to them sexually."
Then, in a hollow effort to explain that he is not attracted to them in a sexual nature, he proceeds by saying he also enjoys the elderly.
Conclusion
It is hard to imagine anyone watching this video and coming away with the belief that Sandusky is not guilty of the crimes he was charged with.
The former coach seems like a lost soul overwhelmed by the enormity of the punishments facing him for his disgusting misdeeds. He still seems to believe there was nothing wrong with his sexual interactions with children.
Becker reported that Sandusky felt the "physical aspect of the relationships 'just happened that way.' Wrestling, hugging—'I think a lot of the kids really reached out for that.'"
The actions that seem horrific to the public seem natural to Sandusky. It is a disturbing thought.
Equally disturbing is the picture that continues to be painted of a university that turned a blind eye to it all.