Comparing Aaron Rodgers, Drew Brees and Tom Brady Throughout Their Careers
December 3, 2011
I don't think there is any doubt that the three best quarterbacks in the NFL right now are Aaron Rodgers of the Green Bay Packers, Drew Brees of the New Orleans Saints and Tom Brady of the New England Patriots. 
All three of those QBs have led their respective teams to wins in the Super Bowl, and Brady has done that three times.  All have also been Super Bowl MVPs, and Brady was MVP twice.
Just look at the career statistics of the three as well. 
All three are in the top 10 in QB rating.  Brees has a career rating of 92.8, which ranks him eighth all time.  Brady has a career QB rating of 96.0, which ranks him third.  Rodgers has a career QB rating of 103.8, which ranks him first.
Overall, here are the basic statistics for the careers of Rodgers, Brees and Brady.
Rodgers has thrown 120 TD passes to just 36 picks.  Brees has thrown 262 TD passes compared to 143 interceptions, while Brady has thrown 289 TD passes vs.113 interceptions.  All of them have an exceptional resume.
Also, look at their success in the postseason. 
Brady is 14-5 in the playoffs, which includes a 3-1 record in the Super Bowl.  Brady has completed 30 TD passes compared to 16 interceptions for a career postseason QB rating of 85.7.  In the Super Bowl, Brady has thrown seven TD passes to just one pick for a QB rating of 94.5.
Brees is 4-3 in the postseason, which includes a 1-0 mark in the Super Bowl.  Overall, Brees has thrown 15 TD passes to just two interceptions for a career postseason QB rating of 102.  In the Super Bowl, Brees has two TD passes vs. zero picks for a QB rating of 114.5.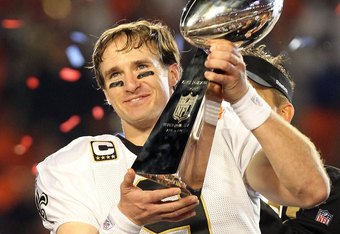 Ronald Martinez/Getty Images
Rodgers is 4-1 in the postseason, which includes a 1-0 record in the Super Bowl.  Overall, Rodgers has thrown 13 TD passes to just three picks for a career postseason QB rating of 112.6, which is the best-ever rating for quarterbacks in the playoffs.  In the Super Bowl, Rodgers has three TD passes vs. zero interceptions for a QB rating 111.5.
As you can see, these guys are truly winners and they seem to play better when the pressure is the biggest. 
But what about the 2011 season thus far?  Who is the best of the three with 11 games into the current season? 
Let us look at the statistics shall we? 
Rodgers (127.7), Brady (105.1) and Brees (103.6) are the top three quarterbacks in the NFL in terms of QB rating.  Rodgers leads by a large margin though.
In terms of yards passing, Brees, Brady and Rodgers are the top three leaders in that statistic too. Brees currently has 3,689 yards passing, while Brady is second with 3,627 yards passing.  Rodgers is third with 3,475 yards passing.
All are projected to pass for over 5,000 yards this season, and Brees and Brady are both expected to surpass Dan Marino's all-time regular season mark of 5,084 yards passing in 1984.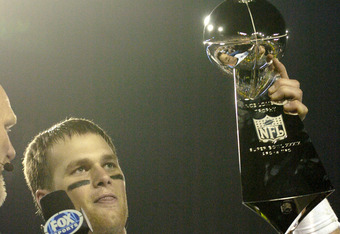 A. Messerschmidt/Getty Images
In terms of completion percentage, Rodgers has a real chance to beat Brees' all-time mark of 70.6 percent in 2009.  Rodgers currently has a 71.8 percent completion average.  Guess who are second and third behind Rodgers in completion percentage?  You guessed it...Brees (70.2) and Brady (65.8).
In terms of big plays, nobody in the NFL has more 40+-yard completions than Rodgers, who has 11.  Brady has eight, while Brees has seven.
All three QBs have their teams at the top of their respective divisions too.  But the bottom line is wins, and nobody can top the mark of Rodgers, who has the Packers at a perfect 11-0 record.  Both Brees and Brady have led their teams to an 8-3 record.
So...who is playing the position of quarterback the best right now? 
I'll let Tom Brady give you the answer.  Brady was on Inside the NFL on Showtime this week, and said, "The way Aaron's playing, it's impossible to play the quarterback position any better than he is playing it right now."
Brady should know, based on his own sparkling resume.