Capitals Offense Continues Downward Spiral as Pressure Mounts on Great 8
December 3, 2011
Rob Carr/Getty Images
Even though November is typically the month where many give thanks for all that they are grateful for in life, the Washington Capitals were thankful to see the month come to an end.
After posting a 7-2 mark in October, including a franchise best 7-0 record to start the season, Washington was 5-8-1 during the second month of the season.
This, along with several other issues, caused General Manager George McPhee to fire head coach Bruce Boudreau and replace him with long time Capitals legend Dale Hunter.
While Boudreau has historically landed back on his feet as the main man behind the bench in Anaheim, the Capitals are 0-2 under their new head coach and unfortunately began the month of December exactly as they ended November, with a 2-1 loss at home.
In similar fashion to their loss on Tuesday to the St. Louis Blues, the Caps were outshot by almost a two-to-one margin in losing 2-1 to their archrivals, the Pittsburgh Penguins, on Thursday night.
As always with a struggling Washington Capitals team, there is a good, bad and an ugly.
The good was the defense, as many of the issues that seemed to plague this unit in November looked to be headed in a positive direction. Dale Hunter's hard-checking, man-on-man style of play, along with a better performance between the pipes from Tomas Vokoun, seems to be paying dividends.
The same Caps team that allowed 11 goals in Bruce Boudreau's final two games has allowed just four during Hunter's first two.
The bad and the ugly have to be the Caps offense, and despite having names like Ovechkin, Semin and Backstrom, they are struggling at an alarming level these days.
The Penguins became the sixth team in the last 16 days to hold the Caps to just one goal. Washington has now lost four in a row, 12 of its last 17 as well as all seven games it has scored just once in this season.
Washington's offensive struggles are approaching a level not seen in D.C at any time during the Alex Ovechkin era. The Capitals are now a minus on the season (minus-five), and have been collectively outscored in every period this season. The scariest part is the lack of shots on goal lately. Currently, the Capitals hold an 11-shot advantage for the season, but have been outshot by an almost two-to-one margin during their two losses at home this week. The Penguins and Blues peppered Caps goalie Tomas Vokoun with 65 shots, while Vokoun's offense could muster just 36 shots combined at the Pens' and Blues' backstoppers.
Washington has registered at least 36 or more shots in five games this season.
To further illustrate Washington's offensive trouble, St. Louis and Pittsburgh combined for 130 attempts at the net (including shots on goal, shots blocked and shots that missed) while Washington managed only a combined 72 in the two games, including just one from Ovechkin against the Penguins.
Despite being outshot 25-15 by a team sporting two of the best offensive players on the planet in Sidney Crosby and Evgeni Malkin, Washington was still tied with Pittsburgh heading into the final stanza. However, the Caps could manage just two third-period shots at Pens goalie Marc-Andre Fleury, and looked no closer to executing Hunter's new offensive style.
When things are going as badly as they are for the Caps, simple things like falling down for a split second seem to cost the team goals and ultimately wins, and that's what happened during the loss to the Pens.
The Caps' John Erskine fell down and gave Pittsburgh's Chris Kunitz a clear shooting lane to the net. Kunitz knuckled one past Vokoun for the eventual game-winner, and with no offense to speak of, the Caps couldn't tie the game.
Firing Boudreau was a move that had to be made, but Capitals GM George McPhee may have to make a few more, and quickly. Washington needs a top-notch second center, and another mid-level consistent goal scorer. McPhee must start looking at all of his options now, as the trading deadline may be way too late for this team.Semin has to go, as does the oft-injured Mike Green.
It probably would not be a bad idea to ship out either Michael Neuvirth or Braden Holtby either. Let's face facts, Caps fans, only one is the future, so lets hope GMGM guesses correctly if he makes the move.
Washington could acquire a lot of talent by doing so, and not just for this season, but for the future. McPhee has already demonstrated his ability to get the maximum for average talent, when he traded goaltender Semyon Varlamov to the Avalanche. Imagine what he can do with talent that is supposed to be above average. 
The line shuffles under Boudreau were horribly inconsistent, and while many blamed Boudreau, maybe it was never Boudreau's fault. The frustration of not being able to find the best possible options for the two Alex's, who are supposed to be the point producers at the top of the lineup, must have been excruciating at times.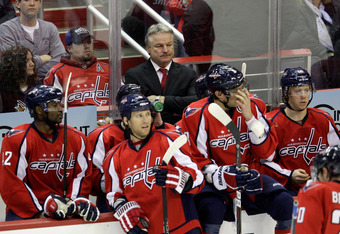 Rob Carr/Getty Images
Alexander Semin, and of course, the great 8, have not played with two consistent linemates since start of last season.
Maybe it's also possible that Boudreau did everything he could while giving his all behind the bench each and every night. It is possible that certain players were unwilling to give as much in return.
Would it be such a stretch to say that certain players from across the pond are a bit self-centered?
Of course, the Caps' two high-flying Russians aren't the only ones at fault lately. While everyone knows that Ovie has just eight goals and 10 assists this season, Alex Semin's numbers also have him on a pace to match or finish with career-lows in goals (five) and points (10).
Joining them with scoring slumps of their own through 23 games this season are forwards Troy Brouwer, Joel Ward and Brooks Laich. Brouwer has five goals, while Ward and Laich have just four each. Worse yet is Mike Knuble, who, after recording his eighth straight year of 20 or more goals (24) last season, has just two so far this season. The Capitals' offensive system, if you want to call it that, appears disoriented on the ice, especially to start a period. While I'm a big believer that much of this open wound is very much self-inflicted, I also believe that Dale Hunter can fix it.
Hunter said when he took the job that he did not believe in run-and-gun hockey, and his team in the OHL, the London Knights, are proof of that.
Hunter's teams played smart and aggressive hockey. They were responsible in their own end and capitalized on scoring chances in the offensive zone. His teams averaged almost 270 goals per season, while surrendering 205. Keep in mind that in the OHL, teams only play a 68-game season.
As of today, the Knights are rated the No. 1 hockey team in the Ontario Hockey League, as Hunter led London to its 2005 Memorial Cup win and four straight season titles. He has the distinction during his era of coaching more players who have gone to the NHL than any other junior coach. They've included: Corey Perry, John Tavares, Rick Nash, Pat Kane and current capitals John Carlson and Dennis Wideman. 
Hunter has his hands full, and may need to be more of a hockey psychologist than a head coach right now. Washington is a hockey team that is collectively depressed. Like depressed individuals, the Capitals have their highs, but the lows far outweigh them at the moment.
To make matters worse, creating more pressure on the new head coach, and Ovie, you can bet the hockey tabloids will be all over the Boudreau vs. Hunter, and which coach will turn his team around first.
Boudreau became the fastest head coach in NHL history to be fired and hired once again.
Boudreau's time frame was just 67 or 68 hours of unemployment depending on who you ask. He surpasses Roger Neilson, who was fired by the Vancouver Canucks 48 games into the 1983-84 season, and hired 15 days later by the New York Rangers. If Ovechkin continues to struggle, and last year's MVP, Corey Perry, starts to turn his season around under Boudreau, what then will be written about the Great 8?
Confused and dazed may be an understatement when you consider that the Capitals  are now on their fourth extensive system change in less than 18 months. Remarkably, the Caps went from a team that scored 318 goals, which was the most since the Penguins of the late 90s, to a team that changed to a defensive philosophy, scored almost 100 less goals on purpose, and went on to record a franchise-best goals against average last season.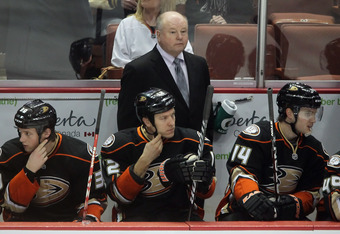 Jeff Gross/Getty Images
Even more amazing is that both Alex's, as well as Nicklas Backstrom, who are considered to be the big three in terms of offensive output on the roster, averaged 87 points combined since Backstrom debuted in 2007. That is more than any trio in the league over that span, but since the start of last season, that total has dropped by almost 20 points.
Hunter has begun his evaluation, and is making major changes on the fly. He is definitely playing with line combinations, as well as ice time.
Against the Penguins, Alex Ovechkin logged three more minutes of ice time than he did on Tuesday versus the Blues, while the other Alex was limited to 12 minutes and 45 seconds, which was his lowest total since being benched at home versus the New Jersey Devils back on November 11.
The best way out of this may be as easy as Hunter simplifying the game again for the Capitals. Hunter wants them to play the cycle game and create scoring chances in front. He needs to just let them skate their way through this.
Alex Ovechkin registered 10 hits vs. Pittsburgh, but has just two shots during his last two games. If that stat doesn't scream a confused and disoriented offense, then this one surely will. Jason Chimera, who has averaged 15 goals per season during his 10-year NHL career, scored his team leading 10th goal Thursday night, which matches his total from all of last season.
No pressure here, and I'm not firing the first shot, but the Anaheim Ducks scored more goals (three) in the first two periods of Bruce Boudreau's debut than the Capitals did in Dale Hunter's first two games.
Granted, the Ducks coughed up a three-goal lead, losing Gabby's debut to the Flyers in overtime at home, but it looks as if Boudreau has a bit more to work with offensively in Anaheim than does Hunter at the moment. Just saying.