Chicago Bulls: Arron Affalo vs. Nick Young, the Shooting Guard Prospects
December 3, 2011
Marc Serota/Getty Images
There have been plenty discussions on whom the Chicago Bulls should pursue, and if you're a Bulls fan, you're thinking what all of the analysts are saying—they need a shooting guard to play alongside Derrick Rose, period! 
Who is the right player? I've heard and written about Jason Richardson, Brandon Roy and Caron Butler. After a couple of days and some digging, the Bulls have expressed interest in each of the players that I have mentioned, but they have already reached out to a couple players who fit what they need perfectly.
Denver's Arron Affalo and Washington's Nick Young. 
Both are restricted free agents and both may have any contract offer they receive matched by their respective teams. However, they both provide some very compelling arguments in regards to who is the better fit. I have my choice, but who would you choose?  
Aaron Affalo: 
Drafted by the Detroit Pistons with four years of experience in the NBA, Affalo started out slow and was shipped out to Denver in the Chauncey Billups-for-Allen Iverson trade. His calling card is defense. If you look at his defensive numbers, they're not very impressive, but he stops the guy he's guarding. 
He's long and athletic, which is something the Bulls need out of their shooting guard, and he still has an upside. That's quite a impressive for Affalo, who is 26. At that age, generally players have just about reached their ceiling. He reminds me of Trevor Ariza with more room to develop.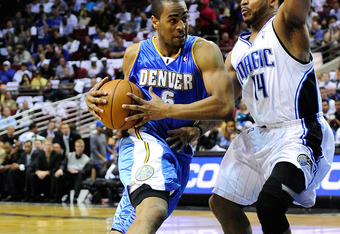 Sam Greenwood/Getty Images
Offensively, he's coming into his own, averaging 12.6 points a game and 42 percent three. He can slash to the basket and handle the ball. After the Carmelo Anthony trade, Affalo became the Nuggets' go-to-guy before injuries slowed him down, providing proof positive that he can be the answer to the Bulls' needs at shooting guard.
Nick Young:
The four-year shooting guard has spent every season with the Wizards and has progressed every season. Young isn't in the same ballpark defensively with Affalo but, he's a willing and capable defender. He's not as good a passer either, but he can flat out score.  
I can recall watching a Bulls-Wizards game three years ago, and Young torched the Bulls for 28 points in an effortless 27 minutes. Scoring is his forte and after averaging over 17 points a game last year, he has figured out his niche. Also at 6'7", he presents matchup problems that Affalo cannot. He can handle the ball pretty well, and guess what? He won't wear Jordan's again.
There you have it. Two intriguing players, who provide different arguments. Affalo is the better defender, and Young is the better scorer. 
So who would you choose? My mind is already made up.