Cotto vs. Margarito 2: Why Cotto Will Throttle His Way to Victory
December 2, 2011
Patrick McDermott/Getty Images
Puerto Rican boxer Miguel Cotto has been harboring the beatdown that Mexican pugilist Antonio Margarito laid out on him three years ago in Las Vegas.
Cotto was embarrassed, humiliated and ticked off at how one-sided the fight was, and will be primed to throttle Margarito Saturday night for the junior middleweight boxing title.
Madison Square Garden will be rocking at 9 p.m. Eastern time as 21,000 people will pour in to see the grudge match between Cotto and Margarito.
Back in 2008, Cotto (36-2, 29 KOs) was undefeated and defending his title when Margarito (38-7, 27 KOs) challenged him to a July 26th fight. What happened was Margarito won a one-sided affair in 11 rounds by technical knockout.
Watching the first fight, Margarito began taking control in the sixth round when he began cornering Cotto. The Mexican then unleashed a punishing flurry of body shots and upper cuts that cut and bruised Cotto's face.
The Puerto Rican fighter was really disoriented in the 10th round as blood was dripping across his face. He lost when his trainer called the fight the following round.
What adds more fuel for Cotto to beat Margarito into submission is the fact that he was caught cheating with plaster-like coating on his hands before losing to Sugar Shane Mosler in 2009.
Margarito was then suspended from boxing for a year and subsequently lost to Filipino great Manny Pacquiao last November, having a battered face with significant damage to his right eye.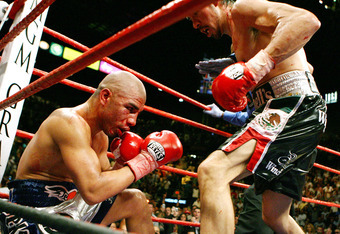 Ethan Miller/Getty Images
Cotto, who alleges that Margarito used those illegal wraps in their last fight and played with "his career and life," said that he wants to target Margarito's right eye and continue the damage Pacquiao did.
During the fight's press conference, Cotto said that he wants to make this a great match for boxing fans around the world, while having a different outcome. 
Translation: He wants to beat Margarito's ass.
The press photos were really intriguing, as Cotto looked cold and focused while Margarito smiled away as if trying to win a popularity contest.
On the traditional staredown shot, one could feel Cotto's sheer hatred for his opponent and could swear that the Puerto Rican fighter would fight right then and there.
Another motivation for Cotto pulverizing Margarito is not just defending his title or the satisfaction for revenge, it's to uphold his family's honor.
His wife Melissa and his children saw their father get manhandled by Margarito, where he could've been seriously injured or even killed. Melissa said in HBO's "24/7 Cotto vs. Margarito" that she is filled with anger any time she sees the Mexican fighter.
Cotto has the motivation to show his wife and kids that he is a great fighter and will beat a bully fair and square.
For anymore reason why Cotto will knock the snot out of Margarito, here is what ESPN reported when Cotto took the podium a few feet away from his opponent:
If you don't know what a criminal means, you can look it up in the dictionary. It's someone who uses a weapon. ... You are like a child. You are an embarrassment to boxing. I am going to slap you like a little girl.
Cotto is a man on a mission and will avenge his horrible, embarrassing loss against Margarito by throttling him come Saturday night.