The Ultimate Fighter 14 Finale: Weigh-in Results and Live Reaction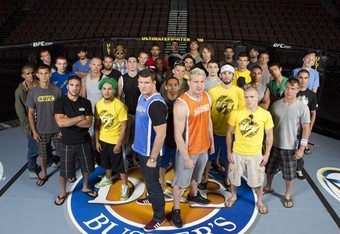 Saturday night is going to be an exhilarating culmination to Season 14 of The Ultimate Fighter. This has been one of the most exciting seasons of TUF in quite some time. From the very first episode we witnessed some great fighters and some entertaining fights.
The two coaches of this season were also great and they'll be facing off against one another on the same card as the men they helped train.
Many UFC fans were introduced to Jason "Mayhem" Miller with this season of TUF. Miller was an excellent coach for his fighters and helped lead many of them to victory inside the Octagon. Miller will face off against the better known Michael "The Count" Bisping.
The fight between these two men should be highly entertaining and is sure to polarize many fight fans. For some it will be the first time they've seen Miller in action.
The weigh-ins for the TUF finale take place at 7 p.m. ET/4 p.m. PT. Make sure you check in with us here at Bleacher Report for minute-by-minute updates and our reaction to any and all fighter antics.
Preliminary Card
Bryan Caraway (145) vs. Dustin Neace (145.5)
Steven Siler (146) vs. Josh Clopton (144)
Roland Delmore (136) vs. Josh Ferguson (134)
Dustin Pague (136) vs. John Albert (136)
Marcus Brimage (143) vs. Stephen Bass (145)
Main Card
Louis Gaudinot (136) vs. Johnny Bedford (136)
Tony Ferguson (155.5) vs. Yves Edwards (155)
T.J. Dillashaw (135.5) vs. John Dodson (134)
Diego Brando (145) vs. Dennis Bermudez (146)
Michael Bisping (186.25) vs. Jason Miller (185.5)
Okay folks!! Here we go! The main event! First out is Mayhem who comes out to lots of applause. Mayhem has a huge smile on his face. He strips down to his underwear and weighs in at 185.5.
His opponent Michael Bisping comes out to lots of boos and looks extra serious. He gets on the scale quickly. He looks ready to fight!
Bisping comes in about a quarter of a pound over according to Rogan. Bisping will have an hour to lose the extra quarter of a pound.
Bisping is all business and starts talking some trash while Miller is nothing but smiles during the face off.
Joe Rogan asks Mayhem if it feels good to be back and Mayhem says, "It feels so good to be back!" Then Mayhem orders the crowed to boo Bisping and they oblige him. Thats great! Haha!
As Joe Rogan is asking the crowed if Bisping can get a little love, Bisping takes the mike away and says, "I couldn't give a f*&! about getting love." Then continues to say, "F*&! you all," to the crowed and gives them the finger as he walks off stage!! WOW!!
There is no love loss between these two fighters guys! This is going to be an epic battle and it doesn't look like Bisping is in the business of winning over his American audience any time soon! DO NOT MISS THIS FIGHT!
Now coming out is Dennis Bermudez. Bermudez looks all business and weighs in at 146. Diego Brando follows him out and looks all business as well. Brando weighs in at 145.
The two shake hands before facing off.
Now coming out is John Dodson who goes over and gives Dana a big hug. Dodson is all smiles and comes in at 134. His Opponent T.J. Dillashaw comes out to some mild applause and weighs in at 135.5. Dodson is all smiles during the face off while Dillashaw is pretty serious.
Yves Edwards is up next and comes in at 155. His opponent Tony Ferguson comes in at 155.5. This should be a great fight between these two! Edwards is eating an apple during the face off! Ha! That's great!
Now we're on to the main card. Johnny bedford comes in at 136. His opponent Louis Gaudinot comes out and weighs in at 136.
Stephen Bass comes out and gets on the scale quick weighing in at 145. Marcus Brimage follows him out wearing some bright orange underwear. Little bit of trash talking looks like its going down between these two.
John Albert comes out next and also looks a bit nervous. He weighs in at 136. Dustin Pague comes out to some mild applause and rocking some big shades on the scale. Pague looks confident and comes in at 136 as well.
Now coming out is Josh Ferguson. Ferguson weighs in at 134. Roland Delmore follows Ferguson out. You can tell most of these guys are new to the UFC weigh-ins. Delmore comes in at 136.
Real intense face off between these two and Dana has to get in between them.
Now coming up to the scale is Josh Clopton. Clopton comes in at 144. His opponent Steven Siler comes out with a big smile on his face. Siler weighs in at (146). The two have a pretty serious face off, but shake hands at the end.
Alright folks its time to start another weigh-in! Joe Rogan doing his usually introductions First up to the scale is Dustin Neace. Neace looks a bit timid and weighs in at 145.5. Following him is Bryan Caraway who gets on the scale in a hurry. Caraway comes in at 145.
The two smile during their face off.
This article is
What is the duplicate article?
Why is this article offensive?
Where is this article plagiarized from?
Why is this article poorly edited?