Tim Tebow and Fantasy Football QBs That'll Tear Up Their Opposition
December 2, 2011
Donald Miralle/Getty Images
Fantasy football is all about matchups, and the Denver Broncos' Tim Tebow, the New England Patriots' Tom Brady and the Buffalo Bills' Ryan Fitzpatrick are quarterbacks set to tear up their opponents in Week 13 NFL action.
Denver Broncos: Tim Tebow
Tim Tebow has been on fire of late, leading his Broncos to a 5-1 record since taking over the starting job from now-Kansas City Chiefs backup Kyle Orton. He has nine total touchdowns and only one pick as a starter.
Tebow and Company are making a road stop at Minneapolis will they will face the struggling Minnesota Vikings (2-9).
The Vikings have lost star running back Adrian Peterson  to injury and quarterback Christian Ponder has been going through growing pains as a rookie starter.
Minnesota's offense will struggle to stay on the field, forcing the Vikings defense to play more minutes.
Tebow is coming off his most impressive start last week against the San Diego Chargers. He had 143 passing yards and a touchdown against the Chargers' stellar secondary. He also had 67 rushing yards.
While Minnesota has a tough defense, look for Tebow to have 100 yards on the ground and through the air. Two or more touchdowns against a flat Vikings team isn't a stretch.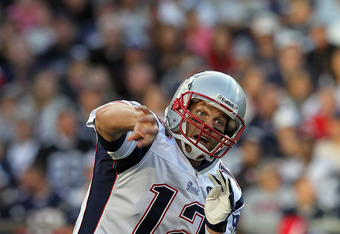 Jim Rogash/Getty Images
Tebow will also look to exploit the height mismatch between Broncos wide receiver Eric Decker (527 yards, eight touchdowns) and either Vikings cornerback Asher Allen (5'9" and questionable with an injured shoulder) and Marcus Sherels (5'10").
New England Patriots: Tom Brady
Picking Tom Brady is the easiest pick in the world. Look who his Patriots are playing this week and try not to laugh: the 0-11 Indianapolis Colts.
Brady leads one of the top offensive attacks in the NFL (fourth in scoring with 30.1 points a game) and is equipped with wide receivers Wes Welker (1,143 yards, eight touchdowns) and Deion Branch (628 yards, four touchdowns) and tight end Rob Gronkowski (864 yards, 11 touchdowns).
The Colts secondary is an utter mess, ranking 20th by allowing 238.7 yards a game. Indy has given up 19 touchdowns through the air and managed five interceptions.
The Colts also have the worst scoring defense, allowing 29.7 points a game.
Brady will also have plenty of time to score, as the Colts are dead last in scoring (13.7 points a game) and are struggling to stay on the field with Curtis Painter at the helm.
Expect Brady to have 300-plus yards, three touchdowns and no picks against an overmatched defense.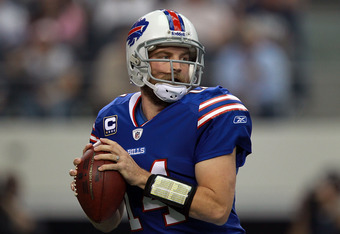 Ronald Martinez/Getty Images
Buffalo Bills: Ryan Fitzpatrick
Ryan Fitzpatrick had a good game against the New York Jets last week, and expect the Harvard grad to have another stellar performance against the Tennessee Titans.
Fitzpatrick dismantled the Jets for 264 yards, three touchdowns and zero picks despite New York having a top secondary.
With star running back Fred Jackson injured, Fitzpatrick will be forced to shoulder the load and make more plays.
Against the Titans, Fitzpatrick should take advantage of a struggling Titans secondary that isn't as strong as the Jets, being ranked 13th (229.1 yards) instead of seventh (204.6 yards).
The seven-year NFL veteran should have over 250 yards passing while notching a couple scores.