Wilkes-Barre/Scranton Penguins News and Notes: Dec. 2, 2011
December 2, 2011
The last month of 2011 is upon us, which means the AHL schedule will begin heating up for the Wilkes-Barre/Scranton Penguins.
Unfortunately, the Penguins come into December having dropped six of their last seven games, and although they are still one of the top teams in the AHL's East Division, they have to turn it around fast to stay in the thick of things.
The player movement carousel has started moving once again, taking three defensemen on a ride.  Meanwhile, one forward was released from a tryout contract and is now looking for a place to play.
But it's not all bad news for the team. In a couple of weeks, a well-known sports figure will be in attendance at Mohegan Sun Arena at Casey Plaza in Wilkes-Barre; plus, the team will get together to raise some money for charity this weekend.
Catch up on all the latest happenings in the first edition of Wilkes-Barre/Scranton Penguins News and Notes for December.
Pens Split Road Games with Binghamton and Norfolk
The Penguins traveled to Broome County Veterans Memorial Arena in Binghamton, N.Y. last Saturday and ended a five-game losing streak with a 3-2 victory over the Senators.
Rookie defenseman Philip Samuelsson had two assists in the win, while Colin McDonald had a goal and an assist.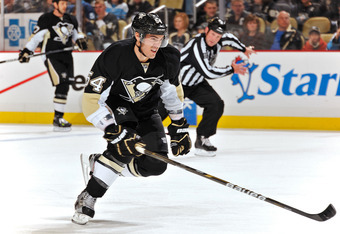 Jamie Sabau/Getty Images
WBS was leading 2-1 after a scoreless second period when Binghamton's Josh Godfrey tied things up with a power-play goal at 3:41 of the third. However, at 16:53, Brandon DeFazio got the game-winning goal to give the Pens the win.
Scott Munroe made 28 saves to get his second win of the year.
On Tuesday, the Penguins took on the Norfolk Admirals, but fell by a score of 5-2 after being tied 1-1 and 2-2 on two separate occasions.
After battling to a 2-2 tie at the end of the second on goals from Ben Street and Niko Dimitrakos, Norfolk scored three goals in the third period to put the Pens' brief winning streak to an end. Two of the Admirals goals came from forward Cory Conacher, while Blair Jones and Trevor Smith each had a goal and two helpers.
Nick Petersen had two assists for the Penguins, and Munroe took the loss with 26 saves on 30 shots.
Alexandre Picard and Robert Bortuzzo Recalled by Pittsburgh
WBS defensemen Alexandre Picard and Robert Bortuzzo were called up to Pittsburgh as a result of injuries to Zbynek Michalek and Kris Letang.
Picard, who was sent back down after Pittsburgh's game against the New York Rangers, had a plus-one rating and 13:56 of ice time. In seven NHL games this year, he has a plus-five.  He has five points and a plus-nine in 12 games with WBS.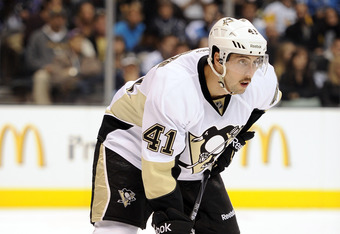 Harry How/Getty Images
Bortuzzo is still up in Pittsburgh and played in Tuesday's game, as well as Thursday's contest against the Washington Capitals. He has a plus-two rating through three NHL games and averages about 11 minutes of ice time per game.
Before his recall, he had three points and a plus-five in 11 AHL games.
Simon Despres Makes NHL Debut
Simon Despres, one of Pittsburgh's top defensive prospects, was called up to Pittsburgh Wednesday and played in his first NHL game Thursday.
Despres assisted on Chris Kunitz's game-winning goal and had a plus-two rating while logging 10:30 of ice time.
He has seven points and a plus-three rating through 22 games with WBS this season, his rookie year.
Niko Dimitrakos Released from Tryout Contract
On Friday, the Penguins announced that forward Niko Dimitrakos was released from his professional tryout contract.
The 2003 AHL All-Star had 10 points and a plus-three rating through 21 games with Wilkes-Barre. Prior to joining the Penguins, he previously played in the AHL for Binghamton, the Chicago Wolves and the Philadelphia Phantoms.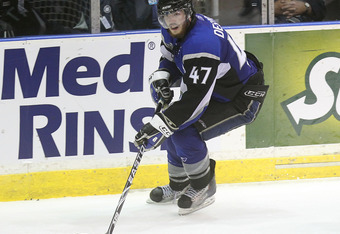 Claus Andersen/Getty Images
Last season, he played for Modo Hockey Ornskoldsvik in Sweden and the Mannheim Eagles in Germany, where he had 20 points in 42 games between the two clubs.
Pens and Pins to Benefit Local Charity
This Sunday, Dec. 4, the Penguins will team up with Allied Services to hold the second annual Pens and Pins tournament at Chacko's Family Bowling Center in Wilkes-Barre.
In the tournament, teams of five fans will be randomly paired with Penguins players, coaches and announcers as their captains. Each fan will receive a Pens and Pins t-shirt, and the top teams will win trophies.
Proceeds from the event will benefit Allied Services, which offers a variety of health and rehabilitation services in Northeastern Pennsylvania.
Joe Maddon to Sign Autographs at Dec. 19 Game vs. Albany
Joe Maddon, the American League Manager of the Year from the Tampa Bay Rays, will make an appearance at the Penguins Dec. 19 game against the Albany Devils for a special pre-game autograph signing.
Fans can purchase tickets to the signing for $5 and will also receive a photo of Maddon. Proceeds will benefit the Hazleton Integration Project (HIP), a charity Maddon formed to help disadvantaged children in his hometown of Hazleton. Hazleton is about a half an hour outside of Wilkes-Barre.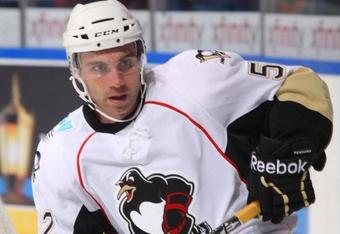 In addition, he will drop the ceremonial first puck before the game.
Current Record and Upcoming Schedule
The Penguins are in second place in the East Division and fourth in the Eastern Conference with a record of 11-6-5 for 27 points.
Their next five games are as follows:
Friday, Dec. 2: vs. Portland Pirates, 7:05 p.m.
Saturday, Dec. 3: at Syracuse Crunch, 7:30 p.m.
Wednesday, Dec. 7: at Binghamton, 7:05 p.m.
Saturday, Dec. 10: at Hershey Bears, 7:00 p.m.
Tuesday, Dec. 13: vs. Binghamton, 7:05 p.m.
Watch and Listen
Fans can listen to WBS Penguins games on the team's flagship radio station, 102.3 the Mountain. Tom Grace will call the action, with Mike O'Brien acting as color commentator.
Games can also be viewed on AHL Live for $6 per game. A variety of season packages are also available.