Has the Time Come To Let Mark McGwire into the Hall of Fame?
December 2, 2011
Elsa/Getty Images
I believe Mark McGwire has paid his dues, and it is now time to let him into the Hall of Fame.
This is a topic that will inevitably run deeper than just the issue of allowing McGwire into the Hall, I am aware of that. He is really the first legitimate player from the steroid era entering his sixth year of eligibility. I would like to briefly take a look at some of the other eligible candidates before making my full case on behalf of McGwire.
First, the list of 27 players making their first appearance for Hall voting is vastly underwhelming. The best player on the list, in my humble opinion, is Bernie Williams. Now, Williams was a fine ballplayer, but he was not a Hall-of-Fame-caliber player.
This is not the Hall of Good Players, it is the Hall of Fame—reserved for the best of the best.
Unfortunately, the list of players making the ballot for the first time is just that: Good players, not great. That leaves the Baseball Writers' Association of America to examine the 14 holdover names on the ballot and decide which of them are worthy of making it into Cooperstown.
This is where it gets dicey.
These are the players on that list. Next to their name, I will put the percentage of the vote they received in the 2011 voting as well as what year of ballot this will be for their consideration:
Barry Larkin 62.1, third year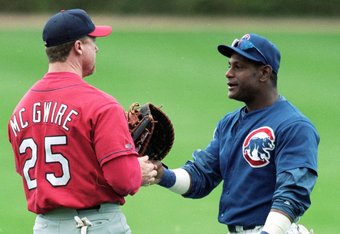 Jonathan Daniel/Getty Images
Jack Morris 53.5, 13th year
Lee Smith 45.3, 10th year
Jeff Bagwell 41.7, second year
Tim Raines 37.5, fifth year
Edgar Martinez 32.9, third year
Alan Trammel 24.3, 11th year
Larry Walker 20.3, second year
Mark McGwire 19.8, sixth year
Fred McGriff 17.9, third year
Don Mattingly 13.6, 12th year
Dale Murphy 12.6, 14th year
Rafael Palmeiro 11, second year
Juan Gonzalez 5.2, second year.
There are several players on that list that I believe deserve to be in Cooperstown. The problem with the crop of players this year is that the list has no stand-out player that is head and shoulders above the rest.
The voting this year won't be anything like 2007, when Cal Ripken, Jr. received 98.5 percent of the vote and Tony Gwynn received 97.6 percent; if anything, we may see two players just barely receive the needed 75 percent to get in to the Hall.
Looking back at BaseballReference.com, I examined what percentage of the vote McGwire has received over the past five attempts. Sequentially, it went as follows: 23.5 percent in 2007, 23.6 percent in 2008, 21.9 percent in 2009, 23.7 percent in 2010 and 19.8 percent in 2011. While he did dip in 2011, McGwire has averaged 22.5 percent of the vote in his five years of eligibility. This could be the year that number soars.
And why not?
Mark McGwire has paid his dues. Yes, he admitted—albeit a little late in the eyes of many—that he had in fact used steroids on and off for a decade, including when he broke the single-season home run record in 1998. McGwire does have a good argument on his side for being in the Hall, especially now as we are on the cusp of several accused steroid users being on the Hall of Fame ballot for the first time in 2013.
McGwire came out and apologized for his actions, and truth be told, nobody knows how uneven the playing field truly was during the steroid era. From all of the names that have been floated around in The Mitchell Report, we as a fan base have to come to terms with that time period in baseball.
Looking at the career statistics that McGwire has put up, it is extremely hard to ignore him this season. He has 583 career home runs, which is good for 10th all time. He drove in 1,414 runs, had 1,626 hits and scored 1,167 times. His career batting average was just that—average—at .263, but it was his on-base percentage (.394) and slugging percentage (.588) that were incredible, giving him a career OPS of .982.
In 1987, McGwire won the AL Rookie of the Year Award and also broke the record for home runs hit by a rookie that year, belting 49. In 1999, he won the ML Lou Gehrig Memorial Award. He is a 12-time All-Star, three-time Silver Slugger recipient (1992, 1996 and 1998) and he won a Gold Glove in 1990.
Less we not forget that it was McGwire and Sammy Sosa who arguably saved baseball in 1998, after the ugly strike in 1994 that brought about a work stoppage. In my opinion, the game did not recover until the summer of Big Mac and Sammy racing to see who would break the single-season home run record.
McGwire has silently been loyal to the Cardinals, acting as the team's hitting coach since 2010. The man has paid his dues, and I think it's time to say we forgive him.