Liverpool FC: Why Jordan Henderson Deserves Some Time
December 3, 2011
Dean Mouhtaropoulos/Getty Images
Liverpool fans are known as a knowledgeable bunch.
Players often comment that the crowd at a Liverpool game will applaud a good sequence of touches or intelligent passes from a player that other crowds would fail to notice.
We are known more so than most as a group of supporters who understand and appreciate the smaller intricacies of the game.
It is a badge of honour that Liverpool fans wear with pride.
However, on one area this season, a proportion of our fans are allowing our good name be dragged through the mud.
This is the significant proportion of people who have already decided to disparage and undermine Jordan Henderson.
Let me tell you all a little story you already know. When Lucas Leiva arrived at Anfield, he was useless. He was diabolically poor. Awful. Atrocious. Disastrous.
He was 20.
When he was a young man in a new club under severe scrutiny, far away from his comfort zone and thrust into an unfamiliar role with unfamiliar teammates, most of our fans—myself included—detested him and thought he was nowhere near good enough to play Premier League Football. He was booed and nearly sold and his life on the pitch for a while was very hard.
Now I am quite aware that in the past I have written a few articles singing Lucas' praises and that is not what I am trying to get at here.
What I am merely pointing out is that, regardless of whether you—like me—rate him very highly or you think—like some others do—that he is still only an average player, nobody will argue with his improvement.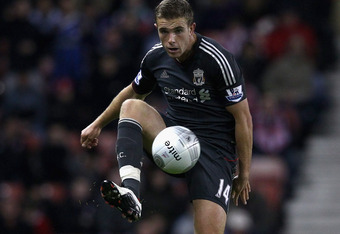 Clive Brunskill/Getty Images
He has developed to a point where he is virtually unrecognizable from the young nervous lad that received the jeers of the crowd three years ago.
He proved all the legions of boo-boys wrong, and made more of himself than even the most optimistic fan would have dared to dream while we watched him flounder in his youth.
He is—regardless of how highly you rate him—a living, breathing example of why it is so absolutely necessary to have faith in the boss and the potential he sees in a player, and to give a young man with such potential the time to settle in and develop without writing him off as a dud just because he may have a slow start.
And you would think that us Liverpool fans—a supposedly bright and attentive bunch—would have learned our lesson from this example.
And yet, daily, I turn on the T.V, read the newspaper, listen to the radio and read sports websites (including this one) and am startled to see the volume of anti-Henderson rhetoric. 'Fans' claim he is a dud, not good enough for Liverpool and that we overpaid for him and he will never amount to anything.
It is revolting, ridiculous and utterly uneducated.
He is 21 years of age. He has had just two full seasons of Premier League Football experience, mainly in the center of midfield. He is now at a new, huge club under a spotlight he has never experienced before. He was bought with big money and expectations are very high. He has been played out of position, and has been trying to gel with unfamiliar players.
And he has been okay. He has not been particularly good nor particularly bad. He has been fine.
But because some fans expected him to come in and be utterly brilliant from day one, he is now the subject of ire and ridicule.
What planet are these people living on?
This is a kid with serious potential who, just like Lucas before him, only needs time to develop and settle before we see him improve. The ceiling for Henderson is extremely high. He is an investment and, while he may take some time to reap dividends, he could end up paying off in a very big way.
Building a team for long-term success is a marathon, not a sprint. 
Buying players with an eye to the future is good management and is a sign of a team being built for prolonged prosperity. Any intelligent, true Liverpool fan should look on signings like Henderson and realize they are exactly the reason why the future is bright. Even if the formative years for players like him are a struggle, if even a fraction of his potential is realized, he will be well worth the hassle in a few years' time.
Some fans seem to forget that young men like Henderson are exactly that. Young men. They are victim to the same nervousness, self-confidence issues and growing pains as any other young person thrust into a totally unfamiliar high-pressure situation.
There is no doubt that the talent and work ethic is there with Jordan. All he needs is time.
At the end of the storm is a golden sky.
And any fan who forgets that amid their impatient desire for immediate success is no fan at all.