South Carolina Football 2011: Congrats, Dabo Swinney... SC Beat You Twice Now
December 2, 2011
Streeter Lecka/Getty Images
"What? No they didn't!" -Clemson Fan
Oh yes they did.  Dabo Swinney is a master at all kinds of things... losing important games, screaming a great deal, praying in public, and modeling the latest K-Mart Clemson-wear. 
However, he can also be called the first Clemson coach that Carolina fans didn't hate.  Heck, they even liked the guy.  Why not?  He is a good recruiter, seemingly a good man, and has always been respectful to South Carolina.  A 1-3 record against the Gamecocks doesn't hurt either, but hey...
It is what it is. 
However, his response to "Steve Spurrier's" comments about Clemson (which, by the way, weren't from Steve, they were from play by play announcer Todd Ellis) have changed that view. 
Todd Ellis's "joke," while not particularly tasteful, didn't even come close to the hatred that spewed from Dabo's tired and defeated mouth. 
I won't bother quoting it, but it sounds really similar to "the real CU is Colorado, the real Death Valley is in California, and the real Tigers are in Louisiana"... or something like that. Wait did I get the teams wrong?  Hmmm... (By the way, that quote is everywhere... kudos to whoever came up with it).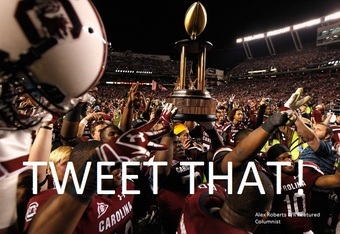 However, I have a few suggestions for Dabo, seeing as how I am so important in the realm of South Carolina sports (note the sarcasm, please). 
1.  If you are going to go off on a tirade that hate filled, please, make sure you are responding to someone actually affiliated with the team. 
If Spurrier reacted to every single idiot Clemson announcer that said something dumb, he'd be talking all day.  While Spurrier has been known to say some off the wall things that are offensive, I don't think I have ever heard him while he is at South Carolina say anything quite like that.
Oh, and if you want to go man to man with a coach, don't even try to do it against Spurrier, whose response was a bit more subtle.
'Well, what do you want me to do? I didn't say it,'" Spurrier said. "Smart people don't believe everything they read, and they don't believe hearsay. … I guess Dabo believed it". 
You hit the nail on the head, Spurrier.  
2.  If you are going to be angry about a loss, that's fine.  Don't sit on it a week and write some essay to memorize and spew before an obviously staged interview. 
It didn't look or sound off the cuff, and that shows you've spent some time thinking about what you said.  Tweet that. It's dumb, and it's petty.
3.  Don't talk about the University of South Carolina when they have destroyed you three times in a row, and four of the last six. 
According to Clemson math (you know, when they subtract Connor Shaw's stats, they held Carolina to only 3.4 yards per carry, and "that's winning football"), if you subtract the Clemson domination of the 90's, out of every nine games, Clemson wins five and South Carolina wins four... I'd call that a pretty close competition. 
Even without the Clemson creative accounting, the series isn't that uneven. It's a roughly 6-4 ratio, which isn't horrible. 
4.  Don't you think you should be worried about, you know, the ACC championship game on Saturday? 
South Carolina has been on your mind all week.  This is why they beat you twice.  Your head hasn't been focused on Virginia Tech... it's been on Columbia.  If I were a Clemson fan, you could bet I would be nervous. 
Anyway, that's it for me on this topic.  Dabo Swinney pretty much made it a guarantee that Spurrier won't lose to him again. 
Tweet that.