Texas A&M Football: Aggies Must Go Big on Coaching Search
December 2, 2011
Darren Carroll/Getty Images
The Aggies released Mike Sherman of his duties as head coach Thursday, effectively ending the tenure of the 25-25 reign that has plagued Aggieland for the past four years. Sherman was unable to acquire a bowl win in any of his three postseasons.
Whichever way you look at it, Sherman improved this team dramatically. He easily made A&M a draw for recruits from across the state, bringing in big stars like Cyrus Gray, Ryan Swope, Jeff Fuller and DaMontre Moore. His NFL career gave him the tools to evaluate talent who could play at the next level.
However, just because they can play in the NFL doesn't mean a compilation of superstars will make a great team. It requires coaching, discipline and a little big of ego crushing. Sherman and his staff were unable to do some of those things as many of his players broke records instead of chalking up wins.
Now, he's out of a job and the Aggies need a new head coach, but this time around the stakes are much higher. The SEC is a meat grinder ready and willing to take A&M in and spit them out in an instant. A coach who has experience recruiting the big game as well as putting W's in the win column is a necessity.
There aren't many coaches out there like that, available ones at least. Many analysts, writers and commentators have focused in on Kevin Sumlin, the Houston head coach who has his team undefeated and looking at a BCS bowl game. Others say Larry Fedora out of Southern Miss or Charlie Strong over at Louisville.
Is this really the best Texas A&M can do? The Big East and Conference USA? 
A&M is part of the best football conference in the nation and its new candidates for their first year in are, excuse the marine analogy, little fish. No offense, but that's not going to get the job done.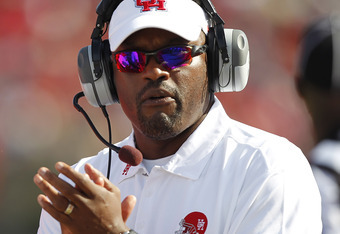 Bob Levey/Getty Images
The Aggies need to look higher and farther for a new coach. They need to look past any kind of NFL candidates. They need to overlook the small-time, big-hopes coaches. They need to go big or go home. 
It may be wishful thinking for A&M to get so aggressive and ambitious in the football side of things. Aggie Athletic Director Bill Byrne has built successful programs in every single other sport on campus besides football, and he did that by grabbing the best coaches for his squads.
For example, the Aggie track program has won six national championships over the last three years, both men and women taking home the trophy each season. How did they do that? Byrne snagged the ingenious LSU head coach Pat Henry, and the rest is history.
So, why settle for lower-class football coaches? 
Here's my wish-list of coaches that should be aggressively pursued and offered the open slot at Texas A&M. People underestimate how much of a draw it is for coaches to head up teams in the SEC and some of the names on this list may surprise you. 
1) Boise State HC Chris Petersen
The man has proven himself week in and week out. He is one of the classiest, most solid candidates out there and should more than tempted by a shot to coach in the SEC.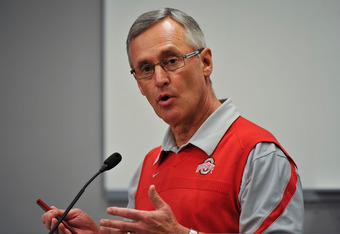 Jamie Sabau/Getty Images
2) Former OSU HC Jim Tressel
He may be under the NCAA's watch, but the man knows how to recruit and knows how to coach. Check this out for a little more perspective on Tressel.
3) Wisconsin HC Bret Bielema
Wisconsin has been headed up by this defensive-minded coach since 2006. Bielema has been very successful there but ultimately will reach a plateau in the Big Ten. If he wants to prove how innovative his defenses can be, the SEC is place to do it. 
4) Vanderbilt HC James Franklin
Vanderbilt has been the cannon fodder of the SEC for years now, and Franklin pulled them out of it in just a season. He has all of the tools and some SEC experience.
5) Iowa HC Kirk Ferentz
Ferentz has coached many strong teams at Iowa over the years. His experience in the NFL gives him great scouting techniques and he would be smart to consider building a big-time career in the SEC.