Georgia Football: Ben Jones Is the Unsung Hero of the Bulldogs Football Program
December 2, 2011
As the 2011 season works toward a close, Georgia fans can look ahead to a bright 2012. The Bulldogs are only losing a handful of players to graduation this season and return all of their skills position players.
There is one player that the Bulldogs will be losing that they will not be able to replace. One would think after watching the Bulldogs successfully recover from the departure of AJ Green last season that this would be impossible.
However, leaders like Ben Jones only come around once a lifetime. Despite all of the ups and downs the Bulldogs endured during his career, the 6'3", 315-pound center has been a pillar of consistency and toughness.
If you have never met Jones, you might not know what I am talking about. Perhaps you have only seen pictures of him with yellow paint on his face where he dug up a piece of the Georgia Tech turf and carried around in his mouth.
What you don't know is that he was a part of the 2008 Georgia football team that were defeated by the Yellow Jackets 45-42. After breaking a seven-game losing streak against the Bulldogs, Georgia Tech players ripped out pieces of the sacred hedges.
Jones was just a freshman, but swore that this team would never lose to Tech on his watch again. So when the Bulldogs defeated Tech the following season, he sent a major message to the Yellow Jackets—the Bulldogs run the state of Georgia.
Jones is not a rebel without a cause; he is a team player filling a role desperately needed.
The four-year starter is from Centerville, AL where he graduated from Bibb County High School with 3.96 GPA and has held the same standard in college.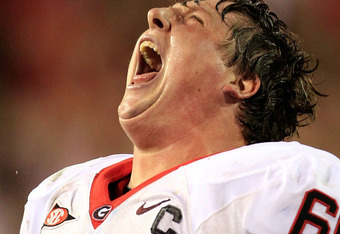 He decided to attend college where his father Steve Jones attended and graduated with a forestry degree. His dad did not play football in college, but he did in high school where he won the No. 60.
Steve died in a helicopter crash when Ben was just 10 years old. This season he changed his number from 61 to 60 in honor of his dad.
While it was a great way to honor his father's legacy, it is his every day actions that bring honor to his father's name the most.
Jones will graduate this season and go off to a career in the NFL. Someone will come in and fill his position on the field, as always happens. There is a lot of talent behind Jones and his replacement is likely to do well.
However, no one will ever replace Jones the leader.
Fifteen years from now, people will link the names Hershel Walker, Matthew Stafford, Knowshon Moreno, AJ Green and Aaron Murray to the University of Georgia. However, I can say without fear of contradiction that whatever success that the Bulldogs have over the next three seasons will be a direct result of the leadership of Jones.
Jones is the player who kept this team together during the storms of the offseason. Jones is the one who led the rally of the troops when they started the season 0-2. He is unlikely to throw a pass or take a handoff this weekend, but he is one of the main reasons they are there.
Ben Jones, as a fan of the SEC, I can say that you will be greatly missed next season.