Chris Leben & the UFC: Why Was He Given Another Chance and Not Nate Marquardt?
December 2, 2011
Chris Leben has been suspended yet again for taking an illegal substance.
The first time was at UFC 89 when he lost a unanimous decision to Michael Bisping.  Ironically it would be the next time he fought in England at UFC 138 where he would get popped for taking another painkiller and suspended.
The first time was nine months.  This time it is a year.
It isn't even the only two times Leben has caused controversy by abusing substances.  His time on The Ultimate Fighter was wrought with him drinking copious amounts of alcohol and insulting cast mates.
There is some leeway that was given though as that was a show and when he went into the cage he was professional.
This time he wasn't.
And yet Dana White, the president of the UFC, decided to stand behind Leben and support him, stating that the UFC would help him.  It was a kind gesture from a wonderful employee, but it does seem a little interesting considering that just a few months before that Nate Marquardt was cut from the UFC for his own problems.
Unlike Leben these issues had to do with Marquardt's pre-fight medical checkup.  Marquardt had started on Testosterone Replacement Therapy and though he failed the test White should have been able to forgive him.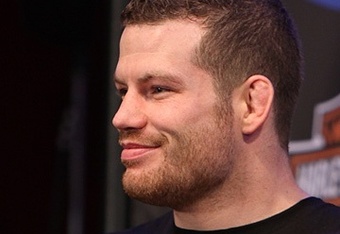 In no way is this article about who White should and shouldn't cut.  Those decisions are his alone and he knows why he makes them.
But it is fair to raise the question of why he is willing to fire one talented martial artist and not another for a failed attempt at clearing a medical check up.
Was it because Leben is known for having more exciting fights?
Was it because Marquardt has not been embraced by fans as much?
Maybe it was a personal preference by White.  It isn't possible to really know why such a decisions was made in one circumstance and not the other.
But one can guess.
Because Marquardt failed to pass the necessary requirements he was removed from what would have been the main event of a fight night on Versus.  After he was forcibly removed from the event it left little time for a suitable card to be made.
Much like in the past though the UFC and Dana White were able to put something together and made Pat Barry vs. Cheick Kongo the main event.  Luckily, it was an exciting if short encounter and fans walked away happy.
But the fact that Marquardt allowed that to happen might have been too much for the somewhat explosive UFC president and White cut him.
Leben may have failed yet again, but he delivered fight night and was able to make weight.  He did not force the UFC to market a different fight after certain promos were made and fight posters were printed.  He at least gave the fans the main event they were expecting.  It was something that Marquardt wasn't able to do.
And it may have just saved Leben's job.