TUF 14 Finale: Mayhem Miller's Ground Game Will Be Too Much for Michael Bisping
December 2, 2011
**Burp** Excuse me, how rude. That tasted like guilt-free Thanksgiving dinner all over again! Please forgive me; I ate so much my fingers got fat, preventing me from typing a single word over the holidays. Now that these little stubby things are slimmed down I can get back down to MMA business.
Everybody seems to be underestimating the wacky Ultimate Fighter 14 coach Jason "Mayhem" Miller in his upcoming finale bout with British MMA poster boy, former TUF 14 coach and TUF 3 winner Michael Bisping.
Are fans having trouble separating the class clown from the matured mixed martial artist in Miller? He has certainly become a more popular pop-culture icon within the world of MMA due to his stint as host of MTV's bully beatdown, his jubilant walkout theatrics in DREAM and his memorable feud with Cesar Gracie's "Skrap Pak"—Gilbert Melendez, Jack Shields and more notably Nick Diaz—during his time fighting in Strikeforce.
After getting unofficially suspended for his participation in the Strikeforce/CBS brawl with the aforementioned crew, Miller has been sidelined from action for over a year. Back in September of 2010, before all of Japanese MMA went on hiatus, Miller was last seen in the ring submitting legendary Pride pillar Kazushi Sakuraba at DREAM 16.
In a sense, I can't blame those who somewhat forgot about Jason Miller the fighter. The man even paid credence to this fact in a pre-fight interview with Heavy's Megan Olivi when he referenced himself as "Mayhem Miller the comedian."
Wait, he's been signed back to the UFC since April of this year? What has he been doing all this time? It may seem to the casual fan that Mayhem Miller does just about everything but fighting. I'm sure freshly introduced fans to the Ultimate Fighter show—and to the sport in general—were nice and confused, wondering why the Bully Beatdown guy was coaching across from the UFC's British bad boy veteran and why many pundits and fighters are having a tough time deciding on a victor for the main event this Saturday.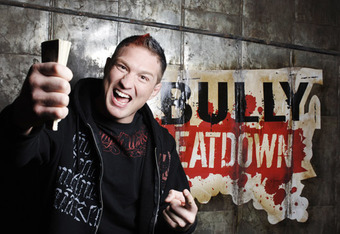 That's why I'm here, to remind the naysayers of Miller's progressive journey into MMA maturity as a highly skilled grappler, who possesses top notch submissions. Don't be fooled; he's not all hair dye and gimmicks.
Despite being everywhere but in the cage competing, Miller has continued to greatly improve his compete skill set with some of the best guys in the sport, from highly touted Brazilian Chute Boxe trainer Rafael Cordeiro's Kings MMA in California—home to Mark Munoz, Wanderlei Silva, Mauricio Shogun, Fabricio Werdum, Renato Babalu and Jake Ellenberger.
In fact, Miller just recently achieved his Brazilian jiu-jitsu black belt from Kings MMA, a gym sporting submission gurus like Joao Assis, Alexandre Neves, Andre Franco and Fabricio Werdum. Coming into the UFC to compete against the elite after a long break can definitely rise ring rust concerns, but he's obviously been keeping busy rolling with black belts and striking with knowledgeable Muay Thai experts.  
Putting that freshly minted Brazilian jiu-jitsu black belt to work against Bisping is a must if Miller plans on upsetting the odds. There's no surprise that Bisping, a former British kickboxing champion will want to use his superior striking to keep Miller at bay and on his feet.
Even if Miller finds himself stranded on the feet, he still has a better chance of surviving a kickboxing match with Bisping opposed to his foe than surviving a smothering chess match on the ground.
Some habits die hard. Bisping still has a terrible one of turning into the right hand power of his opponents. Not that Mayhem will likely win by knockout—via dropping a Monkey bomb Hendo style—but he does has a durable chin and the aggression to push forward until he finds Bisping cut off and clinched up.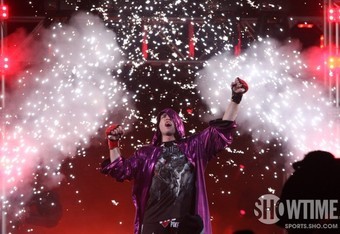 If Miller gets forced into a stand up battle, will he get out-pointed? Maybe, but he won't get knocked out.
Regardless, you can't dress it up any other way: Mayhem's chances of putting Bisping away will heavily depend on his ability to close the distance, utilize his grappling prowess to put his opponent up against the cage, where he can leverage takedowns or Judo throws so he can find a home for a submission on the mat.
The latter is very plausible; Bisping hasn't suffered a lost due to submission, but then again, the UFC hasn't forced him to fight a guy with Miller's elite ground game. Frankly, nobody is completely convinced Bisping has a formidable ground game at this level—the great mystery leading into this fight.
If Miller has his way Saturday night, that question mark lingering over the other side of Bisping's game will be answered.
Many things will be answered revolving Jason Miller's return to the octagon. Will Bisping's sought after title shot elude him? Can Miller unleash enough Mayhem to prove he belongs in the top 10 at 185 pounds?
I just want to know if there's going to be dancing Japanese school girls.