Joshua Cribbs Fed Up with Losing: Comments Out of Line?
December 2, 2011
Tyler Barrick/Getty Images
Cleveland Browns WR/KR Joshua Cribbs has never been a player to hold back his feelings. This is the guy, after all, who went onto every available television network that would have two summers ago to make the case for a new contract.
So it should come as no surprise that Cribbs has vented a couple times this week about being sick of losing.
If you haven't heard or read his comments I'm not going to reiterate them, but you can read them here (via Cleveland.com).
In a nutshell, Cribbs is sick of losing and doesn't care to hear about the "rebuilding process."
In Cribbs' defense, he's been in the NFL for seven years and the Browns have been "rebuilding" the entire time.
Cribbs' comments blew up today on The Really Big Show on WKNR as Tony Rizzo just about blew a gasket expressing his displeasure with the comments and the many uses of "I" and "me" throughout the interview.
Rizzo believes that with those comments Cribbs has signed his ticket to leave town.
I don't think it's nearly that bad.
Cribbs' comments are indicative of a guy who is frustrated with losing. How could he not be?
He's a guy who gives max effort every moment he's on the field, never allowing himself to be outworked by anyone else.
I think that Rizzo might be reading too much into the personal pronouns. He was how he was feeling and he told them how he felt.
Cribbs can only speak for himself, not the whole locker room. I don't think that he was insinuating that other players do not feel the same way.
Cribbs said that he feels and thinks like the fan sometimes and understands our frustrations.
I love that! He understands what the people of this city are going through and how much we love this team. He wants to win for us and that means a lot to me.
Pat Shurmur has also expressed that he is not upset with Cribbs' comments and understands the frustration.
Rizzo also blasted Cribbs for his lack of production on kick returns, which just isn't true.
Though he has not had a kickoff return for a touchdown in two seasons, he is still ranked eighth in the NFL in average yards per return and has a couple dynamic returns this season to ignite drives.
Where Cribbs might need to be replaced is on punt returns where he's only ranked 15th in yards and 22nd in average.
It should also be pointed out that Cribbs did choose to decline answering a question about whether he is frustrated with his role on the team, which is an answer in and of itself.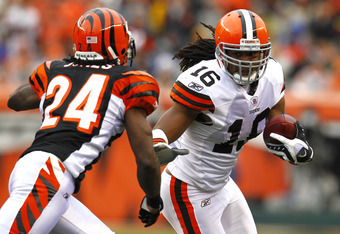 Tyler Barrick/Getty Images
I hope he's not too upset. He did only have four targets this past Sunday in contrast with Greg Little's 13.
But over the course of the season, Cribbs is third on the team in targets, receptions and yards, behind Little and Ben Watson in all three categories, which seems about right.
He does lead the team with four touchdowns, six plays of 20-plus yards and 181 yards after the catch.
Few people would dispute the notion that Cribbs is the best "playmaker" on the Browns.
I think that Cribbs should be happy with his role on the team right now.
I'm glad that he wants to do more and that he's pissed about how the team is playing.
And because of that, I'm fine with his comments.
We all want for these guys not to be robots and to speak their minds.
Then why is it we crucify them when they do?
You can follow Benjamin Flack on Twitter @ClevelandFlack