Chelsea FC: 9 Potential Replacements for Nicolas Anelka in January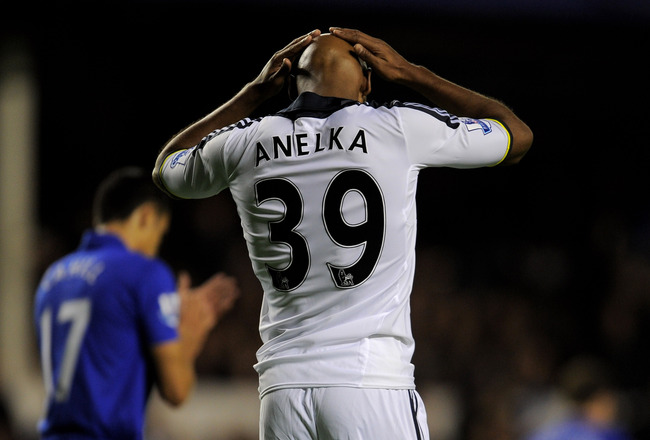 Michael Regan/Getty Images
Nicolas Anelka will not be a member of Chelsea's squad on February 1.
According to The Guardian, Anelka is resigned to leaving Stamford Bridge in the transfer window. He has had a very good career for the Blues, but he simply doesn't have a spot on this squad.
That, coupled with his expiring contract, has the French international looking for work elsewhere.
Anelka has had a very good career at the Bridge, and he will be a tough player to replace. He can play any attacking position and will be a great addition to a mid-level club.
How will Chelsea go about replacing him? He is a dynamic presence, and he can finish as well as anyone. As a result, Chelsea will probably receive a decent price for him, giving them a pretty large budget this January.
I have compiled a list of nine players Chelsea should consider while bolstering their attack.
These aren't necessarily players who would fit into Anelka's role—rather, they are simply attacking threats Chelsea should look at (the defense is a completely different story).
Note—not all these players have been linked to Chelsea, but Andre Villas-Boas should definitely consider each of them.
Edinson Cavani, Napoli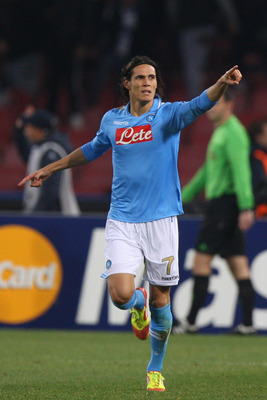 Paolo Bruno/Getty Images
Edinson Cavani is a beast.
If you aren't quite sold, feel free to ask Manchester City. The Uruguay international put City on the ropes in the Champions League by posting a double in a 2-1 victory.
So, if he gives you a chance to beat City, you should make a run at him, right?
Well, it doesn't look like Chelsea have much interest right now. Cavani recently cooled transfer talks, assuring everyone he would stay in Italy until the summer.
Let's just wait and see.
The man can score goals—he has scored nearly 70 in about three full years in Serie A. If he makes the move to the English Premier League, you can be sure that scoring will continue.
Considering Chelsea sometimes struggle to find the net, bringing in Cavani wouldn't hurt.
Angel di Maria, Real Madrid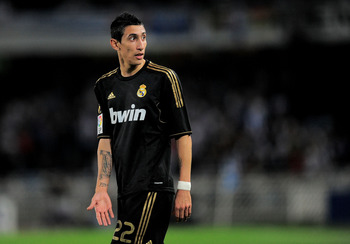 Denis Doyle/Getty Images
Angel di Maria has been linked to Chelsea off and on since the summer. When January rolls around, it would behoove the Blues to finally bring the man in.
He is fast—extremely fast. He is good with the ball, and he can beat defenders one-on-one.
Sometimes, he can hold onto the ball too long. However, with some time in Andre Villas-Boas's system, I think the Argentine will figure out how to play quickly.
He can add extra punch to the Chelsea attack, which is currently lacking. He wasn't happy at Real Madrid in the summer, and he could possibly still want a switch.
His pace on the outside would be a great complement to Juan Mata's passing.
If Chelsea bring him in, they will not be sorry.
Mario Gotze, Borussia Dortmund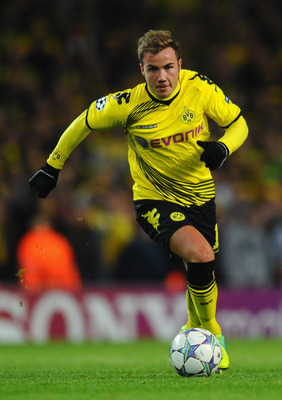 Mike Hewitt/Getty Images
He may be just a kid, but Mario Gotze is slowly becoming a household name. He won a league title in his first year with Borussia Dortmund's senior team.
Not bad, huh?
The 19-year-old continues to impress, and he is arguably the best teenager in the world. In addition, he has one of the best pure skill sets you could ask for.
He plays the game instinctively, and even though he is still learning the game, he makes plays you could never see coming.
He may be small in stature, but he plays the game big. As a result, Arsene Wenger has his eyes set on the kid. Whether or not he makes a move, we'll have to wait and see.
I think he could help bolster Chelsea's attack, and they should at least challenge Arsenal for his services.
Eden Hazard, Lille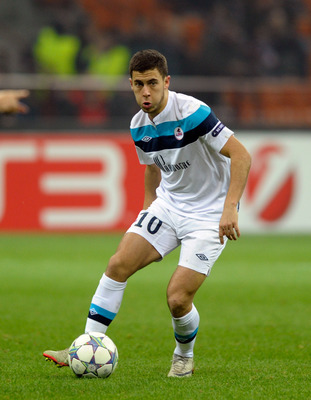 Claudio Villa/Getty Images
When you're talking about young talents, you have to bring up Eden Hazard.
Even though there have been questions about his work rate, his creativity reigns supreme once he's on the pitch. He creates chance after chance.
For the most part, those chances are a result of him burning a defender. He is too quick on the ball for most defenders, and he makes them pay.
He is not the best goal-scorer, yet. However, with Chelsea's talented attacking core, a playmaker could be exactly what Andre Villas-Boas's club needs.
As a result, he is one of Chelsea's targets heading into January.
While it will cost a hefty price, I think he will be worth the asking price. He brings a lot of pace and skill to the attack and could help Chelsea win some silverware within a year of his arrival.
Andre Villas-Boas—get this kid.
Hulk, Porto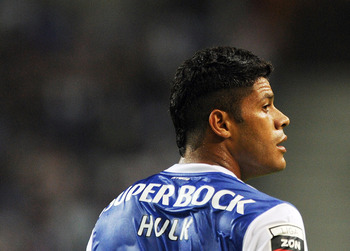 EuroFootball/Getty Images
Hulk thrived under Andre Villas-Boas last year, so why not bring him to London and let him thrive again?
Well, there are about 100 million reasons why. And that's in money terms.
Hulk has hinted he wouldn't be opposed to a move, but how on Earth is someone supposed to afford such a ridiculous price? A team would probably have to have a foreign billionaire owner who wants to win, overreacts and wants to spend.
No, not even Roman Abramovich is crazy enough to pay nine figures for a player in the middle of the season (unless his name were Lionel Messi).
Still, it is an interesting concept, considering Hulk would be fun to watch in a Chelsea jersey.
If Chelsea could cut that asking price in half, I wouldn't be opposed to bringing in the creative Brazilian.
Stevan Jovetic, Florentina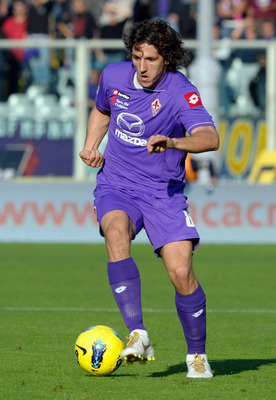 Claudio Villa/Getty Images
Stevan Jovetic is a talented young player that Andre Villas-Boas really likes.
So the Chelsea boss should do what he can to bring the man to London. He creates tons of chances, and is very clever with the ball.
Chelsea could use a strong playmaker, and Jovetic could be that man.
The Montenegro international gives defenses headaches. If he played in Villas-Boas's system, I think he could score a dozen goals and dish out a dozen assists in the Premier League.
The man is that talented.
With such a diverse skill set, he could play a variety of positions. That versatility is something Chelsea are currently lacking, which is why Jovetic should be given a serious look.
Sami Khedira, Real Madrid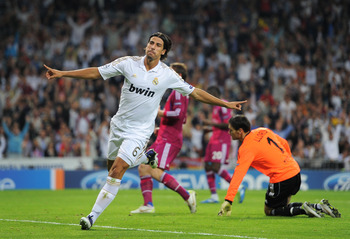 Jasper Juinen/Getty Images
Sami Khedira was linked to Chelsea about two months ago, and those talks need to resume.
Khedira is an extremely solid midfielder. He doesn't necessarily take over games, but he is the box-to-box midfielder Chelsea desperately need, considering Michael Essien will probably never be the same.
Khedira isn't the flashiest transfer target, but the Blues would definitely benefit from bringing in the German international.
He is a mature player, and that's something Chelsea are looking for. With a calming presence in the midfield, the Blues would get some more consistency.
Khedira would bring a toughness that Chelsea are currently lacking. He would hold the midfield down and hopefully minimize the mental lapses the Blues are currently suffering.
If Chelsea make the right bid, they could have a very good addition.
Marko Marin, Werder Bremen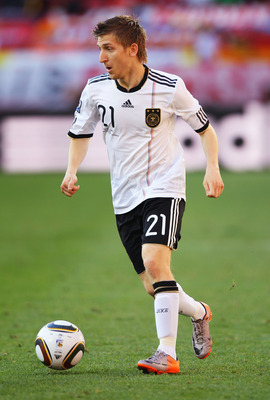 Michael Steele/Getty Images
Marko Marin may still be young, but he is another emerging German star.
The winger can do a lot of things on the ball, and at Chelsea, he would create a ton of chances.
With solid wing play, Chelsea will be able to get more space for their strikers and, hopefully, more chances. As a result, Chelsea will be looking to add some pace and skill on the outside.
Marin fits the bill.
He is starting to get more attention on an international level, but Chelsea could probably swoop in and get him for a relatively good price in this upcoming window. Accordingly, I think Andre Villas-Boas should act quickly.
Chelsea need a talented, young winger. Marin is just that. Why not go get him?
Joao Moutinho, Porto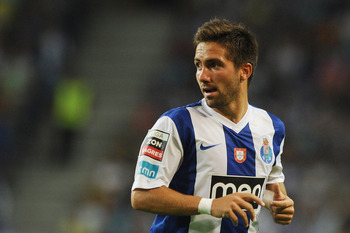 EuroFootball/Getty Images
There hasn't been much transfer talk surrounding Joao Moutinho since the summer, but that could change in a month.
The man is one of the most creative midfielders in the world, and Chelsea could use exactly that. He flourished in Andre Villas-Boas's system at Porto, and I don't think that would change in England.
Moutinho is a special talent, and Chelsea should try to pick him up.
The Portugal international is a clever player, which is something Chelsea desperately lack. If his teammate, Hulk, is going to cost £100 million, why not "settle" for Moutinho?
Here's the bottom line—Chelsea need to make a splash in January with a young talented player. Moutinho is exactly that.
Given some time, he could bring some silverware to Stamford Bridge.
Keep Reading

Chelsea: Like this team?