USC Football: How Good Will the Trojans Be If Everyone Leaves?
December 2, 2011
Jeff Gross/Getty Images
USC is clearly the best team in the Pac-12 South and may be the best team in the Pac-12 altogether and a Top Five team in the nation.
As we all know, that doesn't mean much, as the Trojans are ineligible for the Pac-12 Championship Game and the postseason.
Understandably then, many are starting to look forward to 2012. We all know that if the players in question (Matt Barkley, Matt Kalil, T.J. McDonald and Nick Perry) all return, then the Trojans can compete for a national championship. All have said that they have or plan to have filled out draft paperwork within the next couple of weeks. This standard, non-committal process is a way for prospects to get a better understanding of where they will be taken in the draft.
Odds are they won't all return. Odds are that some will stay while others leave. 
But what if the ultimate disaster occurs, and all leave? What if all the aforementioned juniors leave along with the few seniors they have (Rhett Ellison, Marc Tyler, Christian Tupou, DaJohn Harris and Chris Gallipo, among others). How good would the Trojans be then?
It's safe to say that they would need to break in a new quarterback. The job will go to one of two highly touted freshmen, either Max Wittek or Cody Kessler. They have combined to throw zero passes this season. With that statistic, I cannot begin to speculate how either will perform, or even who the starter will be. I know the $64,000 question is how the Trojans can replace Barkley, but unfortunately, I can't answer it.
Luckily they'll be solid at all other positions. Curtis McNeal emerged as the best running back on the team down the stretch and he will be returning along with freshman Amir Carlisle. Tyler was very productive when he was healthy and offered a nice changeup to McNeal. He will certainly be missed, but McNeal was the better option down the stretch regardless.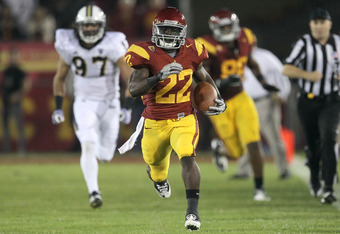 Stephen Dunn/Getty Images
Wide receiver and tight end is clearly the Trojans' strength. Robert Woods, Marqise Lee, Randall Telfer and Xavier Grimble all return. Lee got less early fanfare than Woods, but he may be just as good. He has a very rare combination of size and speed. He will catch a short pass and turn it into 10 yards and then the next play, burn you deep.
The Trojans also have George Farmer in position-limbo. Farmer came to USC as a top-rated wide receiver but was later moved to running back. It remains to be seen what will happen with him but realize that he is another weapon that the Trojans have at their disposal.
The Trojans began 2011 with the offensive line as a question mark. Through the year it has grown to be one of the stronger units on the team. The Trojans will miss their best lineman Kalil, who figures to be a top-three pick in the NFL draft, but should be optimistic about their outlook in 2012 with Khaled Holmes, Abe Markowitz and Aundrey Walker returning. This unit got better and better throughout the year, and it should continue to improve despite losing its best member.
If we assume that Nick Perry were to leave, then the defensive line would be the second-most-hurt unit behind quarterback. The Trojans would lose Harris and Perry, but would still figure to return Devon Kennard and Wes Horton. The Trojan defensive line is smaller than most, but very athletic. I expect the unit to slip, but not significantly.
The biggest surprise of the year comes from the linebacking unit. By the end of the season, USC was starting three freshmen linebackers...and they were all doing a great job. Dion Bailey would go on to win Pac-12 Defensive Freshman of the Year, while Hayes Pullars and Lamar Dawson excelled on the field as well. This will be a very strong unit next season.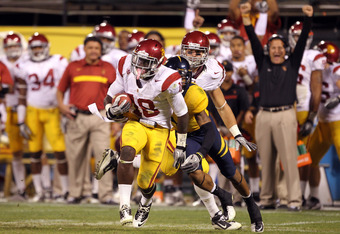 Ezra Shaw/Getty Images
McDonald is the best player in the secondary and the Trojans are in danger of losing him. Even if they do, however, the Trojans have plenty of talent returning. Nickell Robey has developed into a playmaker that always finds the ball (he had the pick-six against Luck in the closing minutes of the game). Jawanza Starling, Tony Burnett and Isiah Wiley all return as well.
USC's defense improved drastically over the season. The team allowed 17 points to Notre Dame, 56 to Stanford (34 in regulation), 17 to Colorado, 17 to Washington, 35 to Oregon and zero to UCLA. It was the third-fewest points ND scored all season, the fewest Washington scored all season, the fewest UCLA scored all season and the third-fewest Oregon scored all year. The defense kept them in games and didn't surrender the way they did in 2010. This is a reason for optimism going forward, whoever leaves and stays.
One person leaving who bears mentioning is Rhett Ellison. Ellison is a tight end-turned-fullback who does everything for the Trojans. He runs the ball, catches the pass and most importantly, is a terrific blocker. Watch any highlights of USC running their screen passes and you'll see Ellison get out and destroy a cornerback in open space. It will be imperative to find someone who can block as well as he can if Woods and Lee want to continue their success next season.
It's both fair and unfair to say that USC's success hinges on Barkley's return. It's fair because there isn't another USC QB on the team that has attempted a pass. It isn't fair because they will return plenty of other skill players and have a strong enough offensive line to continue to have a potent offense. Even with possible losses on defense they remain young, and will steadily improve.
If all the men return, then USC will lose only 29 percent of their rushing offense (Tyler's 568 yards). No matter what occurs, they will lose only 11 percent of their receiving yards. If all the defenders return then they will lose only 18 percent of their tackles, 11 percent of their sacks and 11 percent of their interceptions.
If all the defenders in question leave, then they will lose McDonald's three interceptions and Perry's 8.5 sacks. Those would not be easy things to replace, but with the way the defense has improved and the talent surrounding those men, the defense should do fine.
Which brings us all the way back to quarterback. I'm confident that whoever plays for the Trojans next year will be put into a great situation. They'll have the top rusher returning, a great offensive line and some of the best receivers in the nation.
If all the players leave, I expect the Trojans to still place in the Top 15. They'll have a great offense and not too many holes to fill on the defense. If they improve throughout the season as much as they did this year, then they'll be Top 10 again.
Oh, and with three new coaches in the Pac-12 South, USC will win the Pac-12 South...again.