Report Claims Mack Brown Plans to Retire After 14 Seasons at Texas
December 1, 2011
Harry How/Getty Images
The Texas Longhorns' football program is on somewhat shaky ground now, but it's generally been solid as a rock ever since Mack Brown took over in 1998.
But apparently, Brown as had enough. There's a rumor going around that this Saturday's game against Baylor will be Brown's last on the Texas sideline, as he is supposedly ready to retire.
It all stems from a Kansas sports talk host named Jake Lebahn: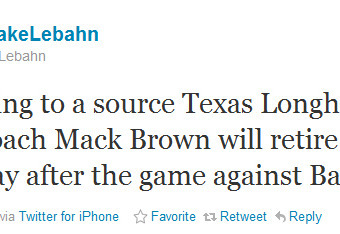 In a subsequent tweet, Lebahn insisted that his source is legit: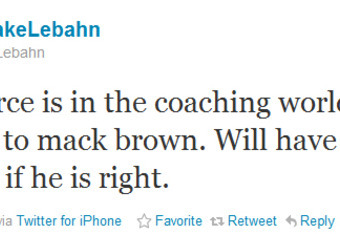 If Lebahn's source is correct, then Brown is ready to call it quits after 14 seasons in Austin. As of right now he has a record of 140-35 at Texas, and has won eight bowl games. One of those, the 2005 Rose Bowl, resulted in a national championship.
However, it cannot be stressed enough that this is a rumor. In addition, LeBahn seems to be the only one reporting it, and not many members of the national media are buying it.
For example, here is what Gregg Doyel of CBSSports.com had this to say about the rumor: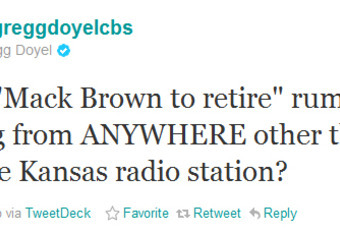 Make no mistake, there's a very good chance that nothing will come of this rumor. It wouldn't be the first time that a rumor on Twitter has ended up being false.
All of this being said, the notion that Brown would retire is not that far-fetched. He's 60 years old and he's been at Texas for quite a while. And with the team underachieving in the last two seasons, there is a lot of pressure on him to turn the Longhorns around.
So we shall see. This may end up being much ado about nothing, but it's a situation worth monitoring.
If there are any updates, we'll be sure to bring them to you.
UPDATE: Thursday, Dec. 1 at 4:40 p.m. ET
Mike Finger, a sports reporter for the San Antonio Express-News and the Houston Chronicle managed to get a response from the University of Texas. Their response is that there will be no response: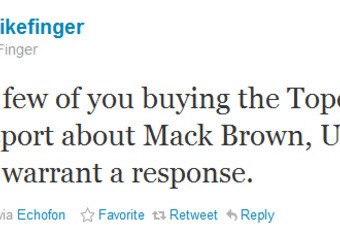 Well, it's not Brown saying he's not going to respond, but this is slightly more definitive than Lebahn's initial report.
Stay tuned for more.