Missouri Tigers Football: Rating QB James Franklin's Regular Season
December 1, 2011
Christian Petersen/Getty Images
Missouri's football program has brought a number of great quarterbacks through the years. In the past decade alone, the Tigers have had the likes of Brad Smith, Chase Daniel, and Blaine Gabbert all come through Columbia.
All three of those guys played the game in their own unique way, and went on to play in the NFL after their days at "Old Mizzou."
After a few seasons running the wildcat offense for the New York Jets, Smith can now be found on the Bills roster backing up Ryan Fitzpatrick, now that Buffalo has given him an opportunity to play quarterback once again.
Daniel now has himself a Super Bowl ring, winning it while backing up Drew Brees in New Orleans in Super Bowl XLIV.
Blaine Gabbert was picked up by Jacksonville in the first round of the most recent NFL draft, and has shown excellent signs of potential throughout his first season for the Jaguars.
Enter James Franklin..
When Gabbert left the Tigers after his junior season, he left behind 19-year-old sophomore James Franklin to take over the reins for Missouri.
Missouri Head Coach Gary Pinkel recruited Franklin in 2009 out of Corinth, Texas. There, Franklin was dubbed as the nation's fourth-best dual-threat quarterback by Rivals.com, where he was also recognized as the 20th-best overall prospect in the state of Texas.
Franklin did not see much field time during his one season with Gabbert at Missouri, so many question marks arose about how the young quarterback would fare in his inaugural season as leader of the Tigers' offense.
Much like former great NCAA running-quartebacks Vince Young and Tim Tebow, Franklin received criticism for his awkward throwing motion, which seems rushed and unattractive to his audiences.
Also, what would Franklin's pocket presence be like?
As a combo passer, Franklin presents an enormous threat to defenses with his speed and quickness as well as his arm. However, like many other dual threat quarterbacks before him, many wondered if Franklin would be able to keep his composure while under pressure in the pocket, or just try to escape with his feet, even in unnecessary situations.
Overall, Missouri fans wondered if someone as young and inexperienced as Franklin would be able to thrive in Coach Pinkel's offense, and win games, against one of the toughest schedules in college football.
Fans' first impression of James Franklin came on September 3rd against Miami University (Ohio). In front of an immense crowd at home at Faurot Field in Columbia, Franklin's Tigers were only able to squeak out a measly 17-6 victory against the Redhawks.
After winning in ugly fashion against a significantly less-talented Miami roster, Missouri fans left the game with a bitter taste in their mouths, despite the victory.
"It's going to be a long year," said many Missouri students on campus the following week. 
Franklin's performance in his first start was definitely sub-par. Against Miami's unimpressive defense, the Tigers' quarterback compiled only 129 yards through the air with one score. He was also sacked twice and picked off once by the Redhawks' defensive squad.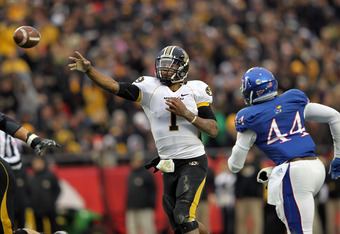 Jamie Squire/Getty Images
Missouri's players, coaches and fans were happy to have the win, but following the Miami game, all eyes fell on Missouri's next opponent: the Arizona State Sun Devils.
The Arizona State game threw James Franklin into the national spotlight, whether he wanted it to or not.
The Tigers faced off against the Sun Devils on September 9th in Tempe Arizona. After a shortened week of practice due to the game's scheduling on a Thursday, James Franklin and his Missouri teammates found themselves on national television, playing in front of a colossal ASU fan base in a stadium that was once used by the NFL's Arizona Cardinals.
Missouri fans were anxiously glued to their televisions while they watched Franklin and the Tigers play a terrific football game against the Sun Devils on ESPN. 
Once trailing 14 points with 12 minutes left in the fourth quarter, Franklin delivered his only two throwing scores of the game to wideout L'Damian Washington and tight end Michael Egnew, sending the Tigers into overtime in dramatic fashion.
After a terrific 300-yard, two-touchdown game by Franklin, who also ran for 110 yards and a score, Missouri came up short in overtime, and Arizona State became the victors by a seven-point margin.
The Arizona State game left Missouri fans scratching their heads. Just days ago, Franklin struggled while barely edging a poor Miami team. This time, James shined against a Top 25 school, while his defensive teammates let the victory slip away.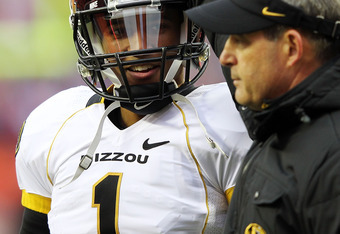 Jamie Squire/Getty Images
After the game against Arizona State, Franklin began to play with much more consistency, much to the pleasure of Missouri fans nationwide.
Franklin and Missouri capped off a semi-successful regular season last weekend with a 24-10 victory over the Tigers' biggest rival, the Kansas Jayhawks. 
After barely edging the now 2-10 Jayhawks at Arrowhead Stadium in Kansas City, Pinkel's Missouri Tigers are sitting on a 7-5 record, awaiting to see what mediocre bowl game is in their near future.
James Franklin finished the regular season with 2,733 yards through the air, with 20 scores and 10 interceptions. He was also able to scamper for 839 yards and 13 endzone appearances.
These stats, as well as his 7-5 record, may seem just around average for a dual-threat college signal-caller. Yet once people realize how difficult Missouri's schedule actually was this season, the sophomore quarterback's season becomes much more impressive.
Weeks after escaping the Miami Redhawks 17-6, Franklin's team was able to defeat the ranked Texas Longhorns 17-5, showing the college football world that he had, in fact improved.
Missouri was by no means expected to beat Oklahoma and Oklahoma State, with both teams finishing their regular seasons ranked in the Top 10. Baylor was an unusually tough matchup for Missouri this year, with quarterback Robert Griffin, III putting up Heisman-quality numbers this season. The Arizona State and Kansas State games were both decided by just one touchdown. The outcomes of those two games could have been changed by just one or two big plays by Missouri.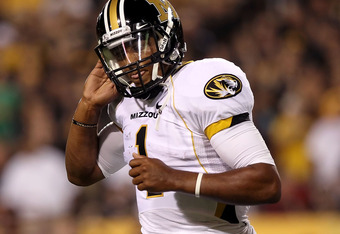 Christian Petersen/Getty Images
Franklin has had himself a B- season this year. After coming in as a more-or-less unknown, James Franklin has done an excellent job keeping Missouri in games this year, and has also been successful in limiting game-changing turnovers. As only a sophomore, Franklin's season is definitely acceptable for Missouri fans.
Yes, those technical problems in Franklin's game are still obvious, but it hasn't affected the outcome of his games too much. Plus, those problems are fixable, and can easily be solved by Gary Pinkel's well-respected coaching staff this offseason.
Next year, Missouri heads to the Southeastern Conference, known for having teams with unbelievable defensive prowess. This presents James Franklin with with a "sink-or-swim" situation. Franklin has the potential to be an outstanding SEC quarterback, but he needs to put in the effort this offseason.
Franklin has Heisman-quality potential, but by no means is he there yet. If he and his Tigers can improve on their 7-5 mark from this season in his next two seasons in Columbia, James will be remembered amongst the Smiths, Daniels, Gabberts and other NFL quarterbacks to come through "Old Mizzou."