Arsenal: World's Greatest Feeder Club or Genuine Champions League Contenders?
December 1, 2011
Scott Heavey/Getty Images
Arsenal are currently lying in seventh place in the Premier League; they have every chance of again challenging for the Champions League places this season.
They are also the only British club qualified for knockout stages of the Champions League with only one more round of games to go.
In manager Arsene Wenger, they have one of the greatest managers of the Premier League era.
His ability to nurture talent is out of this world, but can his side really go to the next level and challenge for Europe's biggest prize?
Realistically, it would be a massive shock if they could, as the current side is somewhat weaker than previous seasons.
At the moment, their only real world-class player is Dutchman, Robin Van Persie, who has been an absolute revelation this calendar year. He's one of only a handful of players to break the 30-goal barrier in a one-year period.
Apart from him, there is only England youngster Jack Wilshere—currently injured—who could carry this current Arsenal side.
This is the problem; they have lost so many good players over the last couple of seasons that they are at risk of becoming no more than a feeder club to Europe's elite.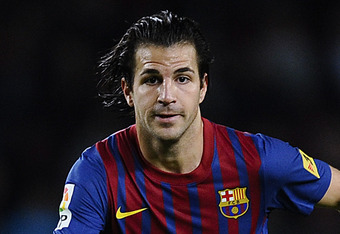 David Ramos/Getty Images
Every great player they produce seems to grow fed up of waiting for a trophy and decide to try their luck elsewhere.
The biggest loss this summer was obviously former skipper, Cesc Fabregas. The Spaniard, who returned home to Barcelona before the beginning of the season, was the heartbeat of the side last season.
He was the leader of the Arsenal side and he made the decision to leave.
Samir Nasri then followed suit and jumped ship to Manchester City.
In the space of a couple of weeks, Wenger had lost his two main midfielders. This isn't what you expect from one of the Premier League challengers.
They have also lost the likes of Gael Clichy and Kolo Toure to City as Roberto Mancini continues to improve his side.
A team that has expectations of competing for titles and playing in the Champions League season upon season should not be taking massive hits like this season upon season.
Who's next? Van Persie, Wilshere or Szczesny?
Wenger needs to make sure he builds a side around these three players. They are the future of the club, along with the likes of Alex Oxlade-Chamberlain and Aaron Ramsey.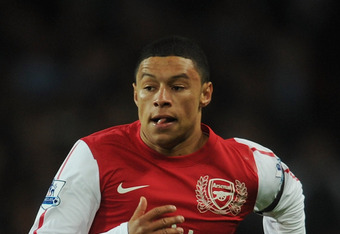 Michael Regan/Getty Images
Signings like Mikael Arteta and Per Mertesacker simply aren't good enough to progress Arsenal further.
On Wednesday night, Arsenal faced Nasri and Manchester City in the Carling Cup and only really Emmanuel Frimpong looked like he could do a job in the first team to a very high level.
So what are Arsenal at the moment?
They are a good side who have the potential to be great. I like Arsenal; they have played some the best football in Europe, but they aren't successful.
Fans who believe they are, are blinded by bias.
They need a trophy to ensure they become the champions they once were again.
But until they do so, they slip ever further to becoming nothing more than a feeder side for the likes of Manchester City and Barcelona.