MLB Hot Stove: Examining the Iannetta-Chatwood Deal
December 1, 2011
Los Angeles Angels General Manager Jerry Dipoto wasted little time making his presence felt in the Angels clubhouse. He and owner Arte Moreno gave notice to the rest of baseball that the Angels front office was no longer a "good ol' boys" club. What was once a group of gentlemen with secure jobs whose performance was never called into question were now being held accountable and found wanting. 
Tenured executives were shown the door; their jobs were outsourced to statistically, financially and scouting minded individuals from other ball clubs. Dipoto picked the best and the brightest from every organization in baseball and amassed a group of intelligent thinkers that may prove to be unequaled in baseball.
He made comments to the media that things were going to change. He was going to emphasize players with more plate discipline and a higher OBP while pursuing pitchers that posted a higher GB percentage than the standard 50.
You'd figure his first move in this game of chess we call the offseason would be a blockbuster, something no expert saw coming that cemented his status as one of the great young thinkers in the game.
Instead, we got Tyler Chatwood for Chris Iannetta. The average fan would refer to this as two guys I've never heard of with funny names got traded.
But of course, if you're reading this, chances are you're no average fan. You know Tyler Chatwood's fly ball tendencies and erratic control made him expendable despite being a 21-year old major league baseball player and that Iannetta's .370 OBP last season was elite among catchers. 
Hopefully, the rest of this article can illuminate some things you may have not known about these two players in an effort to accurately judge the swap. 
The Good
Colorado Rockies: This could not have worked out much better for the Rockies. They signed the top free agent catcher on the market, Ramon Hernandez, for $3.2 million a year across the next two years and dealt their current catcher that will make $3.5 million in 2012 for a Top-100 prospect. They saved $300,000 and added a starting pitcher that will be under team control for the next six years.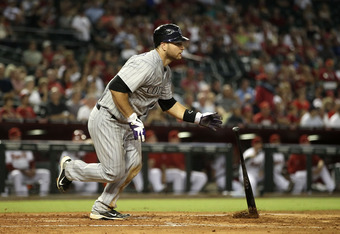 Christian Petersen/Getty Images
Los Angeles Angels: The Angels dealt a young pitcher that wouldn't have cracked their starting rotation for a catcher that's as good at reaching base than any backstop in baseball. When you add into the equation they'll have finally dumped Jeff Mathis' poor offense and his two million dollar price tag, Los Angeles managed to bring in a good offensive catcher for only 1.5 million dollars. Not many teams can say they only play $1.5 million for a .370 OBP, but the Angels can. 
When you consider the difference in offense between Mathis and Iannetta, the Angels added 10 home runs, 10 doubles and 100 OBP points to one spot in the lineup. To put this into perspective, it's like taking Bobby Abreu's bat out of the lineup and inserting Prince Fielder. Huge upgrade.
The Bad
Colorado Rockies: You lost one of the better offensive catchers in the game for a pitcher that walks as many batters as he strikes out. He's an extreme fly ball pitcher moving into one of the most hitter friendly environments in baseball. This is recipe for disaster. You can't send him down to AAA; you don't have enough pitching depth, so now, he has to learn on the fly in the pros. In essence, you've stunted his growth and now have, well, nothing unless he develops.
Los Angeles Angels: You traded away a Top-100 prospect that was under team control, making the league minimum for the next six years for one year of a catcher that hit .238 last season. To make matters worse, this catcher hit .172 with only four home runs outside of Coors Field last year. Was Jeff Mathis really so bad that you needed to replace him with a hitter who will hit for the same average but cost you a top pitching prospect?
Promising Trends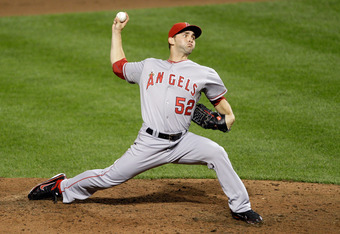 Rob Carr/Getty Images
Colorado Rockies: Away from Angel Stadium, Tyler Chatwood posted a 3.82 ERA. That's great considering he's been legally old enough to drink for all of six months.
Before the wheels fell off the wagon in the second half, Chatwood had proven that he was capable of being a solid mid-rotation starter in the major leagues, as he had posted a 3.62 ERA before the All-Star break. Chatwood also won't be facing American League offenses anymore; he'll face anemic offenses from San Diego, Los Angeles (the blue side) and San Francisco more often than not. 
Los Angeles Angels: Those OBP numbers aren't a fluke. Any time he's appeared in more than 100 games, he's posted an OBP up toward .400. Skeptics may point out his poor home and road splits, but if you notice in the second half of last season, Iannetta was a machine, posting a .274/.373 line. 
The Angels were among the worst teams in baseball at getting on base (.313 team OBP) and driving runners in (.252 team BA with men on base). Chris Iannetta (.370 OBP and .310/.470 with RISP) should certainly help buck those trends.
The Decision
This is a win-win trade for both teams, as they both get better in the short term. But because of the long-term benefits, it seems like a bigger win for the Colorado Rockies.
The Next Move
Jerry Dipoto traded away a prime candidate for the fifth starter spot in the rotation and may lose Trevor Reckling and Matt Shoemaker to the Rule 5 draft. Trevor Bell is out of options, and unless he's on the major league roster next season, the Angels will risk losing him as well.
Los Angeles needs depth in the rotation. Expect the Angels to sign a free agent starting pitcher or trade for one. CJ Wilson offered the Angels a 20 million dollar hometown discount, which is basically nothing when he was already asking for $120 million, but something tells me he and the Angels get a deal done that works for both sides. My guess is five years, $85 million. 
The Angels are also in the market for a hard-throwing right-handed reliever that is capable of handling a late-inning role. Heath Bell has expressed a desire to remain on the West Coast, and Dipoto is familiar with Bell, having just come from the NL West (Arizona D-Backs). I think the Angels and Bell hash out an agreement for three years, $25 million. 
This will bring the Angels payroll to around $145 million, but I don't think the Angels will be finished.   The recent Maicer Izturis rumors indicate the Angels are listening on offers for their utility infielder. I think the Angels will trade him for a prospect and free the team of the four million owed to him in 2012, bringing the total payroll to approximately $141 million. 
If this truly is Dipoto's plan, you've got to give the man credit. A rotation featuring Weaver, Haren, Wilson, Santana and Williams is unmatched in baseball. A bullpen that includes Bell, Downs, Walden and Takahashi won't surrender many runs.
The Angels offense will still be a work in progress, but there's reason to believe Vernon Wells will hit better (he has to; otherwise, he'd be replaced by super-prospect Mike Trout). Trumbo may provide some power at third base, Kendrys Morales still may come back and finally, Chris Iannetta gives this lineup a look that Jeff Mathis never could have provided.