Aston Villa vs. Manchester United: Week 14 Preview and Lineup for Young's Return
December 1, 2011
Michael Regan/Getty Images
Having swapped the claret and sky blue of Villa Park for the devilled red of Old Trafford, Ashley Young, United's summer signing, is the obvious focal point in the run-up to Saturday's fixture.
For a club lurching to the end of 2011, many of his new teammates may welcome the diverted attention.
After a disappointing defeat against Crystal Palace, United must dust themselves and rise again to see off a surprisingly solid Aston Villa. So far this season under Alex McCleish, Villa have floated up the table under the radar. Still holding hopes of a European finish in May, United will be foolish to assume they hold the rights to the weekend's three points—especially considering the number of hiccups Sir Alex's side have experienced thus far.
Manchester United will arrive in the midlands as pre-match favourites, however, and need to convert the odds into victory. With the Manchester City bandwagon beginning to experience strain, United must reassert their credentials as reigning champions and potential title winners.
Alex McCleish has long been a cautious pragmatist, but with the battle for the hearts and minds of the Villa faithful still bubbling aware beneath the surface, he must show some ambition and intent against United. After all, the Villains are the home side and have their own designs for the 2011/12 campaign.
Will Big Eck's conservative instincts blend with the simmering desire of the club's fans to create a balance that could win the day, or will dour practicality bring stand born scorn to scupper morale on match day?
Here's how United could potentially line up as a 4-5-1. With United coming back from another embarrassing setback, away from home and with a strike-force struggling for form, Fergie could well take a more cautious and rigid approach that relies on his wingers and full-backs.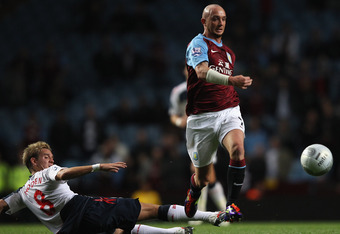 Michael Steele/Getty Images
Goalkeeper—David De Gea
The young Spaniard is still far from being the finished article, but his progress in adapting to the English game has been consistent and steady. Each week seems to add another coat of confidence and assured gloss to his game.
Whilst the odd error still occasionally creeps into his play, De Gea's potential is there for all to see, a potential he is quickly beginning to realise. Expect another quiet but solid performance from the former Atletico net tender.
Central defense—Rio Ferdinand & Nemanja Vidic
De Gea's biggest problem has been communicating with his defenders. When playing within United's younger backline set, he has seemed more comfortable barking orders forwards whilst the presence of Rio and Vidic has caused the willowy keeper to be struck dumb with a timid respect.
With Christmas looming, all three players need as much time together as possible to foster a relationship of trust and understanding. Rio and Vidic, regardless of the current problems felt by the former, are still the club's go-to pairing in the middle. Expect Rio to droop a little deeper than usual as Vidic plays an evermore athletic role to compensate for his partner's changing role.
Left-back—Patrice Evra
Patrice Evra looks half the player he did two years ago when he, along with Ashley Cole, could be confidently argued to be the great left-backs around. With Fabio and Evans taking part in the mid-week loss to Crystal Palace, Evra is the only fresh left-back available, which would make his selection almost default.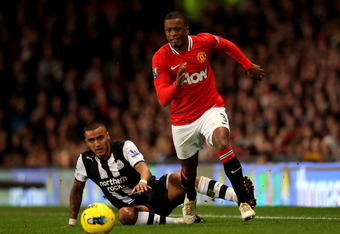 Alex Livesey/Getty Images
In a 4-5-1, Evra's reluctance to chase back his mistakes can be covered in some way by a roaming defensive midfielder, but his nonchalant indifference to the defensive side of his game is becoming a frustratingly common feature of United's left flank when caught on the counter.
He has pulled out a few pleasantly understated performances over the past few months, largely at the expense of his cavalier attacking surges. Perhaps he is no longer a player able to react to the demands of a role that is both defensively and offensively focussed at once.
Right-back—Phil Jones
Phil Jones will return to the side to continue his apprenticeship at right-back. There isn't much to say about Jones that hasn't already been covered by sportswriters across the land, but with the English youngster's positional awareness still lacking, a right-side berth is where he will line up for now.
Expect more of the same dashing runs forward and hectic tussling both out on the flanks, inside the overlaps and in the midst of the opponent's 6-yard box!
Defensive Midfield—Michael Carrick
Carrick is a much maligned figure at United, but regardless of the arguments for or against his continued employment by Manchester United, he is the club's best and most experienced defensive midfielder.
With his tidy sideways passes and tactical anticipation, expect Carrick to go about his usual business in front of the back four as, well, usual. Just don't expect any tub-thumping heroics from the midfielder.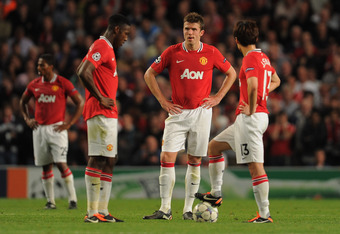 Michael Regan/Getty Images
Central Midfield—Ryan Giggs & Darren Fletcher
Fletcher and Giggs will complete a British midfield of mainland nation players. Fletcher will shuttle backwards and forwards through United's centre, bounding into the opponent's box, closing down their runners and shuttling play through the mid-pitch battle.
Giggs will be the father of invention, popping in and out of the game where space and chances allow to deliver smart balls to the flanks and through the middle to Rooney.
Left Wing—Ashley Young
On his return to Villa Park, Young is a player looking to rediscover his early-season form after a slight lull. He looked lively against Newcastle and a game against his former employers will hopefully give the England attacking midfielder some added fuel to fire himself on.
As always, Young's dead-ball deliveries will offer inroads at set pieces for Sir Alex and his charges, whilst his tricky wing play will be key to giving the frontman the service required for a lone striker.
Right Wing—Nani
Nani is another player currently coasting through an underwhelming spell after a blockbuster start to the season. The Portuguese is an unpredictable genius though, and has a habit of snapping back into the guise of match-winner when written off.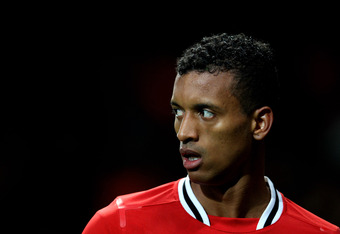 Alex Livesey/Getty Images
The winger's sticky patches always bring risk though, and Nani can be a frustrating headache of a player for fans when it's not his day. Rather than providing an exciting cutting edge, he seems to hog the ball, losing possession and playing up to the role of some insufferable "big time charlie."
With the limelight cast upon Ashley Young this weekend, however, Nani's ego will hopefully drive him on to steal the show over on the opposite flank.
Forward—Danny Welbeck
Of all United's forwards, when off the pace, Rooney looks spectacularly bad. His first touch, reflexes, passing and decision-making quickly decay without the momentum and confidence of form but, as with Nani, he has the ability to snap out of it rather suddenly—usually in the most dramatic manner possible.
Rooney has long been a player rushed back to action too soon after injury, and looked tired against Newcastle. Even with United's forward ranks looking rather toothless and lacking in ideas, he needs time to heal up for the season ahead, and to ensure he doesn't become a worthless crock later in his career.
Instead of Rooney, Welbeck will start. He has the touch, skill and physicality to lead the line even if he may struggle with such a difficult role due to a lack of experience.
As a future United star striker, however, Welbeck's education has to start sometime and Villa are not the most fearsome test for the youngster—especially not compared to City who he started against.
Bench—Lindegaard, Rafael, Smalling, Park, Valencia, Hernandez, Rooney
The Result—It'll be a tight affair on the pitch, and the scoreline will reflect that. 2-1 to Manchester United.