Pac-12 Coaching Vacancies: Is ASU the Better Job over UCLA ?
December 1, 2011
Christian Petersen/Getty Images
Both UCLA and ASU made big news Monday in regards to their respective football programs. Head coaches Rick Neuheisel and Dennis Erickson were fired just days after finishing mediocre seasons.
Erickson's Sun Devils finished the season at 6-6 overall and 4-5 in the Pac-12 South. During the first half of the season, ASU was on fire at 5-1 with notable wins over Missouri, USC and Utah, but its success was short-lived when it lost five of its last six remaining games. The mid-season meltdown cost the Sun Devils a spot in the Pac-12 conference game and now they await the announcement of a possible bowl bid on Sunday.
Neuheisel had a similar season with his Bruins as the team finished 6-6 overall and 5-4 in the division. UCLA had big wins over California and Colorado but suffered extremely lopsided defeats to Texas, Stanford, Arizona, Utah and USC. The opposing teams in those losses averaged nearly 45 points against the Bruins. The most embarrassing defeat came in a rivalry matchup against cross-town rival USC, in which UCLA was shutout 50-0. Despite all this, Neuheisel's team was granted a spot in the Pac-12 conference game on Saturday against a high-powered Oregon offense.
Neuheisel and Erickson will both be on the sidelines for their teams' postseason games but will vacate their positions soon after. Rumors have already started to spread about which potential candidates will have the ability to turn these two historic programs around, but which coaching job is better: ASU or UCLA?
Three deciding factors stood out in comparison between the two:
1. Recognition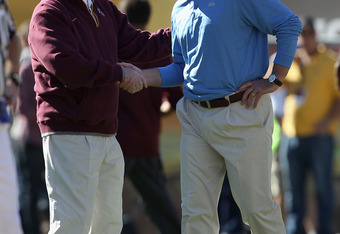 Christian Petersen/Getty Images
Some head coaches enjoy the type of spotlight a prolific program like UCLA receives. The Bruins play on national television in a legendary stadium despite season after season of poor play. Not to mention the perks that come with living in LA. ASU is a historic program as well but doesn't receive near the amount of exposure it deserves. Some potential recruits don't find the desert atmosphere too pleasant either.
2. Talent
Good coaches make good players and vice versa.
In terms of current talent, ASU holds a slight edge in this category. ASU quarterback Brock Osweiler has proved he can lead the Sun Devils on offense and, barring a sudden jump to the NFL, he has the potential to be one of the top quarterbacks in the Pac-12 next season.
2011 was a rocky season for UCLA's two junior quarterbacks. Kevin Prince was named the starter early in the season but was eventually benched for Richard Brehaut due to inconsistent play. Brehaut showed promise during the first half of the season but a broken leg prevented him from finishing out 2011. Both quarterbacks have shown they can manage a game on offense but neither player is really capable of taking games over.
In terms of departing talent, UCLA will be losing a number of key starters at the end of the season. On offense the Bruins will be losing their leading rushers in Johnathan Franklin and Derrick Coleman plus two of their top receivers in Nelson Rosario and Taylor Embree. Most importantly, UCLA will lose its leader on defense in Sean Westgate. With so many starters leaving next season, the future coach in Westwood will have his hands full turning this squad around.
3. Recruiting
ASU has had to compete with with cross-town rival Arizona for recruits since the beginning of time, and now with Rich Rodriguez taking over the reins in Tucson that competition for recruits just got tougher.
Academically, ASU is far more lenient in the standards it holds for its recruits than UCLA, but playing in the desert doesn't draw too much interest from most star recruits. The challenge of recruiting in LA isn't even considered a fair race for UCLA. When college football royalty is just a couple freeways down it's hard to lure young players away from the bright lights of USC. Because academic standards are so high at UCLA some recruits don't even consider Westwood a potential home. Due to all these circumstances, both schools have an equally difficult time recruiting.
In essence, both head coaching positions will be a work in progress. Right now ASU appears to be a team that can perform well next season and hit the ground running. UCLA is a little more of a challenge to rebuild, but the school's prestige and recognition is a tempting offer to any potential candidate.
However, if UCLA's next head coach struggles early, the spotlight will be directly upon the Bruins.