Kentucky Basketball: 'Jorts' and the Top 10 Fan Favorites in Wildcats History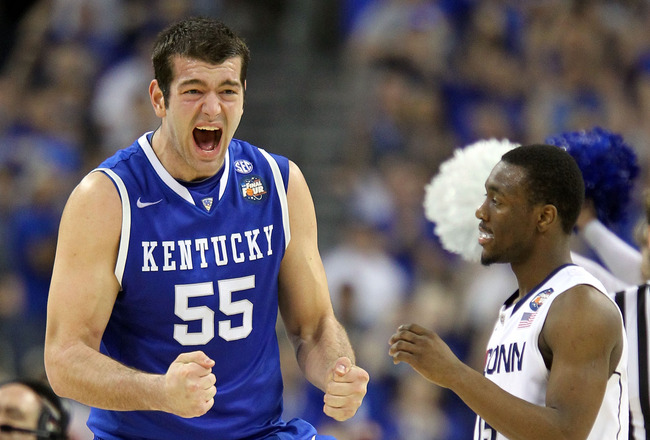 Andy Lyons/Getty Images
Teams ebb and teams flow, but one thing remains: Kentucky basketball.
Unlike any other team in the country, the Kentucky Wildcats program is one of fame and illustrious fortune. Since 1903, the school has boasted 2,000 + career wins to go along with seven national titles.
More than 25 of their past athletes have been drafted in the first round of the NBA draft, while six of those were ultimately crowned with a player of the year award.
With so many players who've added to the namesake of the logo, it is a daunting task to select just 10 players overall.
But at some point, all of us, including you reading this, have grown fond of certain players. Concocted through research and my own memories, here are the 10 most beloved fan favorites of all-time.
Side note: Josh Harrelson, otherwise known as "Jort," IS the most beloved Wildcat in team history. No, the man was not the best player in team history by any stretch of the imagination. But Harrelson was a hard-working player who makes the fans proud of their Kentucky blue. "Jorts" was a nickname created by a local student for the brute forward during his frosh season. It was inspired by a viral picture taken of the beefy forward in a pair of tight skinny jeans that spread across campus.
John Wall, 2009 to 2010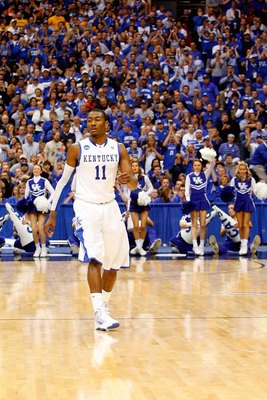 Chris Chambers/Getty Images
Yes, this man is meant to be included.
No other player in recent history lit up the college basketball world quite like John Wall did.
The lightening surge of a point guard came with a boatload of praise. And he didn't disappoint.
In his only season in Wildcat blue, the slinky 6'4" point dropped averages of 16.5 points, 6.5 assist, 4.3 rebounds and 1.8 assists.
At the helm of a team that ultimately lost in the Elite Eight, Wall and four others—DeMarcus Cousins, Patrick Patterson, Eric Bledsoe and Daniel Orton—all went in the first round of the 2009 draft.
Of course Wall was No. 1. He now leads the Wizards and is one of the brightest of stars for the future of the NBA.
Jamal Mashburn, 1990 to 1993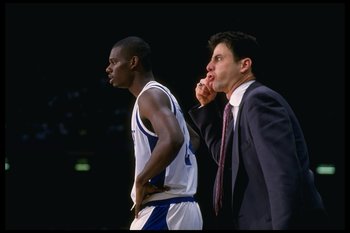 Getty Images/Getty Images
Can I be honest for a second? Jamal Mashburn is my favorite all-time Kentucky Wildcat. The man was so brutally gifted as a collegiate that he made panties and jaws drop.
Both, a finesse forward with a killer step back game and a brute strength to post in the paint and get to the free throw line, Mashburn was near unstoppable.
Named twice as an AP All-American, "Monster Mash" led the team to an Elite Eight finish as a sophomore and a Final Four appearance as a Junior.
Sixth all-time in Kentucky scoring, Mashburn finished his career with averages of 19.8 points and 7.9 rebounds. He was drafted fourth overall in 1993 to the Dallas Mavericks.
Rex Chapman, 1986 to 1988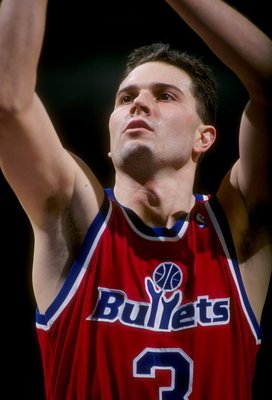 Layne Murdoch/Getty Images
There have only been a few players in my lifetime who had the dribble speed game and outside shooting touch of a player like Rex Chapman.
Most known for his pin point three-point accuracy (40.0 percent for his college career), many have mistaken Chapman as just a shooter.
But don't be fooled.
The guy was an athlete with a tremendous ability to get up off the floor. Most notably: Chapman was known by Wildcat fans as quite a defensive threat and dunker.
Tack on a career point average of 17.6, his versatility and his leadership in leading the team to a Sweet 16 in 1988, and Chapman was pro bound.
He was drafted eighth overall in 1988 to the Charlotte Hornets.
Kenny "Sky" Walker, 1982 to 1986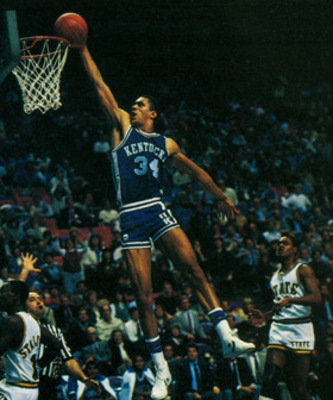 Kenny "Sky" Walker is known by many Wildcats fans as the greatest who ever suited up for the blue and white. The man's nickname is a perfect description for what kind of a player he was.
The 6'8" lengthy forward had an uncanny ability to get to the rim to finish. Because of this he had a tremendous career field goal percentage and helped lead his team to a Final Four in 1984.
Over the span of his career, Walker was named to four All-SEC teams and twice was named as an AP All-American.
Walker finished with averages of 15.8 points and 7.7 rebounds. He was drafted fifth overall in 1986 by the Knicks.
Cotton Nash, 1961 to 1964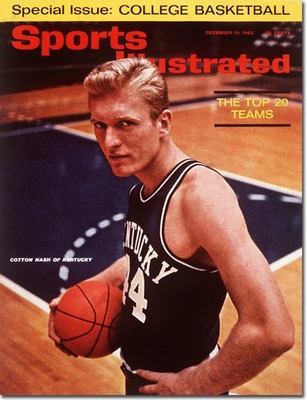 Before there were baggy shorts, headbands, killer kicks and swag, there was Cotton Nash.
Nash is best known as the dominant player of the '60s who officially helped put Kentucky on the map as a powerhouse.
From 1961 to 1964, the big man averaged 22 and 12 and was a three-time All American. Drafted in the second round of the 1964 draft he both went on to play professional baseball and basketball.
Jeff Sheppard, 1993 to 1998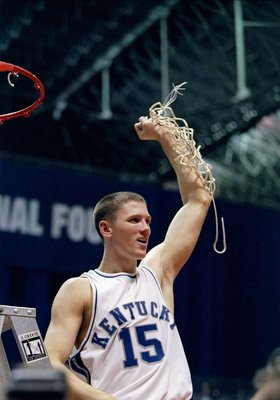 Todd Warshaw/Getty Images
The fifth-year senior Jeff Sheppard in 1998 was a true inspiration.
A guy who'd averaged 5.4 points per game his first three years in the league stepped up his senior year like all senior's should.
That year Sheppard was both in the top-three in points scored and rebounding. But most important is what he saved for the end.
Hitting an array of clutch shots in the 1998 tourney, Sheppard took home Final Four MVP and led Tubby Smith to his first national title at Kentucky.
Sheppard was a free agent walk-on with the Atlanta Hawks and played two years in the pros.
Dan Issel, 1967 to 1970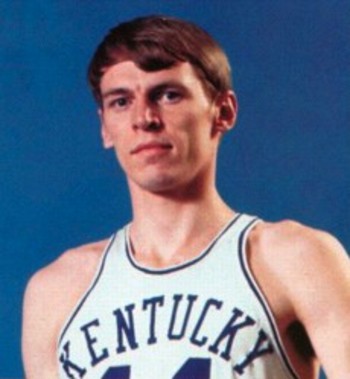 On stats alone, Dan Issel takes the cake. The man in that regard is the greatest Cat of all time.
A 6'8" 240-pound aggressor and rim rattler, Issel was twice a an AP All-American and was inducted into the College Basketball hall of fame.
Over his three years with the club he averaged 25.8 points and 13.0 rebounds per game. Issel is the all-time leading rebounder and scorer in Kentucky history.
Tony Delk, 1992 to 1996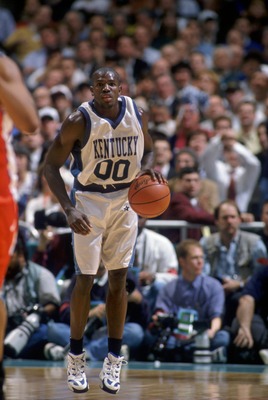 Doug Pensinger/Getty Images
Double zero was a streaking shooter with insatiable will for victory. Tony Delk led a team including Antoine Walker, Walter McCarty, Derek Anderson and Ron Mercer to a championship in 1996.
Despite having a misery of weapons, Delk led the team in scoring from his sophomore to his senior year, averaging 14.2 points per game over a four-year span.
His team high 24 points and timely three-point shooting in the championship game against Syracuse sparked the team to victory.
Notably: Delk finished sixth on the Kentucky all-time scoring list with 1,890 points.
Jack "Goose" Givens, 1974 to 1978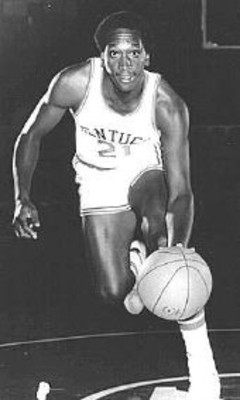 Jack "Goose" Givens was the life of the party in the mid-70s. The multi-dimensional scorer led his team in scoring three years in a row while leading the team to a championship in 1978.
The Final Four MVP was a three-time All American and the AP Player of the Year his senior year.
In the 1978 title game, the 6'4" forward erupted for a career-high 41 points on 18-27 shooting. He currently ranks third on the Kentucky scoring list.
Cliff Hagan, 1950 to 1954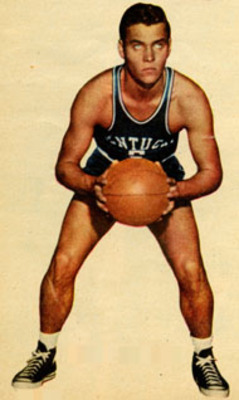 Cliff Hagan is legendary in Wildcat country. The big man dominated a stretch of the '50s for Kentucky with averages of 19.2 points and a beast mode 13.4 rebounds per game. His rebounding average currently ranks second all-time in team history.
During his Senior year, Hagan dominated with numbers of 24 and 15.3. The man was the early signal to how great of a program Kentucky basketball would become. He led the team in 1951 to a National Championship, but wasn't finished yet.
After College, Hagan had a successful NBA career as a six-time All-Star and has been considered as a Hall of Fame candidate on numerous different occasions.
Keep Reading

Kentucky Wildcats Basketball: Like this team?