Anaheim Ducks Fire Randy Carlyle, Hire Bruce Boudreau
December 1, 2011
Bruce Bennett/Getty Images
Despite the fact that the Anaheim Ducks finally pulled off their first win in eight tries (and their third in their last 18), they have decided to part ways with head coach Randy Carlyle and have replaced him with former Washington Capitals head coach Bruce Boudreau.
Carlyle leaves the Anaheim organization as the most successful coach in franchise history, with a 273-182-61 record and just under a .600 win percentage in his five seasons behind the bench.
But perhaps the thing Ducks fans will forever remember and be grateful for was his work in guiding the 2007 team to the franchise's first and only Stanley Cup championship.
His style of hard-nosed, physical play made the Ducks one of the most feared squads in the league, and simultaneously one of the most penalized as well.
However, this season has been one of regret for Carlyle, as the Ducks have won just seven times in 24 outings and sit buried in the Western Conference cellar.
GM Bob Murray stated "This was an extremely difficult decision.  Randy is a terrific head coach and did a tremendous job for us for six-plus seasons. We thank him greatly for his hard work and dedication to our franchise, not the least of which was a Stanley Cup championship."
The Ducks have also fired assistant coaches Dave Farrish and Mike Foligno. Brad Lauer has been named as one of the new assistant coaches, and one more is expected to be named soon.
Bruce Boudreau, on the other hand, has been in the news a lot lately. After a mediocre stretch, several seasons of playoff failure and rumors of a spat with superstar Alexander Ovechkin surfaced, the Capitals decided to part ways with Boudreau.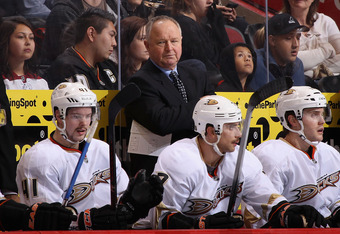 Christian Petersen/Getty Images
And get this: that was just two days ago on Nov. 28.
The timing could not have been more convenient for Ducks fans, as this hiring comes in the midst of their team floundering far below expectations and rumors of Bobby Ryan being traded flying around the Internet like a witch with an out-of-control broomstick.
Boudreau, who many fans will remember as a fiery character who's unafraid to yell and get in his players' faces thanks to HBO's 24/7 Penguins-Capitals series, brings a coaching style that encourages the strengths of speedy, skilled forwards like Corey Perry, Bobby Ryan, Teemu Selanne and Andrew Cogliano.
On his new coach, Bob Murray said: "Bruce is a proven winner with a great track record and we are optimistic we can turn this season around under his leadership."
He comes in with a significant amount of success already under his belt as well. Boudreau can be credited with turning around a Capitals franchise that for a very long time was a non-factor in the Eastern Conference.
Under his tenure, the Capitals secured four consecutive Southeast Division titles, including a 121-point 2009-10 campaign that won the President's Trophy.
His work also won him the Jack Adams Award as the NHL's best coach in 2008.
Only time will tell if this move is the one that finally turns the Anaheim Ducks' season around. They currently sit on 18 points, 10 behind the Los Angeles Kings for the eighth spot in the West.
The Bruce Boudreau era in Anaheim will officially begin this Friday, Dec. 2, when the Ducks will host the Philadelphia Flyers.
If you liked this article, follow me on Twitter for news, updates, analysis, and links to new articles as I publish them!