MAC Attack: Why Northern Illinois vs. Ohio Will Be the Best Game of the Weekend
December 1, 2011
Jonathan Daniel/Getty Images
This weekend is loaded with marquee CFB matchups.
There's Bedlam.
There's the SEC championship game, where an absent Alabama team will nonetheless likely be rewarded with an invite to play for the national title. (BCS = Better Choose SEC). 
There's the highly un-anticipated inaugural Pac-12 title game, where Oregon is a mere 31-point favorite over the non-mighty 6-6 UCLA Bruins, fresh off a 50-0 shellacking at the hands of bowl-banned USC…yecch. Not quite what Pac-12 commissioner Larry Scott was hoping for. 
Getting back to reality, we have Wisconsin vs. Michigan State for the Big Ten championship, and Virginia Tech vs. Clemson in the ACC decider. There should be lots of exciting football in all of these games, other than the Pac-12 debacle in Eugene. 
However, for sheer entertainment value, none of these games should hold a candle to Friday night's MAC championship game at Detroit's Ford Field, between 9-3 Northern Illinois and 9-3 Ohio. NIU and Ohio have two of the nation's most prolific offenses, led by QBs who might just end up playing on Sundays. 
The Northern Illinois Huskies, led by first-year coach Dave Doeren, average nearly 40 points per game, while allowing 32. 
The Ohio Bobcats, coached by ex-Cornhusker coach Frank Solich, average almost 32 points per game, while allowing 22.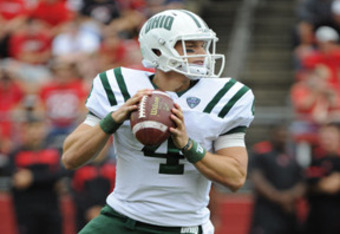 Both teams were showcased often on ESPN's weeknight games, including the memorable 63-60 win by NIU over Toledo. 
How do you spell, o-f-f-e-n-s-i-v-e  f-i-r-e-w-o-r-k-s?
Northern Illinois senior QB Chandler Harnish put up historic numbers this fall. Harnish passed for 2,692 yards, with a 63 percent completion rate, 23 touchdowns, just four interceptions and nearly 8.4 yards per attempt—all of which compare quite favorably with the Andrew Lucks, Matt Barkleys and RGIIIs of the world. 
Now to the running part. Harnish's rushing totals would be the envy of most RBs. At 6'2", 210 lbs. and blessed with 4.6 speed, he led the Huskies with 1,351 yards, mostly on QB draws and option plays, averaging an eye-popping 7.9 yards per carry and scoring 11 touchdowns. 
All in all, Harnish accounted for over 4,000 yards of total offense and 34 touchdowns. He has a chance to become the first FBS player ever to have 3,000 passing yards and 1,500 rushing yards in a season. He joined Missouri's Brad Smith (now with the N.Y. Jets) and Nevada's Colin Kaepernick (now with the San Francisco 49ers) as the only FBS players with 8,000 career passing yards and 3,000 career rushing yards. We could go on, but you get the idea. 
Oh, and Harnish is already in grad school at NIU, pursuing his MBA degree. He finished his undergraduate studies with a 3.65 GPA last May. Take that, Andrew Luck.
The Huskies have many other weapons on offense, including RB Jasmin Hopkins (15 TDs), WRs Nathan Palmer and Martel Moore (five TD receptions each), PK Matthew Sims (18 of 23 FGs) and KR Tommylee Lewis, who took a pair of kickoffs back to the house against Toledo.
But that's only half the story. 
Ohio is coached by former Nebraska coach Frank Solich. His QB, redshirt sophomore Tyler Tettleton, has had a remarkable season as a first-year starter. 
As one might expect from the son of former AL All-Star catcher Mickey Tettleton, Tyler Tettleton has a live arm. He surpassed Harnish in passing yards with 2,894, throwing for 26 touchdowns and only seven interceptions, with over 8 yards per attempt. The only other sophomore QB in FBS who came close to those passing numbers was Casey Pachall of TCU. 
Tettleton, whose 40-yard dash has been clocked as fast as 4.5, emulated Harnish as a runner as well, with 584 yards on 133 carries and eight touchdowns. 
His supporting cast includes RB Donte Harden (900 yards, 5.7 yards per carry) and WRs LaVon Brazill (58 catches,10 touchdowns) and Riley Dunlop (35 catches, six touchdowns). PK Matt Weller drilled 22 FGs and was perfect from under 40 yards.
Ohio's defense is anchored by MLB Noah Keller (92 tackles), who might be the best defensive player in the MAC. He and his teammates will have their work cut out for them Friday night. The over/under is set at 70. Expect Harnish and Tettleton to put on a show.