TUF 14: Team Bisping vs. Team Miller Live Results, Analysis of the Final Episode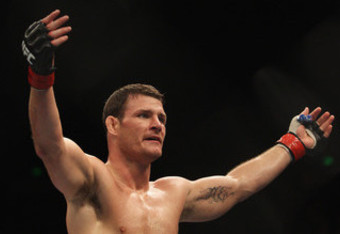 The Ultimate Fighter: Team Bisping vs. Team Miller comes barreling down the home stretch tonight when the final episode airs on Spike TV. The live finale at The Palms in Las Vegas is still to come Saturday night, but the reality-show portion of the 14th season comes to a close this evening.
And even if ends with a thudding faceplant, the last season featuring pre-recorded mayhem on Spike will have been a smashing success.
Whether intentional or not, the UFC brass have saved the best for last.
By design or by happenstance, several factors came together and conspired to make this installment the best yet.
First and foremost, the organization made an excellent choice when it decided to use the final version of TUF in its current format to introduce the casual fans to the feather- and bantamweight divisions.
The familiarization added another element to the tried-and-true story arcs of (A) highly trained athletes competing for a professional contract; and (B) volatile personalities locked in a confined space to force interaction. Furthermore, the smaller fighters are generally the more active ones so 135- and 145-pounders promised and delivered some scintillating action.
Second, the powers-that-be landed the right coaches—Jason Miller's surprisingly mellow and cerebral approach to the exercise was the perfect foil for Michael Bisping's brash arrogance and emotional appeal.
Finally, there was a healthy dose of good old-fashioned luck.
It would appear the best fighters made it into the house and then progressed through the competition. The most exciting participants avoided upsets and injuries, which meant we got the best possible matchups and the results lead credence to that assertion. Additionally, the house was stacked with colorful personalities, but none so objectionable that things took a dark turn for the worse.
All in all, it's tough to see a better (realistic) scenario for TUF's last hurrah on Spike and we still have two fights to go. So tune in tonight at 10 p.m. ET/7 p.m. PT and join us as Bleacher Report brings you live commentary on the final installment of The Ultimate Fighter.
Suffice it to say I whole-heartedly agree with Dana when he said this was the best crop of fighters and the four most talented finalists The Ultimate Fighter has ever produced.

What a way to ride off into the Spike sunset.

Great season and it's not even over yet—remember we get Dillishaw/Dodson, Brando/Bermudez and Bisping/Miller on Saturday night.

But that's it for me and the live blogs so thanks for tuning in and keeping up.

Enjoy the finale.
Admirable exhibition from both men in there—I don't subscribe too much to moral victories, but that effort from Caraway qualifies. To have been as nervous—some might say scared—before the bout and to have stayed in there taking all that abuse for as along as he did?

Pretty damn rugged.

What more needs to be said about Diego Brandao?

The only way this cat could be more impressive is if he actually does go back to Brazil and save all those families.

Although Dennis Bermudez looked pretty slick as well…and so did T.J. Dillishaw while we're at it.
Not happening.

Brandao's punches are coming more slowly now, but they're virtually all landing with criminal intent. Caraway finally has no choice but to stand up, at which point he eats a kick to the face and then a couple of venomous left hooks (one might've been more of a cross).

Team Miller's entrant shows a phenomenal chin, but the second left hand puts him back down. Another big right and another big left find their marks, but Caraway still manages to stagger drunkenly to his feet.

As Bisping said, Bryan's got quite a chin on him, but this is getting tough to watch.

Caraway's either completely exhausted or punch drunk or both, but his balance is totally gone. He tumbles to the ground and one more horrendous right hand convinces the ref that he's seen enough.

Fantastic heart and courage shown by Bryan Caraway (not to mention one thick skull), but he was hopelessly outgunned in that cage.
Caraway is throwing punches one at a time and that's not working terribly well. Although, he is still vertical so I guess that's something. Unfortunately, if his left leg takes too much more punishment, he won't stay vertical too much longer.

Uh oh, I think we're seeing the scenario of which Bryan Caraway was afraid.

A left hook to the chin and a glancing flying knee put Team Miller's last man standing on Queer Street and it doesn't look like he'll find his way off it. Diego, who is most certainly NOT tired, is assaulting his opponent with a blur of hammerfists and other assorted bombs from above.

Only a small percentage are actually making it to Caraway's dome, but the ratio is working at the moment. Bryan is lost in the fog, but still thrashing about valiantly to try to weather the Brazilian storm.
Give Bryan credit, he's a wee bit tentative to start the fight, but not overly so. He's shying away from the standup exchanges, but he's wasting no time in shooting for the takedown.

That's the good news.

The bad news is that Brandao is stuffing the takedowns with little trouble and seems totally at ease on his feet. If Caraway can't finish a takedown attempt, this pattern bodes poorly for the American.

Oh, and the Brazilian has landed a couple crushing leg kicks. Those are terrible news.
My goodness, Caraway sounds and looks obscenely nervous—the dude is literally pacing, what, 18 hours before the fight?

If he pulls off a victory, it's going to be an amazing thing to watch.
Man, it's gotta suck to be Brandao and Caraway while the rest of the house is cutting loose. I remember living in our fraternity house during college and having one of the last finals possible.

Everyone else was freaking out, partying and having a good time while I had to traipse off to the library. Made prepping for that exam extra painful.

Can only imagine what it's like when you're prepping for combat rather than a multivariable calculus exam (which I passed, I thank you).
Yahoo, Diego is breaking out ALL the crazy on the last night, talking about how an angel told him he's too much "with God" to lose to Caraway. Hey, whatever floats your boat.

Especially when you can tussle like Mr. Brandao.
Mayhem Miller is a rockstar and the Count is a chump—so Team Miller has been handing Team Bisping it's derriere on a silver platter, but suddenly, when Bisping has the prohibitive favorite, he's interested in spicing things up? Putting a c-note note on the scrap?

Not only that, but Bisping also knew that Miller couldn't turn down the bet when propositioned on camera and in front of his team, including Bryan Caraway.

That was entrapment if I've ever seen it. Bush league.

But good lookin' out by Mayhem, taking the bet just to back his fighter even though he's gotta know he's probably sitting on a loser.
The endorsement start sliding in for Caraway, but I think Dana White said it best when he said (paraphrasing) you've got to go right after Brandao and resist the urge to be intimidated.

Well, every word out of Bryan's mouth makes him sound intimidated and that's gonna be problematic if DW is right.
Ooof, Bryan Caraway doesn't sound mentally prepared in the slightest, but maybe that's how he rolls.

I'm skeptical, though, so I'm picking Brandao.
Wow, I'm no doctor, but that sounded like a spot-on psychological self-diagnosis by Mayhem Miller.

And that right there might be the biggest upset in the history of the sport.

Possibly all sports.

The intellectual calm and savvy Miller has shown during Season 14 juxtaposed with the lunacy he's exhibited at every stop up to this one is making me recalibrate all my assumptions about guys like Chael Sonnen, Tito Ortiz, Josh Koscheck and even Nick Diaz.

I mean, if Miller can so effectively adopt the role of a borderline psychotic despite being this normal, anyone can.

…

OK, maybe not Diaz.
Brandao looks kind of like a mini-Junior dos Santos and I mean physically, not in reference to their fighting styles.
I've gotta say, if Brandao really is a rehabilitated Brazilian gang-banger, then that means he's got the mentality for the fight game i.e. no fear and a touch of the crazies.

And that would be HUGE trouble for not only this cast of TUF fighters, but the entire 145-pound division.

Diego looks like he's got the physical tools in spades, like a Brazilian Melvin Guillard with better ground skills. If he's got the mental ones as well, look out.

We might have a genuine challenger to UFC Featherweight Champion Jose Aldo.

Down the road…he's obviously not in that rarefied air yet.
Wow, absolutely tremendous turn on camera for the Count.

The first gem is just a perfect assessment of Diego Brandao: "The guy's a beast."

Yes, yes he is.

But Bisping's true gem was this: "Listen, I'd be scared of the guy and he's only the size of my leg."

Outstanding and in such typical back-handed Bisping fashion, which only enhances the sound byte.
Anyway, on to the next massacre—Bryan Caraway vs. Diego Brandao.

Caraway seems legitimately disturbed about the prospect of facing the Brazilian in the Octagon so hanging out with the guy who just got blasted into another State might not be the best idea.

Nor is sharpening a knife on just any ol' rock, but I digress…
That is one tough exit for Johnny Bedford—brutally knocked out, shown in all manor of disarray on camera and ultimately breaking down in tears.

Understand I'm not criticizing him whatsoever, just one of the tougher exits I've seen.
No, Johnny, you're not in Ohio any more.
And mission accomplished.

Bedford had definitely slowed and, once Dodson felt that give in his opponent, he turned into the aggressor. He mixed his strikes up, using kicks and body blows before dropping Johnny with a short-but-vicious left hook.

That wallop might've ended the affair by itself, but the mighty mite left no room for interpretation. He jumped on his fallen adversary and bombed away with five or six hammerfists flush to Bedford's face/jaw.

Not sure what took Herb Dean so long there because at least three of those were totally unnecessary.

Ugly stoppage to be sure, but a compelling one for John Dodson.
Johnny Bedford seems to be the one giving into fatigue—he's noticeably slower and John Dodson's exploiting that vulnerability with his counterstrikes. Johnny's not done, though, as he lands a thwacking left hook that has John on his bicycle with a look on his face that says, "whoa, let's avoid a repeat of that."
Bedford's corner tells him Dodson is tired and Dodson's corner tells him Bedford is tired so someone is definitely tired.

I'm not sure who, though.
I wish I was more sophisticated and less superficial, but damn if I don't sincerely enjoy those closeups of Brittney or Arianny Celeste or Chandella Powell when they welcome us back from break.

You're all aces in my book, ladies.
Just kidding.

I do give the round to Dodson, 10-9, but only because he landed more strikes and had the slightly better takedown. I can definitely see it being scored the other way.
Bedford comes out as the aggressor and actually enjoys some nice initial success, using some big punches and sprinkling in a few leg kicks to accentuate the height difference. But Dodson finds his rhythm and begins to use his speed/quickness to give his opponent fits—landing flurries of strikes to each one he absorbs.

Nevertheless, Bedford is still coming forward, still tallying significant points in the clinch and eventually scores a takedown. The problem is that Johnny can't keep his prey in the clinch or on the ground long enough to turn the tide.

That and he appears to be slowing down while Dodson is not.

Oooh, Dodson authors a nice trip in the waning seconds of the first and that throws the scoring of the round into total chaos. Both men landed their share of strikes, Dodson seems to land more, but Bedford was the constant aggressor AND both men scored brief takedowns.

I'm tempted to cop out and call it a 10-10 round, but I'll give it to Dodson because he's my pick.
And I don't even see that one at the moment because I only have eyes for Brittney Palmer.

Man, it's nice to have her back in the Octagon Girl mix.
This article is
What is the duplicate article?
Why is this article offensive?
Where is this article plagiarized from?
Why is this article poorly edited?