College Football: 4 Scenarios Broncos Fans Should Cheer for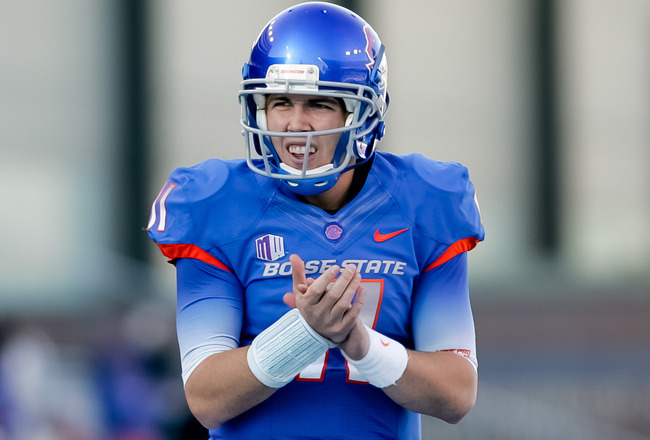 Otto Kitsinger III/Getty Images
This year can be considered the worst year for Boise State not to go undefeated. The Broncos fell to TCU at home on November 12, eliminating them from any talk at a national championship. The events that followed were Stanford losing to Oregon, Oklahoma losing to Baylor and then Oregon losing to USC.
If Boise State was undefeated at this point they would probably be ranked No. 3 and could be breathing down the neck of Alabama, feasting on the hopes that college voters would not want a rematch.
The Broncos fell, but still find themselves in the hunt for a BCS game. They're fighting a huge battle of gaining an at-large bid even though they are ranked No. 7 in the nation.
Boise State is fighting a double-edged sword when it comes to the SEC Championship game between LSU and Georgia. Boise fans will want to root for Georgia whom the Broncos beat in the first week of the season. The Georgia win will help convince voters that Boise is worthy of a BCS game by beating the SEC champion.
However, one of the BCS guidelines states that a conference may have three teams in the BCS if the No. 1 and No. 2 teams are not conference champions. That means if Georgia beats LSU and LSU does not fall past No. 2, Georgia may take a BCS bid from Boise by winning the conference and LSU and Alabama still playing in the national championship.
So what do Boise fans want to happen this weekend to ensure their spot in a bowl? Here are a few scenarios that may help the Broncos:
Houston Loses to Southern Miss in the Conference USA Championship Game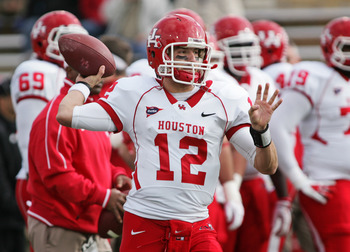 Brett Deering/Getty Images
If Southern Miss can somehow pull off the upset that will eliminate Houston's automatic bid for a BCS game and create another at-large bid for the Broncos to take. A one-loss Boise State will surely look better than a one-loss Houston team.
Teams in Front of TCU Win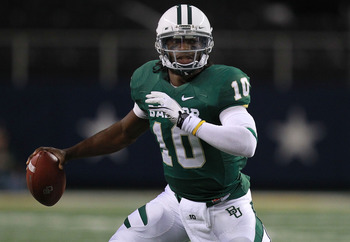 Ronald Martinez/Getty Images
Games like Baylor vs. Texas, and Wisconsin vs. Michigan State can actually have some big implications on the Broncos' chances. If Baylor loses or if Wisconsin and Georgia lose in blowout fashions that could drop them behind TCU. If TCU ends up at No. 16 and if Houston does somehow lose to Southern Miss, the BCS bid could go to TCU as an automatic bid.
Oklahoma Beats Oklahoma State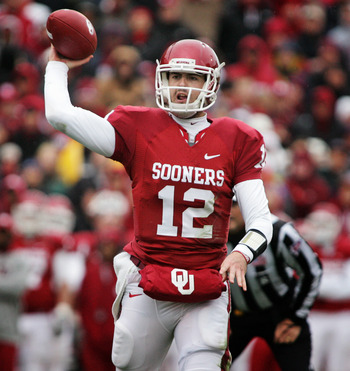 Brett Deering/Getty Images
Oklahoma has been to the Fiesta Bowl four of the past six years. If Oklahoma were to win the Big 12 and get the bid to the Fiesta Bowl, voters are going to have to do something to help boost the excitement level for Sooner fans. What better way to do that than to invite the Broncos in a rematch of the historic 2007 Fiesta Bowl? The Big 12 is getting two bids either way, so it would be best for the Broncos this way.
LSU Drops to No. 3 or LSU Wins a Close One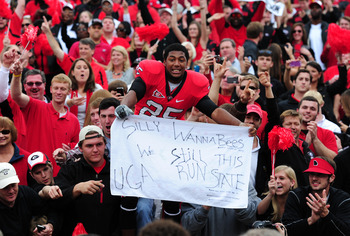 Scott Cunningham/Getty Images
As explained up above, the reasons why the SEC championship is like a double-edged sword for the Broncos, there is many possible scenarios that could happen. If Georgia unlikely beats LSU in a blowout, that could be enough to drop LSU to No. 3 and out of the BCS, which would totally be unfair after LSU beat Alabama earlier in the year. That's the BCS for you. But if that won't happen then we would want Georgia to win in a very close game that will help give the Broncos consideration as an at-large bid.
Keep Reading

Boise State Football: Like this team?