Ole Miss Moving Very Slowly in Search for New Head Coach
November 30, 2011
The four-member search committee in charge of finding a new head coach for the Ole Miss football program is moving very slowly. Archie Manning, the co-chairman for the committee, stated that he hopes to have a recommendation concerning the new head coach in the next two-and-a-half weeks.
That puts the final hiring of the new head coach somewhere in the vicinity of just before Christmas.
The longer this process draws out, the better chance there is that the most in-demand coaching candidates will no longer be available. The committee can't afford to move too slowly.
Mike Leach, thought to be a top candidate, was hired by Washington State today. And Ole Miss could lose out on other possible candidates if they continue to drag the process out.
Manning stated, "We're moving as fast as we can."
He also stated that the committee has already conducted several interviews and have several more scheduled for this week.
Although he didn't give much information or drop any names, he did give one big hint. He stated that, "There are some coaches still playing some games this upcoming weekend that we want to interview. There are some coaches we're interested in that didn't coach this year."
Both Hugh Freeze of Arkansas State and Art Briles of Baylor have games this weekend. These are two of the names thought to be on the short list.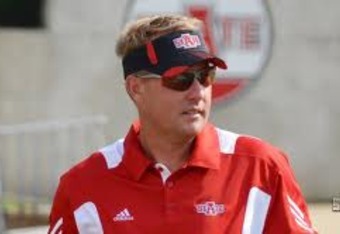 It is also rumored that some of the coaches which were fired last weekend may now be added to the list of possible candidates. Last weekend, Turner Gill, Ron Zook, Rick Neuheisel and Dennis Erickson were all fired from there head coaching positions.
I sincerely hope these names are not on the list of guys to be interviewed for the head coaching position. Ole Miss does not need to hire someone who has been a failure at other programs. If these guys who got fired last weekend were the kind of coach that the Rebels need, they would still have their jobs.
Ole Miss needs to hire someone with a record of success, not someone with a record of one failure after another.
One factor that Ole Miss fans can feel good about is that Manning and the search committee is taking time to insure that they find the right guy, or at least doing their best to find the right guy.
Manning said, "I'm looking for the best fit for Ole Miss. The last few weeks, I've paid more attention to programs and coaches."
This is a big improvement over what Pete Boone did when he hire Houston Nutt. Nutt was hired on impulse as soon as he was available, and we saw how that turned out.
When a program and its fans want to get rid of a coach, there is a reason behind that decision.
I will put a new twist on the popular saying that it is insanity to continue to do the same thing and expect different results. It is a mistake to hire the same old coaches and expect different results.
This time around, Ole Miss needs to hire a winner that has both the reputation and ability to transform a losing team into a winner. What a coach has done in the past is a pretty good sign of what he will do in the future.
But this needs to be done as soon as possible. Other schools are also looking to hire the best coaches available.
The committee needs to strike while the iron is hot.