Beaten Blue: Ohio State Whips No. 4 Duke in Columbus
November 30, 2011
Joe Robbins/Getty Images
The Buckeyes defeated the Duke Blue Devils 85-63 on Tuesday night, inspiring fans to ask the question, what football season?
Ohio State played lights-out, and the fans quickly shoved the 6-6 football season in the bedroom closet.
Jared Sullinger scored 21 points to help with the win, while William Buford and Deshaun Thomas added 18 apiece and Aaron Craft poured in 17 to put the icing on the cake.
Ohio State never trailed after jumping out of the gates 11-0.  Duke pulled within one point on two occasions (18-17, 13-12), but Ohio State increased that lead to 19 by halftime (47-28).
Duke was six days removed from their Maui Invitational Championship.  The Blue Devils looked like they were still suffering from jet-lag.  Ohio State looked like the better team last night, and likely any night against a Duke team that could not match the athleticism of the Buckeyes. 
Austin Rivers scored 22 points for Duke.  He's going to be a superstar. Unfortunately for Duke, Ohio State featured a host of players capable of scoring the basketball.
This is an extremely talented basketball team. Sure, Ohio State was firing on all cylinders last night and playing at home, but Thad Matta wanted to make sure his players didn't get overly confident after the game.  That seems unlikely after the disappointments his team has suffered in March—specifically last year to Kentucky.   Aaron Craft talked after the game with The Big Ten Network. He said, "We can't get complacent. That's the worst thing we could do right now."
The sophomore point guard is one of the reasons why Ohio State is starting to look like the best team in the country.  The point guard position is an integral part of most championship teams, and Ohio State has one of the best.  The 6'2" sophomore out of Findlay, Ohio has improved from last season, when he won the Big Ten's Sixth Man of the Year award. 
Craft is crafty to say the least.  He's averaging 10 points, six assists, three rebounds and three steals per game and protects the basketball—3:1 assist to turnover ratio.  He's unselfish, smart and has incredible quickness with his hands and feet. 
The problem isn't just stopping Craft.  Craft has a host of scorers to which he can distribute the ball.  Deshaun Thomas is one of the most prolific scorers in Indiana history.  The guy averaged 29 points as a freshman in high school.
Senior swingman William Buford has 1550 career points, and needs another 546 points this season to become the all-time leading scorer in Ohio State history—Dennis Hopson currently is with 2,096.  It probably isn't going to happen, considering he shares the load in Thad Matta's offense, but that's a good thing for Ohio State.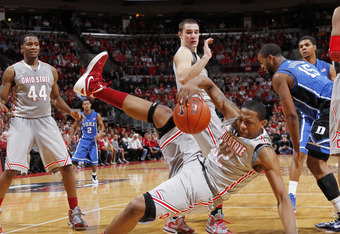 Joe Robbins/Getty Images
Jared Sullinger is a Player of the Year candidate.  Sully has dropped nearly 25 pounds from last season.  The change allows the super-sophomore to elevate and avoid shot-blocks, as well as get back on defense.  Sullinger also seems to have a sixth sense with Aaron Craft.  It probably comes from their close friendship, and their days of playing on the same AAU basketball team.
The team is also getting a spark from Illinois native Lenzelle Smith.  He may be the most improved player on the team.  Matta is getting exactly what he wanted to get from Smith, and that is a player to replace some of the defense that left with the graduation of David Lighty.  Smith's savvy, scoring and athleticism come as a bonus.
Teams don't get a breather when the substitutes come in.  Freshman Sam Thompson has superstar written all over his game—as does Mr. Basketball from the state of Georgia, Shannon Scott.
Matta can also bring in The Demoralizer, J.D. Witherspoon, who is just there to throw down thunderous dunks and crush the opposition's hopes, along with the backboard.  Boston College transfer Evan Ravenel is also playing well for the Buckeyes.  His size helps ease the loss of Dallas Lauderdale. 
Amir Williams, who is 6'11", is a four-star recruit—according to Rivals.com—who sits the bench just in case a team thinks that the only weakness for Ohio State is their lack of size.  Like Duke and the Plumlee's, Ohio State also has a few unpolished, slow big men, only they don't play much.
The Buckeyes didn't need their bench Tuesday night, but that depth could pay huge dividends down the stretch.  Depth and athleticism were a problem for last year's squad, but not this year.
They will depend on Craft and Sullinger in big games.  Craft's ball security and Sullinger's power should provide Ohio State with a solid foundation for success in tight ball games. 
Ohio State is sixth in the country with 20 assists per game.  Thad Matta preaches ball movement, unselfishness and getting better.  The players and fans are buying in.
Sources:
The BigTen Network

Basketballreference.com
Video from: The Columbus Dispatch