Chelsea FC: Andre Villas-Boas Should Not Be Sacked as Manager
December 1, 2011
Jamie McDonald/Getty Images
Andre Villas-Boas came to Chelsea last summer after completing a magical and trophy-filled last season for Porto.
Once he got to Stamford Bridge, Villas-Boas was immediately compared to former Chelsea manager Jose Mourinho, and it was expected that Chelsea would bounce back after a disappointing 2009-2010 campaign.
It appeared that Villas-Boas was going to do this; the club lost just one match in their first 12 fixtures. But following their controversial 1-0 loss to QPR, Chelsea have not been the same.
Chelsea have lost four of their last eight matches. That ended their run in the Carling Cup and jeopardized their Champions League and Premier League seasons.
To make matters worse, Chelsea will have three difficult fixtures against Newcastle, Valencia and Manchester City over the next week. These will determine if Chelsea will contend this season or play out the season knowing that they won't be able to win either major competition.
If Chelsea fail to be in contention for both competitions at the end of these matches, the loud calls for the Chelsea brass to fire Villas-Boas will get louder. Irregardless of what happens in these matches, Villas-Boas should remain in charge of Chelsea.
For starters, this season was always going to be a rebuilding year—especially considering the youth movement that has been taking place at Stamford Bridge. Ramires, Daniel Sturridge, Juan Mata and David Luiz are all players that are still developing into future stars. All four have played major roles in the club under Villas-Boas.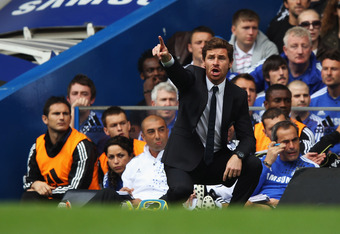 Clive Rose/Getty Images
They will all continue to develop with time; they are the future of the club. These players will round out into stars. Its okay for them to make mistakes if it means the club will benefit in the long run.
Villas-Boas has also had to deal with the various egos that are involved with the club and the news players have been making.
When you have John Terry in a racism row, Didier Drogba saying he will only accept a big contract and numerous players appearing ready to leave during the winter break, that is tough for any manager to deal with, let alone a person who only joined the club several months before.
Villas-Boas should also get a pass considering that this is not his own team. Nearly every player on this Chelsea roster came from the managers that were before him.
Villas-Boas has not been able to build this squad into one he wants to work with. However, he is dealing with players that are not fully accustomed to his playing style and are hurting the club.
In these next three fixtures, Villas-Boas' job will be on the line. If the young managerial star is going to stay at Stamford Bridge, he needs to win these matches.
If Villas-Boas cannot win, he will probably get fired by Roman Abramovich. We could see Turkey's recently departed manager, Guus Hiddink, take over—just like he did in the middle of the 2008-2009 season.
Chelsea should not fire Villas-Boas, no matter what happens. He is the right man, win or lose, to take this club deep in the Champions League and reclaim the Premier League title.
If Villas-Boas does not get Chelsea back into the title hunt, we will see Abramovich make the move that will determine Chelsea's future.
Will the Russian indicate that he wants to rebuild Stamford Bridge or win trophies? Only time will tell.
Follow me on Twitter @Andrew_Jordan