NCAA Women's College Cup Preview: 4th Time the Charm for Stanford?
November 30, 2011
The US women's college soccer season culminates this weekend at Kennesaw, Georgia, with the College Cup.  (And no, Hope Solo will not be participating, and in fact, this article has nothing at all to do with Hope Solo.)
This year's Final Four College Cup teams were all seeded first in their respective tourney brackets, and they include three ACC schools—Wake Forest, Duke and Florida State—and two-time NCAA runner-up Stanford, making its fourth consecutive College Cup appearance.  (Hope Solo's alma mater, Washington, finished seventh in the Pac-12 and did not qualify for this year's tournament.)
Defending national champ Notre Dame and perennial powers UNC, UCLA and Portland have all exited from the tournament, and this could finally be the year that unbeaten and top-ranked Stanford emerges as College Cup champions. 
Friday's first semifinal matches Stanford (23-0-1) against Florida State.  The 18-6-1 Seminoles are ACC champions, making their fifth Final Four appearance. 
If FSU-Stanford sounds like a familiar NCAA matchup, it is.  A year ago, Stanford demolished the Seminoles 5-0 in the NCAA Elite Eight. 
The other half of the Final Four pits Duke against its ACC rival, Wake Forest.  This is Duke's third Final Four appearance, but first since 1992.  The Blue Devils are riding their best season ever at 21-3-1, with wins over Notre Dame and FSU, as their only losses were to Wake, UNC and Auburn. 
Wake is making its College Cup debut.  The Demon Deacons, 18-3-4, split their two ACC matches against Duke this fall, with Duke prevailing 2-0 in October and Wake winning 2-1 in the ACC tournament.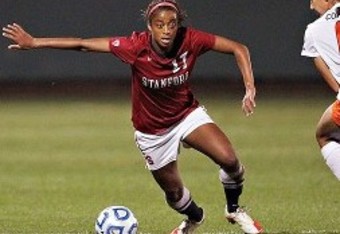 Both Duke and Wake beat FSU in the regular season, but FSU avenged its loss by winning the ACC title over Wake on penalty kicks.
The one common opponent amongst all four teams is another ACC team, Boston College, whom Stanford defeated 2-0 in the Sweet Sixteen round.  Duke and FSU both beat BC by identical 1-0 scores in the regular season, and Wake lost to BC in the regular season before beating the Eagles in the ACC tourney.
If this is indeed Stanford's year, the championship will build on the rich soccer tradition on The Farm.  Olympian and 1999 World Cup champion Julie Foudy starred for Stanford in the early '90s. By the late '90s, Stanford became a consistent Top 20 program, winning the Pac-10 in 1999 and 2002, with a 65-17-4 record from 1999-2002, and a No. 1 ranking and Elite Eight appearance in 2002.
That impressive run has been far surpassed by Coach Paul Ratcliffe's recent powerhouse teams. Led by the current group of seniors, beginning in 2008, Stanford has compiled a remarkable 93-4-4 record, including an unbeatable 53-0-1 at its home field, Cagan Stadium.
Three Cardinal alums, Kelley O'Hara, Rachael Buehler and Nicole Barnhart, were on the USA team that enthralled the soccer universe during last summer's World Cup in Germany.
O'Hara (2009) and Christen Press (2010) were back-to-back recipients of the Hermann Trophy from the Missouri Athletic Club, emblematic of the nation's finest player.
Only a national championship has eluded Stanford.  In both 2009 and 2010, the Cardinal was undefeated until the very last match of the season.  In December 2009, Stanford fell in the national championship match to UNC, 1-0. Last year's final was the same 1-0 score, a loss to the Fighting Irish.
The 2011 Cardinal averaged over 22 shots on goal per game and nearly three goals per game.  Their fast-paced possession style of play is led by four seniors—forward Lindsay Taylor (20 goals), midfielders Kristy Zurmuhlen (five goals, four assists) and Teresa Noyola (eight goals, 14 assists), who played for Mexico in the World Cup, as well as versatile Camille Levin (four goals, six assists), who played every position other than goal and can defend, pass or score with equal proficiency.
There's more than just seniors.  Frosh forward Chioma Ubogagu added nine goals and nine assists.  Juniors Mariah Nogueira, Alina Garciamendez (another Mexico World Cup team member) and Rachel Quon excel in midfield and in defense, and sophomore GK Emily Oliver has been reliable in goal, although infrequently tested as Stanford has controlled time of possession in every one of its games.
So, will this fourth trip to the College Cup be the charm for the talented Cardinal?
Perhaps.  Soccer may be the unkindest sport of all, as so often the team that controls the flow of the game, dominates possession and outshoots its opponent may end up on the short end of a 1-0 score.
Stanford, which has vastly more recent Final Four experience than FSU, Duke and Wake, creates scoring opportunities as well as any of the other three College Cup participants.  If the Cardinal can convert just a few of those shots into goals, they should return from Georgia as NCAA champions.